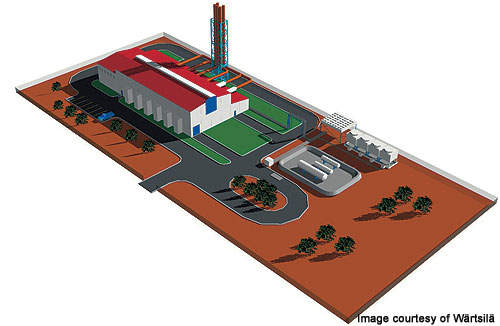 Computerised Image of Plains End I and II.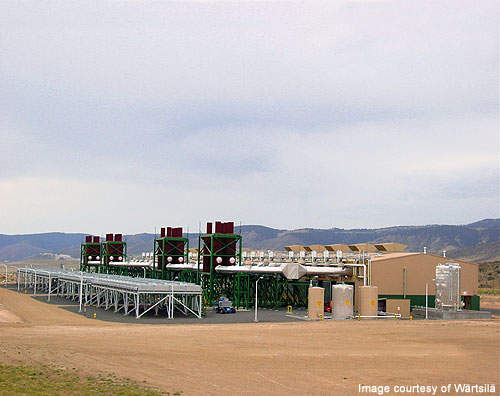 Exterior view of Plains End I and II.
Image showing Plains End backside view.
Plains End is the world's largest natural gas-fired peaking power plant. It is located in a 55 acre site in Vauxmont development in Jefferson County, just 8 miles from Denver, Colorado. Energy Investors Funds (EIF) Calypso holds 80% interest in the plant, while the operator Cogentrix Energy holds the remaining 20%.
The project was developed in two phases. The first phase known as Plains End I was commissioned in May 2002 and generates about 113MW. The second phase known as Plains End II generates about 115MW and was commissioned in May 2008.
The output power is sold to the Public Service Company of Colorado, a subsidiary of Xcel Energy, under an integrated set of power purchase agreements valid through until 2028.
Plant make-up
Plains End I has 20 Wärtsilä 18V34SG reciprocating engines housed in two separate power blocks located beside the central complex. Each power block has 10 units with a rated capacity of 5.7MW each.
The central complex has a control room, electrical annex and workshops. The substation has two step-up transformers.
Plains End II is situated adjacent to Plains End I on the same site. It has 14 Wärtsilä 20V34SG natural gas combustion engines.
"Plains End I has 20 Wärtsilä 18V34SG reciprocating engines housed in two separate power blocks."
Development
Plains End I was developed by PG&E National Energy Group (NEG). NEG awarded an engineering, procurement and construction (EPC) contract to Wärtsilä North America in February 2001. The contract also called for the supply of 20 18V34SG reciprocating engines and commissioning of the plant.
Power transmission and related engineering works including the construction of the substation were carried out by US-based WestPower.
The project was financed by Credit Lyonnais as the lead-arranger in association with Dresdner Kleinwort Wasserstein and ABN AMRO.
Plains End I was acquired by Goldman Sachs Power Holdings II in 2004, through its indirect subsidiary Cogentrix Energy. It was one of the 11 power plants auctioned by National Energy & Gas Transmission due to bankruptcy.
Plains End II was developed by Cogentrix Energy. The contract to supply 14 20V34SG natural gas-fired turbines was awarded to Wärtsilä North America in October 2006.
Goldman Sachs sold 80% of Plains End I and II along with 13 other plants of Cogentrix Energy to EIF Calypso in 2007.
Plant details
Plains End I operates for about 6,000 hours a year. It generates current at a voltage of 13.8kV that is stepped-up to 230kV by two step-up transformers.
Power generated from Plains End I is controlled and dispatched remotely through Xcel Energy's automated generation control (AGC) system. The AGC system initiates load demand and allows the plant to accordingly ramp up and down at a maximum rate of 12MW a minute between 50%-100% of full rated capacity.
It uses approximately 145,000 gallons of water for cooling purposes. The engines cool down by rejecting heat in the air through closed-loop radiators.
The 20V34SG engines of Plains End II are advanced and provide capacity, energy and black start features that are not available in the 18V34SG reciprocating engines.
The key feature of both the plants is a quick start and stop process which enables them to operate as virtual reserves even when not in operation. It can take on a 25% load within two minutes of the start of the engine and reach full capacity output within 10 minutes, suitable for load following and intermediate load duty.
Technology
The technology used at Plains End enables the plant to operate at peak efficiency at high altitudes and temperatures.
The 18V34SG reciprocating engines maintain low heat rate by optimising the number and load set point. They can be switched on and off several times a day without increasing maintenance costs.
"The technology used at Plains End enables the plant to operate at peak efficiency."
They operate at just 65psig (pound-force per square inch gauge) of natural gas pressure at full load, which is lower than that of a gas turbine. The engines can be individually taken out for repair and maintenance work even during peak demands.
The advanced 20V34SG is a medium speed, spark ignited gas engine that operates on Otto Process and lean-burn principle. It has ported gas inlets and a pre-chamber with spark plug for fuel ignition. It runs at 720rpm-750rpm at 50Hz-60Hz applications respectively. At this rate it produces 3,800KW to 9,000KW of mechanical power.
Local environmental impact
Unlike other power plants in Denver, which produce continuous steam clouds and rising exhaust smoke, Plains End closed-loop radiators do not create visible water or steam plumes.
In addition to the reciprocating engine technology, the plant controls carbon and other volatile organic compounds (VOC) by an oxidation catalyst. The NOx emission levels are further controlled by selective catalytic reduction (SCR) using urea as a reagent.
The plant has successfully maintained stack emission levels below 18ppm (parts per million) carbon monoxide (CO) and 9ppm NOx.