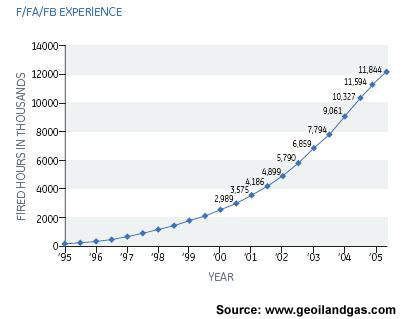 GE's F/FA/FB series has run up millions of operating hours.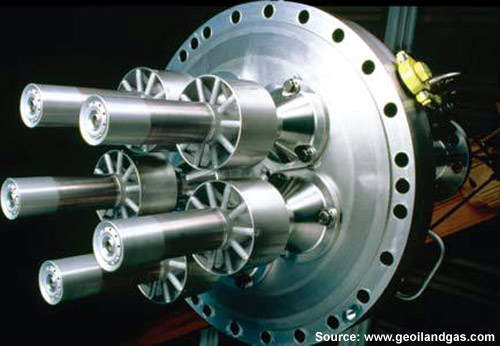 GE's Dry Low NOx combustors meet strict environmental emissions requirements.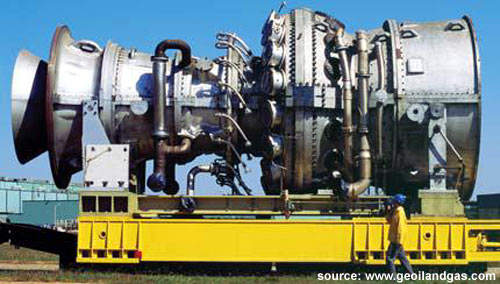 GE ships one of its gas turbines.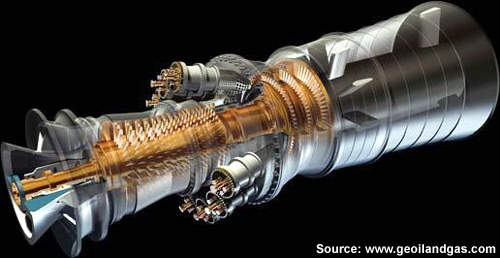 The 800MW Plana del Vent CCGT at Tarragona uses GE's 9FB turbines.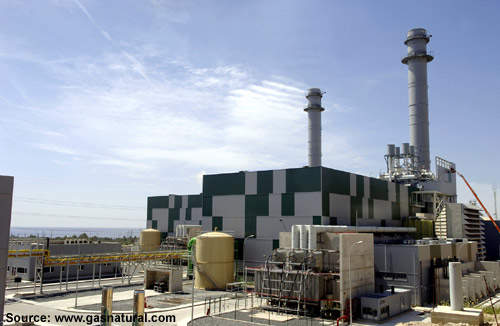 The Plana del Vent CCGT is owned by Gas Natural.
Spanish energy company Gas Natural has opened the 800MW Plana del Vent CCGT at Tarragona, Spain. The plant cost more than €360m, was synchronised to the grid in March 2007, and started commercial operation in the summer.
The two GE Frame 9FB generators at the plant feed the Spanish Electricity Grid substations in the municipality of Vandellòs i l'Hospitalet de l'Infant. The plant supplies enough electricity to supply around a million people.
The power station is in Vandellòs, about 130km southwest of Barcelona, Spain. Barcelona based Gas Natural awarded the turnkey construction to General Electric. GE will install and start up all the plant's systems, and operate and maintain them in a 12-year contract.
LARGEST GAS TURBINE FROM BELFORT
GE supplies heavy duty gas turbines from 26 to 480MW. At 10m long, 5m wide and 5m high, the Plana del Vent turbine was the largest ever manufactured at GE's Belfort plant. In February 2006 the 310t (310,000kg) machine was carried by a wide-load truck on a two-day journey along the RN 83 in France from Belfort to Colmar and Strasbourg. There, the turbine was loaded onto a barge on the Rhine River for a five-day journey to Rotterdam, and placed on a ship for Tarragona.
The GE Frame 9FB is an air-cooled, 50Hz gas turbine. Introduced in 1987, GE's F class resulted from a development programme using technology developed by GE Aircraft Engines and GE's Global Research Center.
F class gas turbines offer flexible cycle configuration, fuel selection and site adaptation. They all have an 18-stage axial compressor (with 18.5:1 pressure ratio) and a three-stage turbine. They feature a cold-end drive and axial exhaust, which is good for combined-cycle arrangements and can reach net efficiencies over 58%.
GE's DLN 2.0+ Dry Low NOx combustor systems use GE's 'swizzle' technology, which combines swirler and nozzle with added centre nozzle to improve flame stability and fuel staging. The FB firing temperature was increased more than 100ºF (56ºC) over GE's FA technology, resulting in combined-cycle efficiency rating improvements of better than 1% and output improvements of more than 5%.
Turbine materials include single crystal first-stage buckets that ensure components can stand up to the higher firing temperatures, without increasing maintenance intervals. Six Sigma methodologies gave a reliable robust design optimised for lowest cost of electricity.
As well as the gas turbines, GE supplied two steam turbines and generators, two heat recovery steam generators and an integrated control system. Natural gas is the primary fuel, with gas oil as the backup. Gas Natural also built a gas pipeline to supply the natural gas, and a power transmission line.
GE's partner for the project, UTE (Union Temporal de Empressa), was formed by Tecnicas Reunidas and Ferrovial of Spain. UTE provided local content including mechanical and electrical balance of plant, civil work, local transportation, erection and commissioning support.
HYBRID COOLING TOWER
Tarragona has a 'hybrid' cooling tower and four environmental control stations (one more than recommended in the project's Environmental Impact Study). The control stations provide information in real time to the Department of the Environment of the Generalitat (Catalan Government).
"Tarragona has a 'hybrid' cooling tower and four environmental control stations."
Tarragona was Gas Natural's fifth CCGT plant. In 2006 the company doubled its electricity production thanks to the 1,200MW Cartagena plant. The company has 2,800MW in operation in its combined-cycle plants at Sant Adrià de Besòs (Barcelona), San Roque (Cadiz), Arrúbal (La Rioja) and Cartagena (Murcia). It aims to reach 4,800MW using combined-cycle plants.
The company is also a leading wind power operator in Spain, with installed capacity of 721MW and more than 900MW under development in nine regions of Spain.