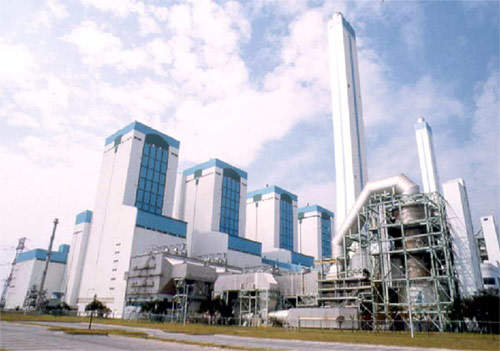 The 2,000MW Poryong combined-cycle power plant is located some 180km south west of Seoul.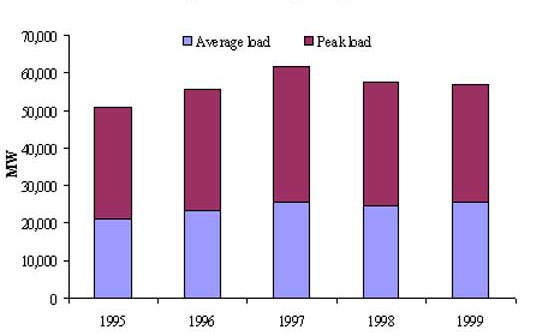 KEPCO peak and average load 1995–99.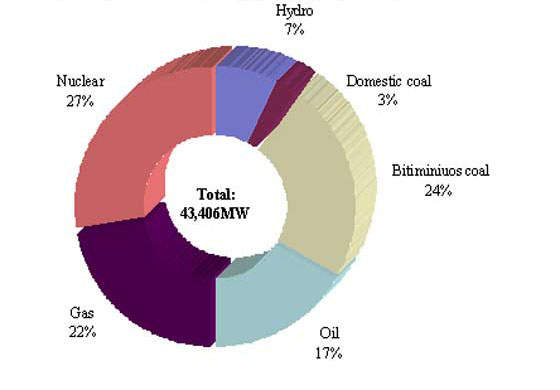 KEPCO generation capacity by technology, 1999.
The 2,000MW Poryong combined-cycle power plant is located some 180km south west of Seoul and was built by ABB under a $400 million contract. Construction of the plant began in April 1996. The first units came on stream in late 1997 and the plant became fully operational in 2000.
Over 85% of the Korean requirement for electric power is supplied by Korea Electric Power Co. (KEPCO). The remainder is generated by major conglomerates for their own use or by small Independent Power Producers (IPPs).
In 1998, as a result of the current economic problems and IMF-imposed conditions, the Ministry of Trade, Industry and Energy (MOTIE) revised the Business Act to bring about a competitive energy market. The power generation division of KEPCO was spun off to six subsidiaries in April 2001. All the nuclear plants (12,000MW) became one power company, and five other companies shared the 42 hydraulic and thermal power plants (including plants under construction) on an equal basis. The five thermal and hydraulic power companies have an average power generation capacity of 7,700MW. Each owns one of five key profitable thermal power plants. These five include Poryong.
NEAR 60% EFFICIENCY
Like the similar Seoinchon CCGT power plant, Poryong provides close to 60% efficient power with relatively low emissions. At an estimated cost of around $780 million, it was also one of KEPCO's least expensive investments in kWe terms. The plant was delayed after an explosion in the air cooling system.
The Poryong CCGT plant is located alongside an existing coal-fired plant comprising six 500MW units. Units five and six are based on KOPEC's (Korea Power Engineering Company) standardised once-through supercritical boiler plant design with variable pressure operation capability. Unit five and six steam turbines, four boiler feed pump turbines and related equipment were ordered from GE in 1990. In 2000 there were 18 Korean standard coal generation units in operation producing around 9,000MW. Units seven and eight also use KOPEC boilers.
PLANT MAKE-UP
KOPEC is a KEPCO subsidiary and was responsible for plant design and engineering and construction supervision. The plant comprises four 500MW power trains, each with two gas turbines and a stream turbine. ABB supplied the eight GT24 gas turbines and four steam turbines, along with heat recovery steam generators, process control systems and auxiliary equipment. In addition, it was also responsible for the main mechanical design, technical supervision, erection and commissioning. ABB worked closely with Hanjung. Construction was assigned to a consortium of Hanjung, Shinwha and Daelim. Hyundai provided engineering and procurement services.
SEQUENTIAL COMBUSTION TECHNOLOGY
At $49 million, the award was ABB's largest order to date for the GT24 advanced sequential turbines and its first in Asia. The sequential combustion technology used by ABB in the GT24 was by no means a new idea. Instead of the conventional approach of improving performance by increasing the firing temperature with complex cooling technology, the sequential combustion turbines have two combustion chambers where fuel is simultaneously combusted. The turbine inlet temperatures (TIT) for GT24 are claimed to be typically between 100°C and 200°C lower than competing machines.
The plant's overall fuel efficiency is around 58%. In addition, the ABB design offers low NOx emissions as a result of the lower firing temperature. Another claim for the ABB GT series is that it offers high power density (ABB's GT26 turbine is almost the same size as the previous model, the GT13E2, but yields a 50% higher output). Reliability is expected to be high because of the relatively mild operating conditions and simpler construction involved than designs with more complex cooling requirements.