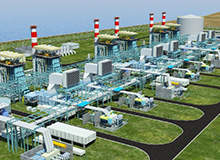 The 2,060MW combined-cycle Rabigh-2 independent power project (IPP) is located next to the 1,024MW Rabigh-1 power plant, 130km north of Jeddah, on the coast of the Red Sea in Saudi Arabia.
The gas-fired IPP was developed by Al-Mourjan for Electricity Production Company (MEPCO), which was established as a 50:50 joint venture between Saudi Arabia's state-owned utility, Saudi Electric Company (SEC), and a consortium comprised of ACWA Power, Samsung C&T and MENA Infrastructure Fund.
The plant is operated and maintained by First National Operation and Maintenance Company (NOMAC), a subsidiary of ACWA Power.
Built on a build, own and operate (BOO) basis, the SAR5.973bn ($1.6bn) Rabigh-2 power project is an extension to the Rabigh-1 power plant. The Rabigh-2 power plant began operations in the first quarter of 2018.
Rabigh-2 IPP make-up
Rabigh-2 comprises three 686.5MW combined-cycle power blocks designed as multi-shaft configurations. Each block features two SGT6-5000F series gas turbines, three SGen6-1000A-series electrical generators and one SST6-5000 series HI-L steam turbine.
Each SGT6-5000F is a four-stage gas turbine featuring a 13-stage axial compressor with advanced 3D design technology, three rows of variable inlet guide vanes, advanced cooling technology and a syngas combustion system (IGCC). It has a base power output of 232MW and operates at a gross efficiency rate of 38.8%.
Rabigh-2 is the first IPP in Saudi Arabia to utilise the combined-cycle technology with a thermal efficiency of 58.8%. It uses natural gas as the main fuel and super-light Arabian crude oil as back-up fuel.
The gas-fired, combined-cycle power project operates in accordance with the environmental laws, regulations and standards of World Bank, IFC and the Saudi Presidency of Meteorology and Environment.
Financing for the combined-cycle power plant project
About 74% of the Rabigh-2 project cost was met through a senior debt facility, provided by a group of international and local banks, including Standard Chartered, KfW-IPEX Bank, Mizuho Bank, Banque Saudi Fransi, Al Rajhi Bank, National Commercial Bank, Samba Financial Group and Al-Inma Bank. The remaining 26% was financed through equity bridge loans.
Rabigh-2 power off-take
The entire electricity produced from Rabigh-2 is purchased by SEC under a 20-year power purchase agreement (PPA) signed in November 2013. In return, SEC provides fuel, seawater intake and associated facilities and infrastructure.
Contractors involved in Rabigh-2
Samsung C&T was awarded the $1.2bn engineering, procurement and construction (EPC) contract for the Rabigh-2 power project in December 2012.
Samsung C&T subcontracted Yokogawa Electric Korea, a subsidiary of Yokogawa Electric Corporation, to supply control systems for the power plant in October 2014. Kettaneh Construction was contracted to perform the civil and building works.
Siemens was awarded the contract to supply six gas turbines, three steam turbines and nine generators for the plant in April 2014. The contractual scope also included support services for the erection and commissioning of the plant, as well as long-term maintenance services for the turbines.
Foster Wheeler's Global Power Group licensee BHI was awarded the contract to supply six heat recovery steam generators (HRSG) for the project. BHI also supplied pulverised coal (PC) boilers, circulating fluidised bed (CFB) boilers and oil and gas boilers for the Rabigh-2 plant.