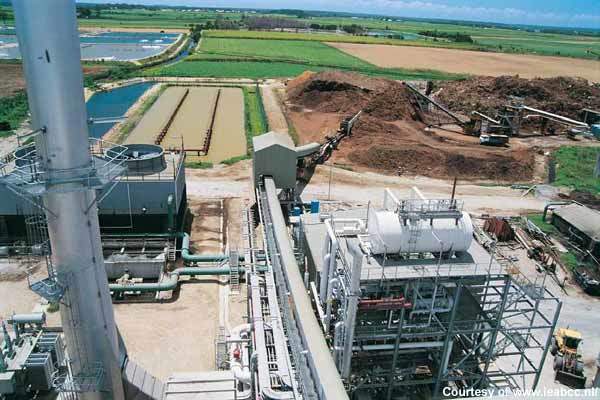 Rocky Point-3 is supplying 30MW to the Rocky Point Sugar Mill. (Stanwell)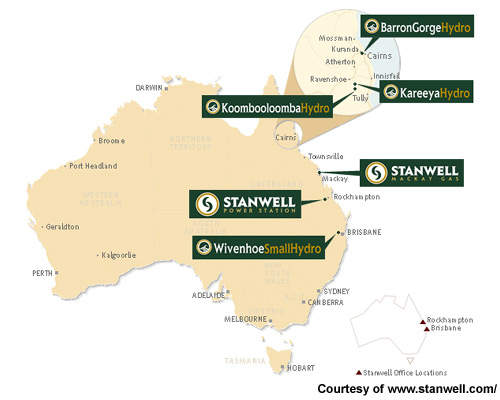 When built, Rocky Point-3 was Australia's largest biomass power plant. (Stanwell)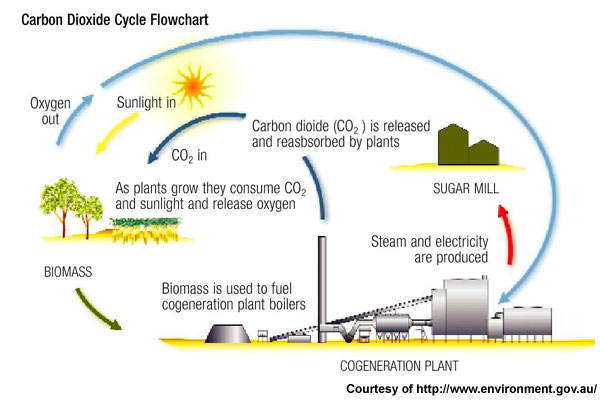 Carbon Dioxide Cycle Flowchart. (Government of Australia)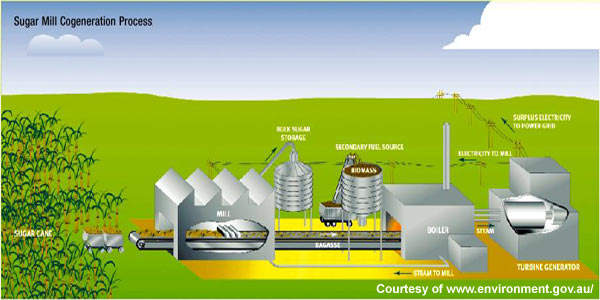 Biomass is used to fuel cogeneration plant boilers. (Government of Australia)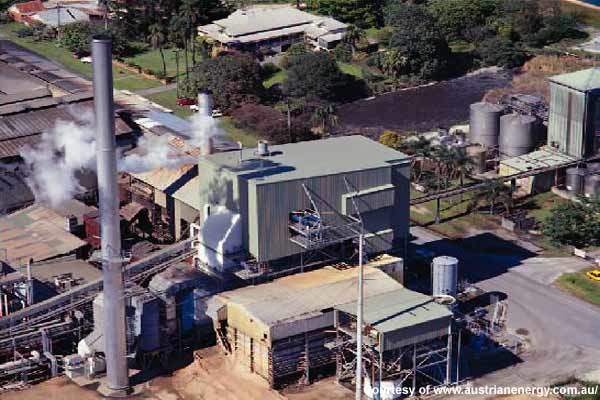 The project is supplying 30MW to power the Rocky Point Sugar Mill. (Austrian Energy)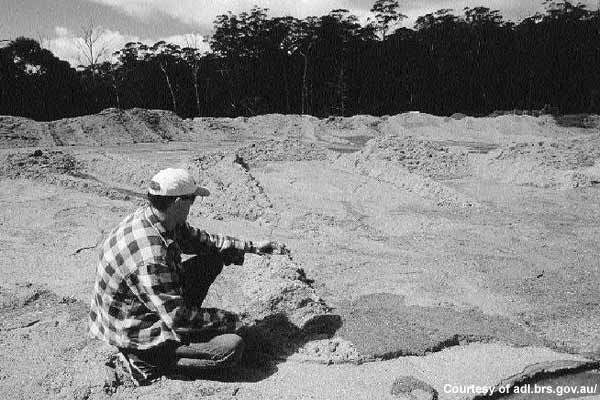 Sawmill waste deposits can be used to generate energy. (Caddet)
The Rocky Point-3 cogeneration project is supplying 30MW to power the Rocky Point Sugar Mill in south-east Queensland, Australia. When built, it was Australia's largest biomass power plant. Construction was by a joint venture between W H Heck & Sons Pty Ltd (who own the Sugar Mill) and the government owned Stanwell Corporation.
The A$55m project was started in 2000 in the factory, which is 40km south of Brisbane. It uses a 30MW Alstom steam turbine and generator, using bagasse as primary fuel with some wood waste and green wood firing. The plant came on line in 2001, and is being operated by Stanwell. It generates up to 160,000MWh annually – enough to supply around 18,000 homes. Reductions in greenhouse gas emissions are estimated at 155,000 tons per year, the equivalent of taking more than 20,000 cars off the road.
Carbon neutral energy source
Bagasse is the fibrous material left after sugar cane stalks are crushed to extract their juice. A sugar mill's total crushing will be a third bagasse, and this is often used as the mill's primary fuel. It can supply considerably more than the needs of the sugar mill itself, so the excess can be used for cogeneration. The emitted CO2 was anyway absorbed from the air while the sugar was growing, so the cogeneration is greenhouse gas neutral.
Bagasse is now the dominant fuel in the Australian biomass industry. It has long been used as boiler fuel to heat sugar mills, and for over 50 years has helped generate electricity. Bagasse now makes up nearly 15% of Australia's cogeneration capacity. Until recently, though, little of the electricity was exported to the grid.
Biomass burning trials
The Rocky Point project was completed after a study of whether sugar milling boilers could burn biomass sources other than bagasse, and whether there was sufficient renewable biomass fuel for year-round operation. That takes advantage of plant economies of scale and makes best use of the invested capital.
Over 120,000 tons/year of bagasse is available from the 110-year-old Rocky Point plant, with up to 50% moisture content, and with a net heating value of about 10 GJ/ton. Biomass burning trials took place in the sugar mill and extensive research into the supply of some 180,000 tons of biomass fuel (other than bagasse) for the mill's out-of-season operation. The research eventually found that 130,000 tons of fuel was available to the project.
Turnkey cogeneration plant
Austrian Energy & Environment was the EPC contractor for Rocky Point. The project uses one grate-fired bi-drum boiler with boiler steam at 130 tons/h. The steam turbine is an ST3 skid-mounted axial-flow, single cased type with reaction blading. The generator is a four-pole 11kV, 50Hz, 33.3 MVA synchronous machine.
AE&E supplied the turnkey 30MWe cogeneration steam and power plant with all auxiliaries including boiler, turbine generator, condensing and cooling systems. The plant also has bagasse and reclaim biomass fuel conveying systems, ring systems, ash systems, water treatment, feed heating and deaeration plant, and flue gas scrubbing.
A$3m showcase grant
A Renewable Energy Showcase grant of A$3m was awarded towards construction, along with an A$350,000 grant under the Renewable Energy Industry Program.
"Construction was by a joint venture between W H Heck & Sons Pty Ltd and the government owned Stanwell Corporation."
The mill has undergone extensive refurbishment, with electric and hydraulic drives replacing steam engines. It has also done away completely with high and intermediate steam pressures in its sugar milling process. Further changes aimed at steam savings and energy efficiency are underway. The year-round energy supply from the cogeneration plant has also made it possible for the sugar mill to undertake value-added products, such as distillation of fuel alcohol (ethanol) and organic sugar.
Stanwell has thermal and hydro sites, and contributes above 1,500MW into Australia's National Electricity Market. It is a Queensland Government owned corporation, with more than 360 employees working across its sites.