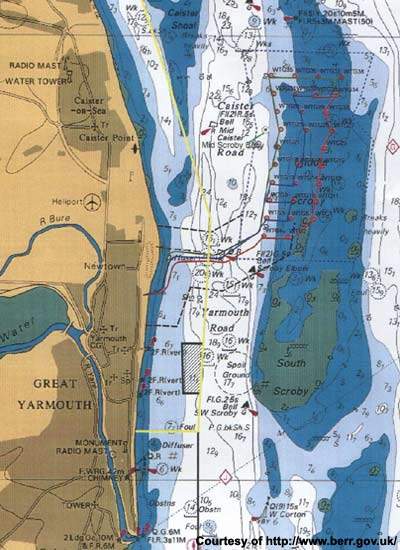 Scroby Sands is 2.5km offshore Great Yarmouth.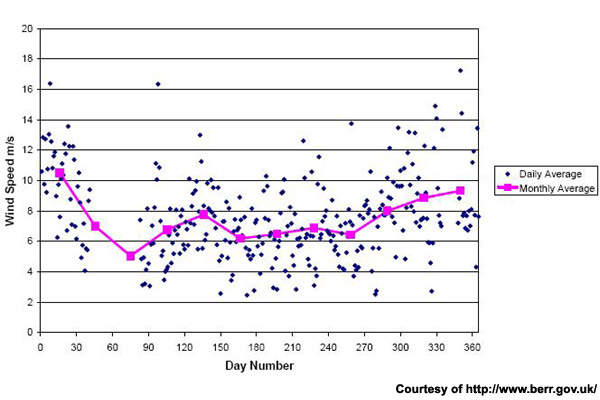 Average Scroby Sands daily and monthly wind speeds in 2005.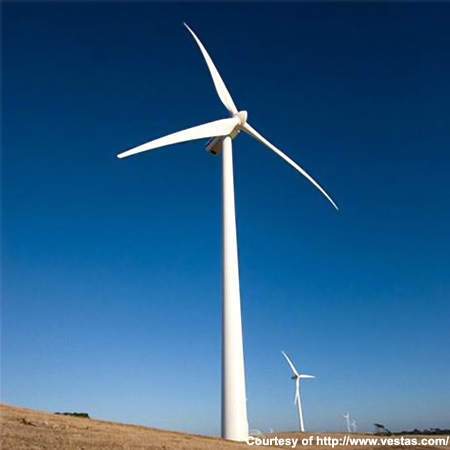 Vestas V80 turbines are 60m high.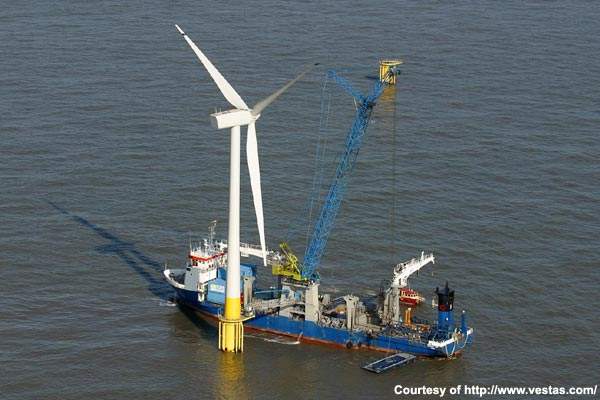 The turbines were installed in five sections.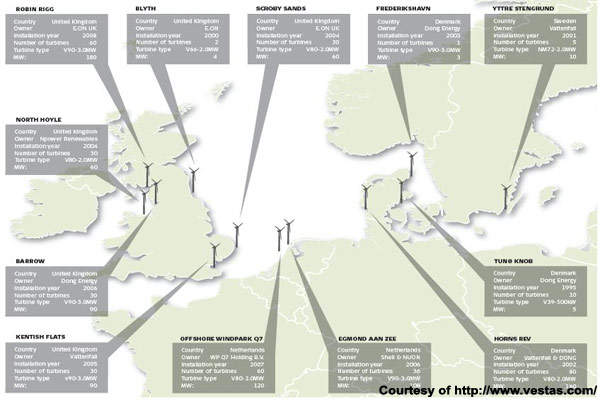 Vestas has several installations within Europe.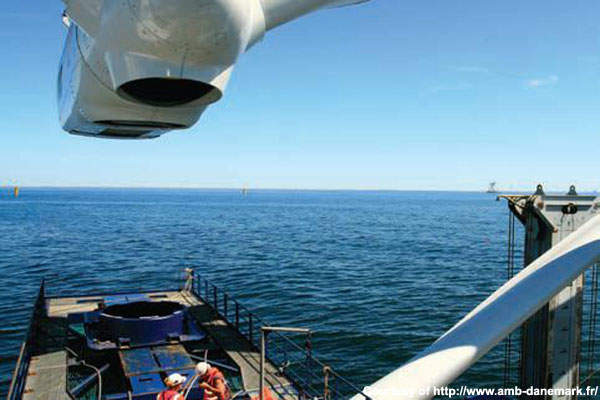 Lifting the nacelle for installation on top of the tower.
With 30 2MW wind turbines, Scroby Sands was one of the first major offshore windfarms to be developed in the UK. It is located 2.5 km offshore Great Yarmouth on the coast of East Anglia. The turnkey development uses 60m-high Vestas V80 turbines producing a total of 60MW, enough to power 41,000 homes in the area.
The wind farm cost £75.5m including a decommissioning provision of £1.617m. That gave a cost of £1.259m/MW, with a £10m capital grant worth a cost reduction to E.ON UK of £0.167m/MW.
Scroby Sands wind farm was one of 18 proposed as part of the Crown Estates Round 1 licensing awards. It was a challenging project since it was built on a sandbank that moves up to 3m a day. Procurement started in 2003, and construction in the November.
"The wind farm cost £75.5m including a decommissioning provision of £1.617m."
Commissioning and handover to E.ON UK was in late 2004. Almost 200 people were involved in installing the foundations, and almost 60 in the erection and commissioning of the turbines themselves. The site produces electricity for the EDF network across a 33KV connection.
PROCURED IN SEVERAL PACKAGES
The 30 V80 generators, foundations and offshore cabling were supplied by Vestas Celtic Wind Technology. The grid connection was provided by EDF (the local District Network Operator) with a new 33kV substation which also holds the wind farm control system.
Offshore engineering design company ode acted as project supervisor during construction and now manages the site. Onshore cabling to the substation was done by Pirelli cables based in Wrexham, with cable installation by NACAP UK Ltd. Vestas is maintaining the turbines.
TURBINES SUPPORTED BY MONOPILES
Each of the 30 wind turbines at Scroby Sands has a monopile (single pile) foundation. The 200t long cylindrical steel tubes are 4m in diameter and up to 50m long. The foundations were made in Scotland by Cambrian Engineering and Isleburn Mackay Macleod. The piles were installed by Mammoet Van Orrd. The 'Jumping Jack' installation vessel hammered the piles about 30m into the sea bed using a hydraulic ram.
The turbines were delivered in five parts: two 30m tower sections, three 40m blades and a nacelle. That houses the gearbox, generator and transformer. Installation of the 30 turbines was done by A2SEA and Seacore, and took about eight weeks in total. Selected turbines have navigation lights, radar reflectors and foghorns, and aircraft warning lights.
Offshore armoured cables have three power cores and a fibre optic control core. They are buried up to 3m deep in to the sea bed by a cable plough. Cable laying was done by CNS Ltd. Some parts of the cable are less than 3m deep and these will be overlayed by concrete mattresses.
MONITORING OF COASTAL PROCESSES
CEFAS monitored sedimentary, hydrological and benthic processes in 2005 to determine the wind farm's effects on the sea bed and on coastal processes. No problems have yet been identified although there has been some scouring around the turbine, and turbines may be given scour protection in future if required.
"Since the wind farm opened, around 35,000 visitors a year have been through the visitors information centre."
Aerial surveys have shown no significant effect on common seal populations, and grey seals have actually increased in numbers (as part of an overall a trend in the UK). There were some
short-term disturbances to a colony of little terns, but this seems not to have been caused by the wind farm operation. Further studies may be done.
E.ON UK is monitoring the depth of the sub-sea cables to ensure they stay buried. The burial depths have altered since installation, but no problems have yet been found here either. More surveys will use either divers or remote observation equipment.
The wind farm has become a local attraction. Since it opened, around 35,000 visitors a year have been through the visitors information centre.