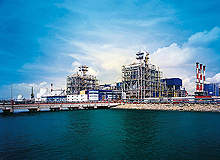 Singapore-based energy, water and marine group Sembcorp Industries is building an 800MW gas-fired combined-cycle co-generation power plant in the Tembusu sector of Jurong Island, Singapore. The first phase of the project was completed at a cost of S$635m. The power plant provides electricity and steam to petrochemical plants on the island.
The new plant is the second co-generation plant being developed by Sembcorp. It is operated by the company under a power generation licence granted by the Energy Market Authority (EMA) of Singapore.
The project is part of a capacity expansion programme that is expected to double Sembcorp's generation capacity to 1,600MW. It is funded by a mix of bank loans and internal cash resources.
The company owns an 815MW co-generation plant in the Sakra sector of Jurong Island.
The plant was commissioned in 2001 and billed as Singapore's first co-generation plant.
Sembcorp plant details
"Sembcorp's new co-generation plant costs S$635m."
The new 800MW plant will be constructed in two phases of 400MW each. Construction began in the second quarter of 2011 and the first phase became operational in October 2014. Phase one generates 400MW of power and 200t/h of steam.
Each phase features Alstom's GT26 gas turbine, a steam turbine, a turbo generator and a heat recovery system. The ALSPA Series 6 integrated control system is installed to regulate the plant's working mechanism.
The new plant uses natural gas and liquefied natural gas (LNG) as fuel. Natural gas is transported through pipes from Indonesia, while LNG is supplied by Singapore-based BG Group under a long-term agreement.
Development of the Sembcorp plant
The engineering, procurement and construction contract was signed with Alstom Power Singapore and Alstom (Switzerland) for a total value of €500m (S$900m).
The order for the first 400MW was signed in February 2011. The €300m single contract covers the supply of the entire unit and associated equipment, as well as an 18-year maintenance clause.
GT26 turbine technology
The GT26 turbine design is based on the sequential combustion technique. It can perform at a 60% efficiency level in a combined-cycle operation. Maintaining low NOx levels at an operating range of 40% and below allows the plant to meet the necessary power demands.
"Phase one generates 400MW of power and 200t/h of steam."
The flexible GT26 technology can operate on a single- or combined-cycle. Features such as a low-inlet temperature, uniform annular temperature profile, welded rotor, and simple and robust Environmental Vortex burner help to increase the reliability and availability of the turbine.
The sequential gas turbine provides lower kilowatt hour costs without reducing availability. The concept exhibits high-power density in a gas turbine.
GT26 has five rows of small dimensional blades, arranged in the form of fir-tree slots. A combination of film and convection cooling techniques cools the high-pressure turbine stage and the first three low-pressure turbine stages through the air coming from the compressor.
Fuel in the turbine is burnt in two dry NOx combustors at low fire temperatures. These burners are capable of using a combination of fuel, such as natural gas, LNG, medium or low-calorific gases or light oil, which eliminates dependency on a single fuel.
Singapore power market
As per 2015 estimates, Singapore produced 50TWh of electricity, 48TWh of which were consumed.
"The GT26 turbine can perform at a 60% efficiency level."
Approximately 95% of the electricity generation is fuelled by natural gas. With the increase in electricity demand, there has been a strong uptake of LNG by power companies in Singapore, resulting in the construction of a third LNG terminal on Jurong Island, which came online in 2013.