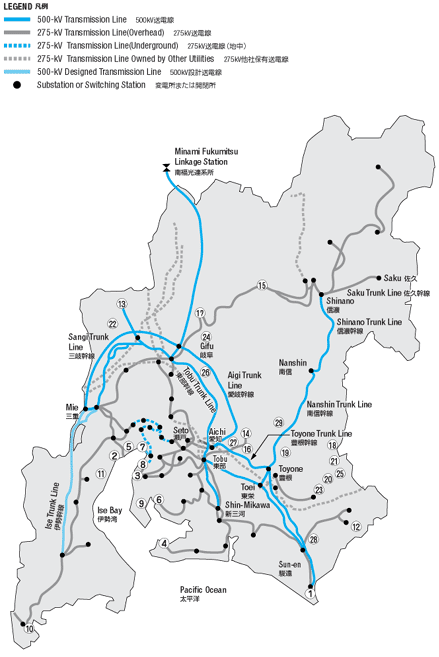 The Shin Nagoya unit seven project was Chubu's second largest investment in natural gas-fired combined-cycle power generation in the 1990s. The plant is located in Nagoya-city, Aichi, and is adjacent to an existing conventional thermal power station. The first turbine was fired in April 1998. On completion in 1999, the site capacity rose to 2,714MW.
Estimated investment for the project is $1.2 billion. Plans are in place for a second, identical combined-cycle stage, which was initially planned for October 2002. However, Chubu's over-capacity meant a delay in implementing this second unit until 2006. The turbine components were procured in 2004 for delivery between April 05 and April 06.
A pilot plant built on the site of the Shin Nagoya power plant demonstrated a desulphurisation and denitrification process developed by Japan Atomic Energy Research Institute (JAERI) together with Chubu Electric Power and Ebara Corp. The process uses electron beams to convert SOx and NOx in the tail gas of coal-fired plant, converting them into sulphuric acid and nitric acid, respectively. These acids then react with ammonia, becoming ammonium sulphate and ammonium nitrate respectively, and these are recovered as fertiliser.
PLANT MAKE-UP
GE and its associate Toshiba won the lead equipment order for Shin Nagoya. GE supplied its advanced gas turbine technology and core components in partnership with the Japanese group, while Toshiba carried out several other engineering and construction assignments on its own.
Foreign procurement played an important role in cost control. Toshiba went as far afield as the UK to find high quality but inexpensive components such as casings. This initiative was part of its general plan to raise the foreign portion of domestic power project materials from between 5% and 10% to as high as 20%. Other Japanese suppliers and utilities have also turned to international procurement, seeking everything from small low-tech valves to core plant systems. Data on the savings achieved are generally not released, but the zeal with which they are pursued compared to earlier preference for Japanese goods indicates that the rewards are significant.
The first of the six new GE MS7001FA gas turbines was fired up at Shin Nagoya power station in April 1998. It was the 100th in the company's F technology series of gas turbines. Three of the F turbines for Shin Nagoya were supplied directly by GE and the three remaining by a combination of GE and Toshiba, the latter a GE licensee.
DISTRIBUTION
Overhead distribution lines are now generally ruled out for environmental reasons in most major conurbations. However, transmitting large amounts of electricity underground in a major city can be complex because of the number of other services, deep foundations and transport tunnels that need to be by-passed. Power transmission from the Shin Nagoya Power Station to the Tokai substation uses long, high-capacity SF6 insulated cables.
The 275kV link transports 2,850MW through the upper half of a 5.6m-diameter tunnel carrying LNG piping in the lower section. The tunnel runs at a depth of 30m under public roads and has four curves with a minimum radius of 150m. The gas-insulated line (GIL) has an outer diameter of only 460mm, but has four times the current carrying capacity of XLPE cables. The construction required 1,500 GIL units to be assembled in a tunnel with 3.1m headroom and very limited space for assembly in an area of seismic risk.
JAPANESE POWER INDUSTRY
The power generating industry in Japan is dominated by ten vertically integrated general electric utilities. Chubu Electric Power Co Inc services central Japan. It is the third largest of the ten major regional companies and has a supply capability of 28,750MW. Revision of the Electricity Utilities Industry Law in December 1995 has made it possible for Independent Power Producers (IPP) to operate more effectively in the power generation market and to act as electricity wholesalers.
Japanese demand for electricity is only expected to grow at 2.1% per annum and international pressure on Japan to reduce greenhouse gas emissions is prompting the authorities to promote energy saving and an alternative lower target (1.2%) for power consumption. However, the new competitive situation in the power generation industry will provide potential new market opportunities. LNG-fired CCGT plant now accounts for almost 30% of plant under construction or planned in Japan.