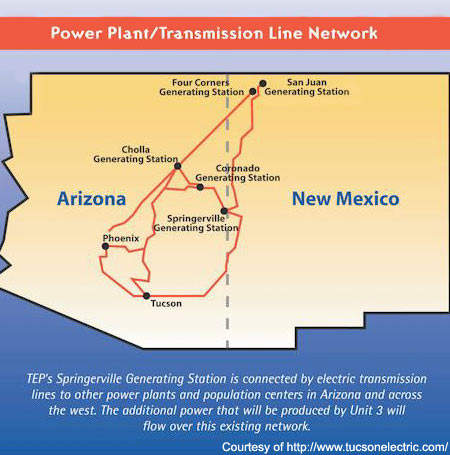 SGS 1 and 2 are owned by TEP.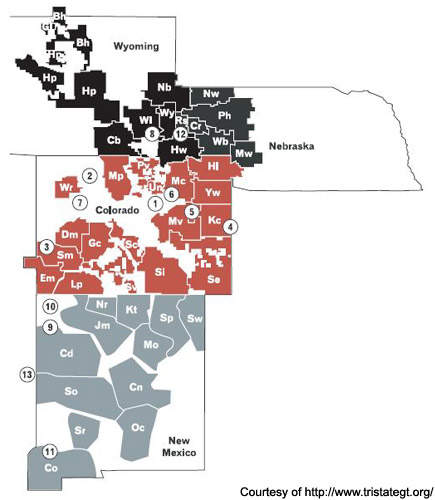 SGS supplies power to TEP, Tri-State Generation & Transmission, and SRP. Source: Tri-State Generation

Bechtel was project contractor for Unit 3.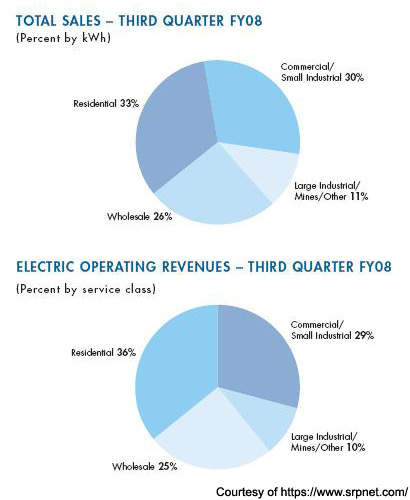 Salt River Project also takes power from SGS.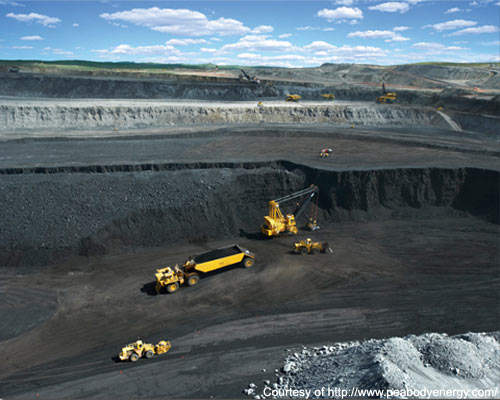 Peabody's North Antelope Rochelle Mine supplies coal to SGS.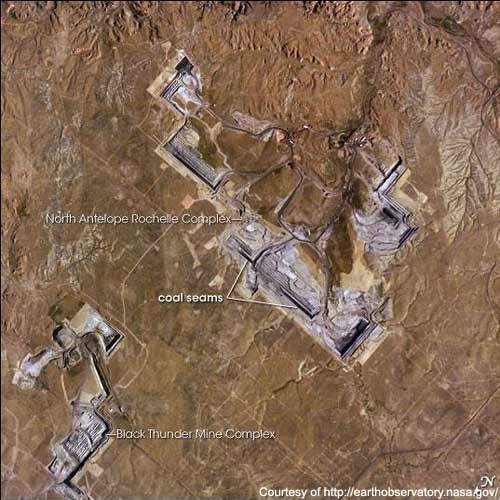 NASA's Earth Observatory image of North Antelope Rochelle Mine.
A fourth unit is being added to Springerville Generating Station (SGS) in Arizona, US. Construction of the 400MW coal-fired unit started in February 2007 and should be completed by December 2009. It will bring the facility's expected capacity to 1,560MW. SGS uses low-sulphur coal from the US.
Springerville supplies power to Tucson Electric Power (TEP), Tri-State Generation & Transmission and the Salt River Project (SRP). Springfield Units 1 and 2 were completed in 1985 and 1990. They are owned by TEP, and each develops 380MW. The 400MW Unit 3 started operation in 2006, and is owned by the Tri-State Generation and Transmission. SRP owns Unit 4.
400MW SGS4 EXPANSION
The US has around a quarter of the world's coal reserves but there has been a move away from coal-fired power plants, mainly on environmental grounds.
However, prices of natural gas have increased, leading to a new interest in coal. The US DoE predicts that over the next 20 years, coal-fired power generation will increase from about 2.5% to nearly 40%. SRP is using the SGS output to help meet growing customer needs and as a hedge against natural gas price volatility.
SRP is constructing the new Unit 4 coal plant at the existing SGS site, next to Unit 3. The expansion is costing about $650m. Like the other units, Unit 4 will use low-sulphur coal. Air emission controls will meet EPA's Best Available Control Technology (BACT) requirements. Emission controls on Units 1 and 2 were upgraded as part of the plant expansion. As a result, emissions from all four units will be less than the original two.
Washington Group International was chosen as architect/engineer for Unit 4. Foster Wheeler provided the boiler, and International Cooling Tower the cooling tower. Shurtleff & Andrews Corp erected the structural steel, with Kiewit Western supplying the substructures. The Industrial Company provided mechanical and electrical equipment.
Flue gas cleanup systems use low NOx burners and selective catalytic reduction (SCR) for NOx control, dry flue gas desulfurisation (DFGD) system for SO2 control and a pulse jet baghouse for particulate control, with continuous 24-hour emissions monitoring. Fly ash and bottom ash (byproducts from coal combustion) will be stored on-site in sealed landfill.
EXISTING SPRINGERVILLE PLANT
In 2005, Unit 2 was taken out of service for nearly four weeks, returning after nearly four weeks. A control system malfunction caused a mechanical problem with the turbine. One row of turbine blades were damaged and these were replaced with other minor repairs. TEP purchased replacement power, so the outage did not affect customers. It cost around $14m to buy in additional power, and around $1m for the repairs.
"Power from SGS units 1, 2 and 3 is now transmitted to Tucson and into the grid serving Arizona."
Lee Ranch Mine, NM supplies coal for Units 1 and 2. Unit 3 mainly receives its coal supply by rail from North Antelope Rochelle Mine, around 65 miles south of Gillette, Wyoming. Coal is delivered monthly by ten trains with 128, 120t railcars.
The plant has a dependable water supply: well fields that supply the four units are from aquifers deeper and separate from the aquifer that the towns rely on.
Power from SGS units 1, 2 and 3 is now transmitted to Tucson and into the grid serving Arizona. In addition, some of the SGS energy is used by Tri-State Generation & Transmission, a Denver-based wholesale power cooperative with member distribution systems in Colorado, New Mexico, Wyoming and Nebraska.
Unit 3 cost $939m, with Bechtel as project contractor under a lump-sum, turnkey engineering, procurement and construction contract. Tri-State leases the third unit and controls its output. SRP is buying 100MW from the unit under a 30-year contract with Tri-State, while TEP is buying up to 100MW from Tri-State for up to five years. TEP is a subsidiary of UniSource Energy (along with UniSource Energy Services and Millennium Energy Holdings).