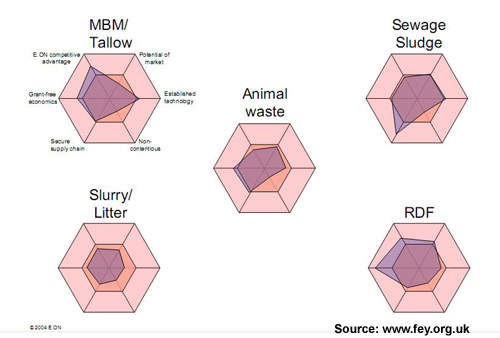 Biofuels seen as contentious. Source: E.ON.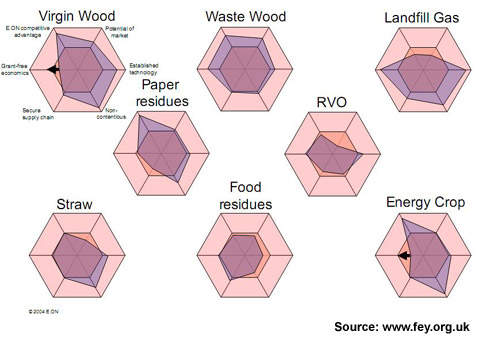 Biofules seen as non-contentious. Source: E.ON.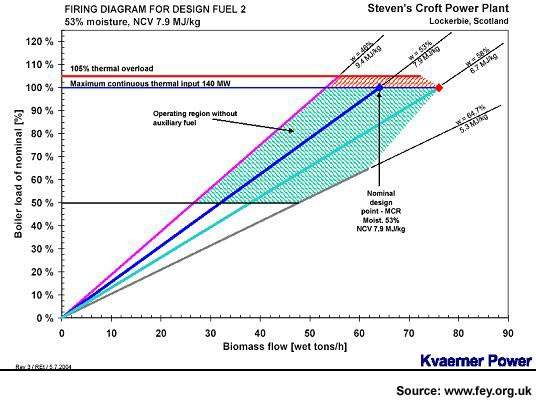 Boiler load against biomass flow. Source E.ON.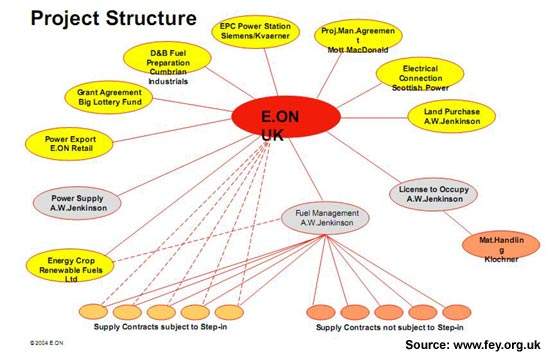 E.ON's project structure for Stevens Croft.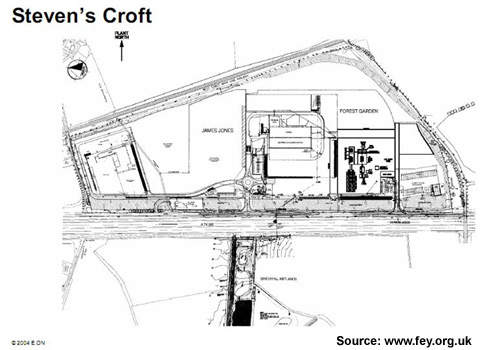 Stevens Croft is a €132m 44MWe Bubbling Fluidised Bed plant. Source E.ON.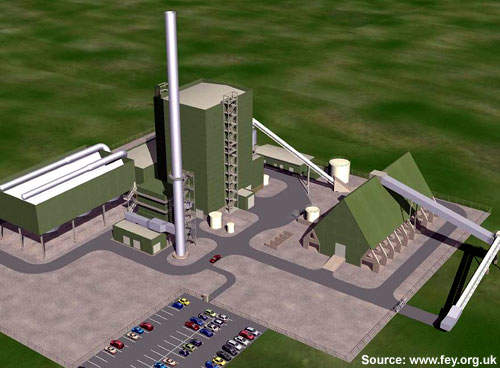 Stevens Croft was built by a Siemens/Kvaerner consortium. Source E.ON.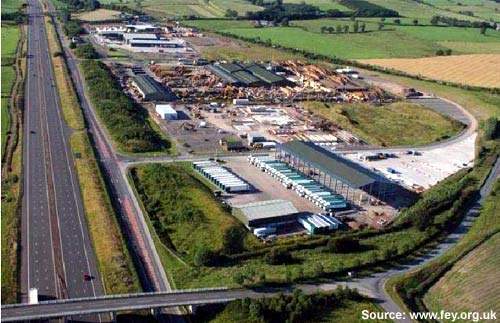 The E.ON plant will burn 475,000t of sustainable wood a year.
A €132m 44MWe Bubbling Fluidised Bed plant has been built at Stevens Croft near Lockerbie, Scotland. The CO2 neutral plant is the UK's largest dedicated wood burning plant, and is being built by a Siemens/Kvaerner consortium. It will burn 475,000t of sustainable wood fuel a year, including 95,000t of short rotation coppice. It will save up to 140,000t of greenhouse gas emissions annually.
Commissioning of Stevens Croft was in autumn 2007. E.ON won Best Renewable Project 2007 at the Scottish Green Energy Awards for the project. It is creating 40 direct jobs and should create or safeguard over 300 jobs in forestry and farming, as well as encourage additional investment in sawmills.
FULLY CONDENSING SYSTEM
Siemens is consortium leader. It provided overall coordination, engineering and project management as well as civil works, and electrical and I&C equipment. Kvaerner Power will supply the fully condensing 535ºC power boiler, fuel-handling system and flue gas cleaning equipment. Siemens is providing the SST-800 steam turbine.
"The CO
2
neutral plant is the UK's largest dedicated wood burning plant."
The SST-800 is a single-casing direct drive with reverse flow design. It works at 3,000 or 3,600rpm for generator drives up to 150MW and at variable speed up to 5,000rpm for compressor drives. The turbine can be used for both condensing and back-pressure applications. It is built from predesigned modules combined into a single unit for best parameter matching.
The three main modules (inlet, intermediate and exhaust section) are available in various sizes and configurations.
The complex inlet section consists of emergency stop valve, control valve, internal casing with blading and external casing. Blading in the internal casing is aligned for the steam to flow in the opposite direction to the intermediate section.
The intermediate section of the turbine is highly customised. It can be designed for straight flow, or equipped with internally controlled extractions or bleeds. The exhaust section is standardised in different sizes. It is prepared for axial or downward connection for condensing, while there is an upward or downward connection for back pressure.
BURNS HIGH MOISTURE CONTENT WOOD
Wood can have high moisture content, including Small Round Wood (SRW, 52–58%) sawmill co-products (54–62%), and Short Rotation Coppice willow (SRC, 35–55%). Besides freshly cut and old wood, Stevens Croft can burn different grades of willow.
The power plant can reach full output even with high-moisture fuels. It will burn a maximum of 20% recycled wood (limited by Planning and IPPC), and a maximum of 20% SRC (targeted by grant conditions for end 2011). Moisture content range for the plant is between 46% and 58%, with a design blend of 53%.
Worldwide, biomass can include forest wood and agricultural residues, urban wastes, biogas and energy crops. Biomass plants are common in Finland and there are similar sized operations in Holland and other parts of Europe. The UK aims to produce 10% of total power from renewable energies by 2010.
GOOD TRANSPORT FACILITIES
One common difficulty lies in getting wood to biomass plants. Stevens Croft was designated and prepared for forest industries cluster with excellent transport links including a railway line, yet close to densely forested areas. The site was already occupied by the sawmills of James Jones and Forest Garden and A.W. Jenkinson logistics centre.
The project had high-level Scottish Executive support. Scottish forestry timber is predicted to increase from 6m cu. m/year in 2002 to 10m cu. m/year in 2017.
"The power plant can reach full output even with high-moisture fuels."
FEASIBILITY STUDIES FOR STEVENS CROFT
Fichtner performed feasibility studies and planning. The feasibility study covered combustion technologies, project costs, operating costs and project procurement strategies. The company also prepared and submitted planning documents, including environmental impact assessment.
It developed the project's technical specifications before procurement. The engineering, management and development consultant Mott MacDonald helped with project management.
Nexans won a contract worth around €5m to make and supply the 33kV cable that provides the grid connection for Stevens Croft. The XLPE-insulated cable has a 500mm2 cross-section with two, three-phase, medium-voltage circuits. A total of 153km of cable provides the link to the nearest available grid connection, the Scottish Power substation around 25km away at the Chapel Cross nuclear power station. The cable was manufactured in the Nexans plant in Bourg-en-Bresse (France).
E.ON UK owns and operates 20 wind farms across the country and burns biomass alongside coal at three of its power stations.