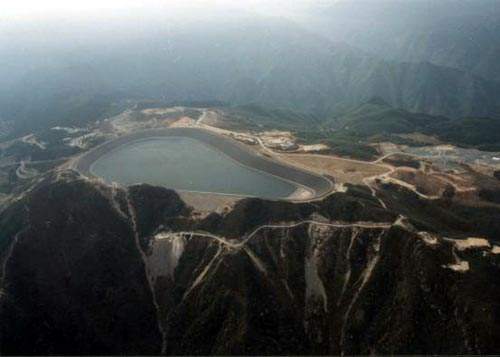 The Tianhuangping pumped storage hydroelectric project is the biggest of its kind in Asia.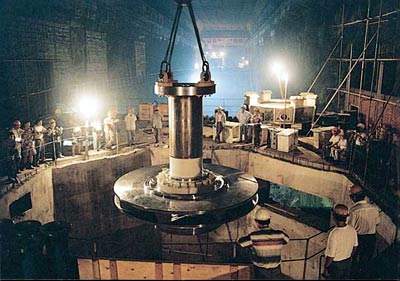 The 1,800MW Tianhuangping plant is located in Anji County in Zhejiang.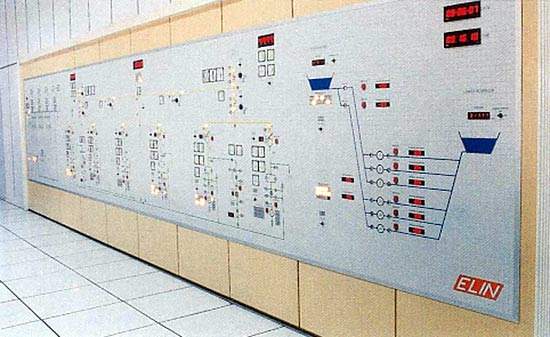 The Tianhuangping pumped-storage hydro plant cost around $1.08 billion, and came online in 2001.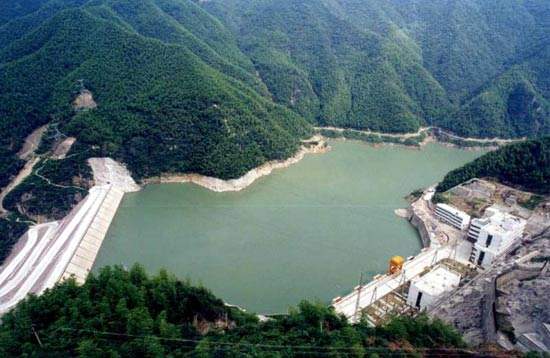 China is ramping up its electric power capacity to meet growing demand.
East China Electric Power's Tianhuangping pumped storage hydroelectric project is the biggest of its type in Asia. It provides valuable cover for demand surges in the central coastal region, including high growth Shanghai. It is located in Anji County in Zhejiang, about 175km from Shanghai, and has a total installed capacity of 1,800MW.
The new plant plays a vital role in stabilising the entire East China Power Grid, improving the quality of the power supply in east China, and ensuring the safe operation of the nuclear power stations in the surrounding areas.
TWO PUMP STORAGE RESERVOIRS
Two pump storage reservoirs are about 1km apart and have a difference in elevation of 590m. They both have a storage volume of 8 million m³. The lower reservoir is located on the Daxi Creek branch of the Xitiao river and the upper reservoir is an artificial basin cut deep into the mountains. Two 7m-diameter conduits from the upper reservoir each branch into three 3.2m-diameter pipes to power the six 306MW turbines in the underground powerhouse. The maximum generating head is 607.5m.
Construction began in March 1994 and the plant came online in 2001 at an estimated cost of $1.08 billion. The first generator began operation in October 1998, later than planned, partly as a result of a major landslide the previous year. The remaining five 306MW units came online in stages during 1999 and 2000.
PUMP TURBINES
To minimise the amount of on-site installation, the six pump turbines were pre-assembled prior to delivery and were then split into two for shipment.
The synchronous generators are of suspended vertical-shaft construction, with the thrust bearing above the rotor to allow better access for inspection and repair as well as reducing thrust bearing loss.
The generator set is totally enclosed within a reinforced concrete housing. Cooling air is circulated by the self-pumping action of the rotor rim and fans and the air coolers are located outside the stator frame.
ENSURING EFFICIENCY
EDF assisted in studies to optimise overall plant performance. A key requirement was to fill the upper reservoir in a shorter time than normal, requiring a low ratio of turbine output to pump input. Detailed computer analysis and model testing was carried out during the pump turbine hydraulic design stage to minimise the potential for problems such as cavitation and to ensure a turbine efficiency (neglecting head losses in the system) of 90% or better. The plant design achieved an overall cycle efficiency of 70%.
Peebles Electric Limited, part of the UK's Rolls Royce company, was awarded the $15 million contract for the six 360MVA, 515/18kV three-phase, double-wound generator transformers in 1995. Care in design was needed to meet a 200t weight limit for transportation and to ensure the unit could be taken through a narrow access tunnel with a tight bend and could be maneuvered into its final position.
Excitation of the pump storage motor / generator units is provided by Elin's THYNE 6 excitation system. Four rectifier bridges supply the rated excitation current of around 1,800A at 220V. The voltage regulation system uses two fully redundant digital voltage regulator and sequencer units of type GMR3 in hot standby configuration. Both provide full current and voltage regulation as well as system control, including devices for dynamic braking. The electrical protection for the motor / generator units, transformers and 500kV SF6 busbar is Elin's Windows-based DRS protection system.
CONTROL ROOM AND SYSTEM
Elin co-operated with Elsag Bailey in Canada on the control system supply, acting as sub-supplier for hardware and programme implementation. The distributed control system has ten local control units and interfaces with 22,000 I/Os, including spares. Dual redundant fibre optic cable and microwave radio links connect critical local control units such as that at the upper reservoir. Two data links connect the plant supervision and control system to the East China Power Dispatch Centre (ECPDC).
The main control room has two fully redundant operator stations, each equipped with two monitors. A 'president station' provides condensed information for power station management. There is also a mosaic plant overview panel to give a full plant overview and emergency back-up control. Many of the local control units have operator stations to provide local control capability, and there is also an engineering and maintenance terminal. A separate sequence of events recording system has been installed to document fault sequences down to a resolution of 1ms.
CONTROL SYSTEM SOFTWARE
The control system software runs the plant with minimum intervention in normal operation. Power output of the station can be set either by the operator or by the load dispatcher in Shanghai (ECPDC). The setpoint can be either a fixed value as forecast over time (daily load curve) or as a cyclic value generated by an Energy Management System in the dispatch centre.
The software includes an expert system for optimising energy production; based on software developed in Austria by Tauernplan Consulting. A full control system training simulator, complete with software to simulate typical fault conditions, has also been supplied as part of the control system contract.
HYDROPOWER IN CHINA
China is increasing its electric power capacity by almost 10% per year to meet growing demand from both industry and private consumers. More than 17% of China's total electricity production is supplied by hydropower, but only about 15% of the country's technically feasible hydropower potential has been developed to date. 24 hydropower-generating units with a combined capacity of 5,300MW went on-stream in China in 1999. This increased the installed hydropower capacity by 8.3% to almost 70,000MW at the start of 2000.
China has some 15,000MW of pumped-storage hydro plants planned, in operation or construction. Tianhuangping is the largest pumped storage scheme in Asia, and the third largest in the world.
FUNDING
The East China Electric Power Group project was funded by Shanghai, Zhejiang, Jiangsu and Anhui provinces as well as receiving a World Bank loan of $300 million. The Shanghai Branch of the People's Insurance Company of China (PICC Shanghai) provided $360 million of project insurance.
A consortium led by Kværner won the $160 million powerhouse equipment contract for Tianhuangping in 1993. Kværner had a 38% majority share in the contract order and supplied the six reversible pump turbines. Other principal partners in the consortium were GE Hydro and Austria's Elin Energiversorgung (VA Technologie). Electricité de France (EDF) provided technical assistance.
GE Hydro supplied the generator motors. Elin was responsible for design and delivery of components including excitation equipment, electrical protection, the control system for the power station, and the associated 500kV SF6 substation, generator bus ducts and starting frequency converter. Other electromechanical equipment sub-suppliers provided circuit breakers and starting systems for the units in pump mode.