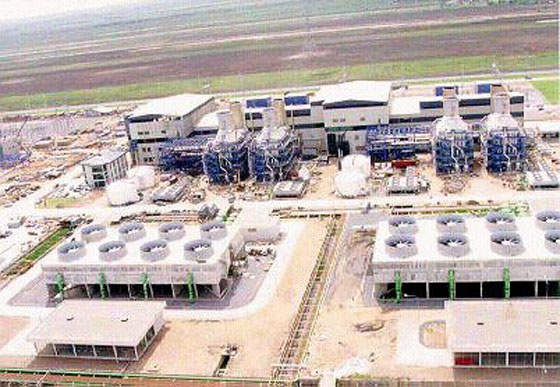 Wang Noi, stage one of the CCGT plant.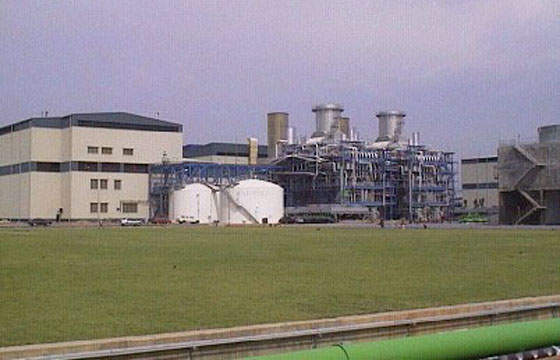 Wang Noi, stage two incorporating another 600MW combined-cycle power train.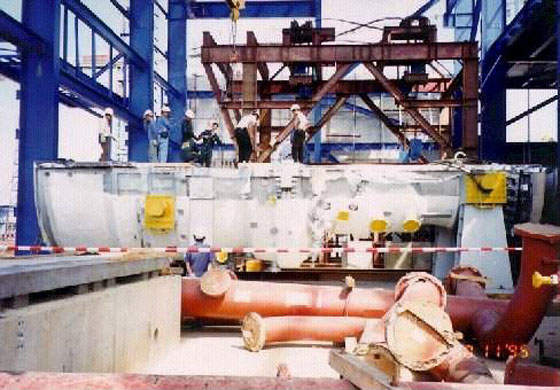 Lower half of a gas turbine being unloaded for setting in location.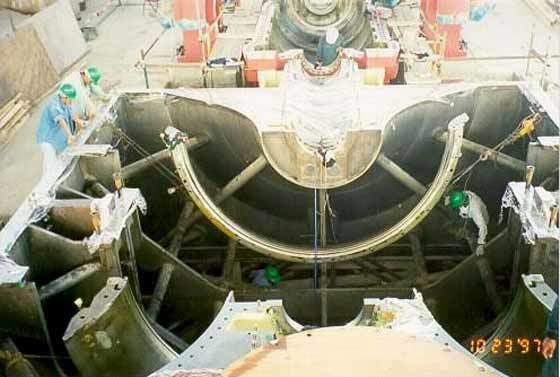 Preparation of flow guide ring for assembly.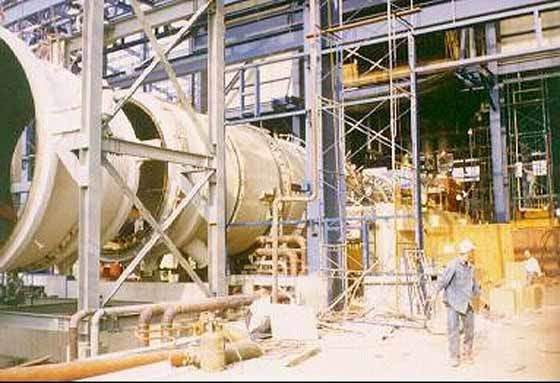 Erection exhaust duct of gas turbine.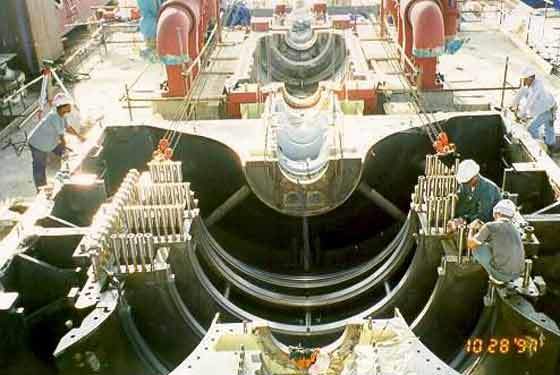 Installation flow guide ring (turbine side).
The combined-cycle Wang Noi power station, comprised of four generating blocks, is now producing 2,710MW of electricity for Thailand's central region. The plant is in Ayuthaya, 70km north of Bangkok, and was Electricity Generating Authority of Thailand's (EGAT) largest combined-cycle investment. The first three units of the plant were commissioned between 1996 and 1998 with an investment of $1.5 billion.
EGAT received government's approval for the construction of the fourth unit at the power station in February 2011. The 800MW new combined cycle unit with over 57.3% efficiency started commercial operation in April 2014.
WANG NOI PROJECT HISTORY
EGAT began construction work on the Wang Noi CCGT power station in 1995 to meet the country's surging demand for power. It was one of five large power generation projects EGAT began to meet domestic power demand which at that time was growing at about 12% (or 1,200MW) per year.
When first approved in July 1994, the project was planned as four combined-cycle power trains of 300MW each. The project was however modified to three combined-cycle power trains of 600MW each due to reasons related to the economy andfeasibility in transporting heavy equipment to the site. Two 200MW heavy-duty combustion turbine units with two heat recovery steam generators and a 200MW steam turbine generating unit are installed in each block.
The first two power trains for the Wang Noi power station were ordered in 1994, and unit one and two gas turbines were all on line by the end of 1996. Unit one steam turbine went on-line in September 1997, followed by the unit two steam turbine in November 1997. The official synchronisation of unit three gas turbines was completed by the end of 1997 and the third unit steam turbine was completed in April 1998. Total plant cost was just under $1.5 billion.
In September 1999, Wang Noi power plant became the first power plant in Thailand to receive ISO 14001 certification, assuring that its environmental management system is up to international standards.
The Wang Noi unit 4 was completed and handed over to EGAT by a consortium comprised of Siemens and Marubeni in April 2014.
The plant consumes over 280 million ft³ per day of natural gas, supplied from a gas separation plant at Rayong, owned by the Petroleum Authority of Thailand (PTT).
WANG NOI CCGT PLANT MAKE-UP
Mitsubishi Heavy Industries won the turnkey equipment supply contract for the initial units of Wang Noi. It had previously completed EGAT's second largest CCGT installation, the 1,375MW Bang Pakong plant. US group Black & Veatch provided engineering services and Jurong Engineering, Singapore, won a mechanical and electrical works contract for the plant. Civil works were contracted to local Thai groups. Danish company KE Burgmann supplied expansion joints, insulation and other components to Mitsubishi Heavy Industries for the turbines.
A consortium led by Nichimen Corp, which also included GEA Thermal – Dynamic Towers Inc and Toyo-Thai Corp, was awarded a $3.8 million contract to supply and install cooling towers for the first phase of the Wang Noi power station. GEC Alsthom supplied and supervised the installation of seven 200t 250MVA 525/242-22kV transformers. This was part of a $23 million contract to supply 17 transformers to three EGAT power stations.
The newly built block-4 of the CCGT power station comprises of two SGT5-4000F gas turbines, an SST5-5000 steam turbine, and three SGen-1000A generators, all supplied by Siemens. The heat recovery steam generators (HRSGs), cooling tower, as well as the main transformers used at the plant were provided by Marubeni which was also responsible the civil works and erection of the new plant.
CHC Engineering was hired for the design and construction of the substation. Black & Veatch was awarded a subcontract by Marubeni to support design engineering and procurement for balance-of-plant equipment and other services for the fourth plant at Wang Noi.
FUEL SUPPLY
PTT awarded an Italian-Japanese consortium of Saipem and Mitsui & Co a $145 million contract to build a 154km-long pipeline from Ratchaburi power plant to Wang Noi. The 30in-diameter, high-pressure pipeline was completed in 2000 and allows PTT to supply Yadana gas to Wang Noi power station and other customers through its grid network.