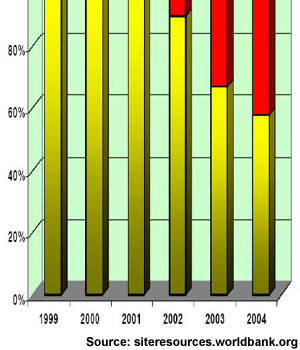 Proportion of >200MW coal plant ordered (yellow is subcritical, red supercritical).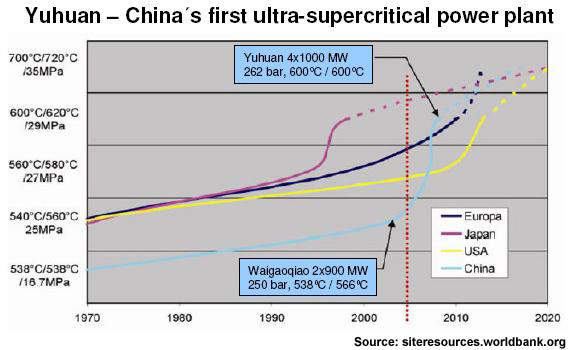 China is embracing large unit ultra-supercritical technology.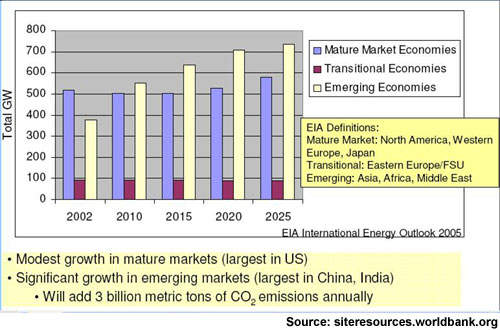 Worldwide coal-fired capacity by region 2002–2025.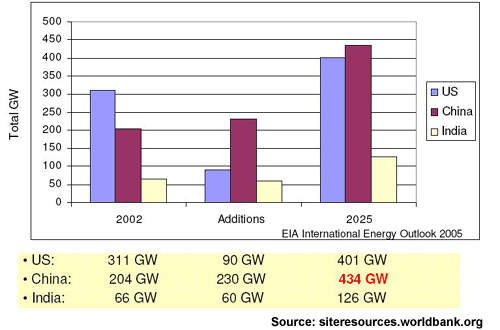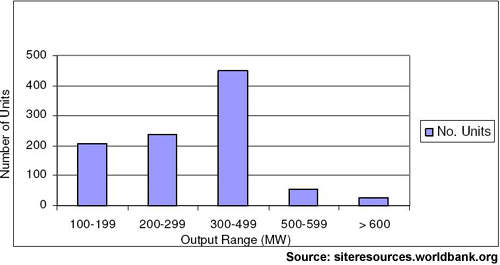 New coal-fired capacity additions through 2025 (Siemens).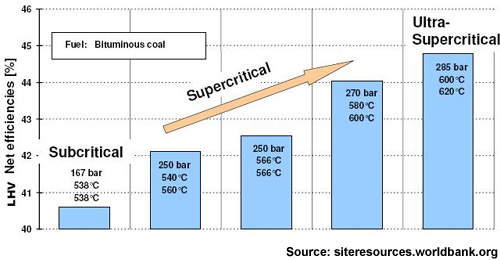 Of the 1,000 units working in China, ten 600MW-class are supercritical.
The Huaneng Yuhuan power plant located on the coast of East China's Zhejiang Province has China's first 1,000MW ultra-supercritical pressure boilers.
The ¥9.6bn (€900m) Huaneng Yuhuan power plant is equipped with four ultra-supercritical coal-fired power generating units of 1,000MW capacity each. Units 1 and 2 went online in 2006, and units 3 and 4 in 2007.
Operated by China Huaneng Group, the power plant generates 22 billion kWh of electricity a year.
The power generated by the plant is sold to State Grid Zhejiang Electric Power Company.
Ultra-supercritical pressure boilers used at Huaneng Yuhuan power plant
Supercritical operation of large thermal baseload power plants during the 1980s used steam temperatures of typically 550ºC, leading to approximately 40% thermal efficiencies. Ultra-supercritical steam conditions now use supercritical pressures up to 300bar with 600°C steam and reheat steam temperatures. This gives a net efficiency of 46%.
"Huaneng Yuhuan power plant is equipped with four ultra-supercritical coal-fired power generating units of 1,000MW capacity each."
Siemens reported that just a 1% gain in efficiency for a typical 700MW plant reduces 30-year lifetime emissions by 2,000t NOx, 2,000t SO₂, 500t particulates and 2.5 million tonnes of CO₂. New units also incorporate high-efficiency dust removal and desulphurisation.
The MHI boilers have a main steam pressure of 27.5MPa, the main steam temperature of 605°C and a reheat steam temperature of 603°C. The boilers were made and commissioned collaboratively by MHI in Japan, who provided the designs and key products, and Harbin Boiler (HBC) in China. Unit 4 was constructed by MHI and HBC.
Siemens supplied four 1,000MW ultra-supercritical steam turbines for the Huaneng Yuhuan power plant. These use a tandem compound, four-cylinder arrangement. Steam enters the high-pressure turbine through two main steam valves with exhaust steam being reheated and fed to a double-flow intermediate-pressure turbine. From there, it goes to two low-pressure turbines.
Ovation control system
Emerson Process Management's Ovation expert control system was implemented at units 1 and 2 in February 2007. Emerson won the $7m contract to automate the plant in April 2005.
The Ovation system monitors and controls the data acquisition system, modulating control system, sequence control system, furnace safeguard supervisory system and electrical control system for all major plant components. That includes the boiler, turbine, generator and balance of plant processes.
Ovation offers users high levels of plant availability, reliability and environmental compliance. The system provides a seamless interface with the most widely adopted bus standards, enabling smart device technologies to be incorporated into processes.
Coal supply for the Huaneng Yuhuan power plant
The coal required for the Huaneng Yuhuan power plant comes mainly from the autonomous region of Shanxi Province and Inner Mongolia. The plant site holds 500,000t of coal onsite.
Contractors involved
As the general contractor of EPC's desulphurisation system contract, Tongfang Environment was responsible for desulphurisation system design, supply, installation, and debugging.
The steam turbines at the Yuhuan power plant were jointly designed and manufactured by Shanghai Electric Group and Siemens Power Generation Group.
China is building ultra-supercritical industry
Majority of China's total energy consumption comes from coal, and the country still has huge reserves. Burning it, however, has severely damaged the environment and affected the health of the people in China and the surrounding countries. In northern China, cities like Beijing and Shenyang have some of the highest readings for total suspended particulates and SO₂ in the world with coal-burning being a major source of this. In southern China, large areas have growing acid rain problems.
China does have extensive unexploited reserves of natural gas. Gas power stations are more efficient and cleaner than coal stations, but some industry observers are saying that using gas for power production is wasting an inherently clean form of energy.
Because of its reserves, China continues to rely on coal and is using advanced technologies to reduce pollutants.