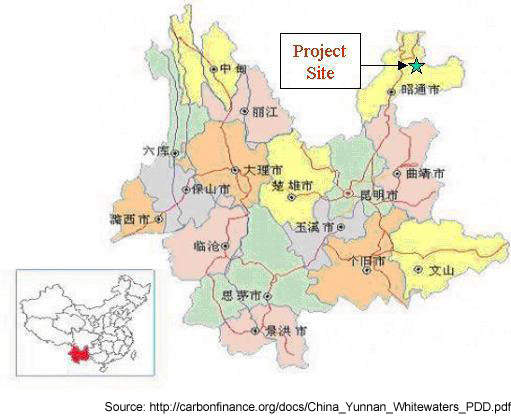 Work has nearly finished on three hydroelectric power stations on the White Water River, in the Yunnan Province, China. The 78MW Yunnan project cost around $69m and consists of a set of three cascade stations. Projects #1 and #2 are dam-gate run-of-river stations, while project #3 is a dam-diversion mixed station with a 2,660m-long water diversion tunnel.
Expected annual average electricity sales are 369GWh to the Yunnan Provincial Grid, part of the China Southern Power Grid (CSPG). The power stations were completed in 2007, and are expected to displace 8 million tons of greenhouse gas emissions over 30 years of operation.
LOW CONCRETE GRAVITY DAM
Each of the three hydropower stations has a concrete gravity dam, narrow reservoir and a powerhouse. Electricity is transmitted to the Yunnan provincial grid by high-voltage transmission lines.
The dam for station #1 is 30m high, with total capacity of 5.6 million cubic metres and generating 15MW. Dam #2 is 28.2m high, holds 6.0 million cubic metres and generates 15MW. Dam #3 is 44.5m high, holds 17.4 million cubic metres and generates 48MW.
Dams #1 and #2 each use two Nanning ZZ580-LH-300 Kaplan turbines, while Dam #3 uses two Hangzhou Dalu HLA551-LJ-270 Francis turbines and SF-J25-28/5500 generators.
"The plant is expected to displace 8 million tons of greenhouse gas emissions over 30 years of operation."
The diversion tunnel on project #3 directs water from the dam site to the powerhouse at the bank of the Heng River. The project reservoirs are largely confined within a steep narrow mountain gorge and provide only daily regulation capacity.
INCREASING ELECTRICITY DEMAND IN CSPG
White Water is helping to meet increasing electricity demand in the CSPG, which feeds China's fast-growing Pearl River Delta Region. It is introducing much-needed investment capital and employment to a poverty stricken, remote mountainous region of Yunnan Province.
The project site is approximately 470km north-east of Yunnan's capital city Kunming, 150km north-east of Zhaotong city and 7km from Yanjin County's town. The project is on the Bai-Shui-Jiang, a sub-tributary to the Yangtze River, which flows entirely within China.
The project has substantial development impact. The World Bank subsidiary IFC provided investment and technical assistant support. The project is in line with the Chinese government's policy to develop the western interior of the country and support the development of clean energy resources. White Water is bringing electricity to many more people in the region, and has substituted building of new coal-fired plants in China. This will help to avoid large CO2, SO2, NOx and particulate emissions.
DEG CO-FINANCES WHITE WATER HYDRO
DEG (Deutsche Investitions- und Entwicklungsgesellschaft mbH), one of the largest European development finance institutions, co-financed the power station. It has already co-financed eight wind farms and hydropower stations in Asia and Latin America, at a cost of €60m.
"The project is located in a remote mountainous area with relatively luxuriant vegetation coverage and good water quality."
DEG granted Yunnan Zhongda Yanjin Power Generation Company, the project owner, a €10m loan over 15 years. Yunnan Zhongda currently holds six existing small hydro stations, with an aggregate installed capacity of 18.5MW. The majority shareholder of the project company is Zhejiang Zhongda Sanchuan Hydropower Development Company (Zhongda Hydro), the project developer.
Total project cost was approximately $69m, to be financed 60% by debt and 40% by equity. The IFC provided $22m of financing, IFC's first investment in Yunnan. IFC helped mobilise long-term financing for a local private Chinese power developer, for which appropriate long-term financing was not available locally.
IFC also helped the project's application for carbon credits to improve the financial viability. The project will have a demonstration effect and is expected to attract more investors to Yunnan and other western provinces, by demonstrating the viability of the business model for small hydropower projects employing international environmental, social and governance standards.
WHITE WATER ENVIRONMENTAL IMPACTS
Category A Environmental Impact Assessments (EIAs) for the project were prepared by the Institute of Ecology and Geobotany at Kunming University, and were approved in August 2004 by the Chinese authorities. Project land acquisition impacts villagers in nine villages of two townships in Yanjin County.
Environmental impacts are typical of hydro projects. The project is located in a remote mountainous area with relatively luxuriant vegetation coverage and good water quality. There are no natural conservation zones, cultural relics or historic resorts in the project vicinity. There are also no known rare, endangered or special species of animals and plants.
None of the families directly affected by the project are of designated minority groups. Because the project region is mountainous, run-of-river projects have relatively high dams but small reservoirs.