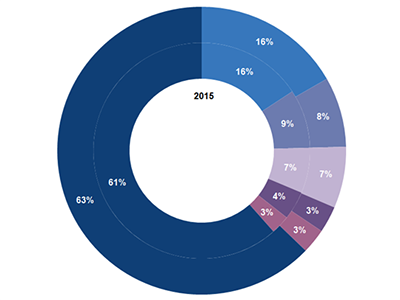 The global High Voltage Circuit Breakers (HVCB) market is expected to grow from $2.27 billion in 2015 to $2.52 billion in 2020 according to GlobalData's latest report on the global HVCB market.
In the emerging economies of Asia-Pacific, South America, Africa and the Middle East, extensive power plant capacity additions, economic growth, and the need to improve access to electricity are driving grid expansion and growth of the HVCB market. In developed economies such as North America and Europe, the market is driven by the need to upgrade the existing aging transmission network and grid interconnection. Globally, countries are establishing cross border networks, and adding capacity, especially through renewable sources to guarantee secure and reliable power.
Asia-Pacific accounted for the highest share of market with a market value of $1.08 billion in 2015, followed by Europe, the Middle East and Africa (EMEA) region and the Americas.
China had the highest share of the global HVCB market, accounting for 16% of global market share in 2015. With increased investment in Ultra High Voltage (UHV) transmission network, it is also expected to lead the market during the forecast period in terms of market value, with 16% of global share by 2020. The extensive capacity addition in power generation sector has attracted investments and development in transmission and distribution (T&D) sector as well.
The US ranks second in global HVCB market next to China, accounting for 9% of global market share in 2015. The US HVCB market is expected to remain almost stable during the forecast period, with its global market share forecast at 8% by 2020. The market is mainly driven by replacement projects as the major components in the transmission network of the US have reached the end of their service life.
The HVCB market of India stands third next to that of the US, accounting for 7% of global market share in 2015. The HVCB market of India is a growing market, driven by high economic growth and grid interconnection projects. It is expected to maintain the same percentage of global market share in 2020.
Brazil has the fourth largest HVCB market in 2015, accounting for 4% of global market share. During the historic period 2010–2015, huge investments were made in the country's T&D sector due to the 2014 FIFA World Cup and Rio 2016 Olympics. This led to a growth in the HVCB market.
Related report
GlobalData's latest report "High Voltage Circuit Breakers Market, Update 2016 – Market Size, Competitive Landscape, Key Country Analysis and Forecasts to 2020" offers comprehensive information and understanding of the High Voltage Circuit Breakers (HVCB) market. The report offers in-depth analysis of HVCB market at global, regional (Asia-Pacific, Americas, Europe, and Middle East and Africa) and key countries (the US, Canada, Brazil, Germany, the UK, Saudi Arabia, China, India, Japan, Australia and Republic of Korea) level.