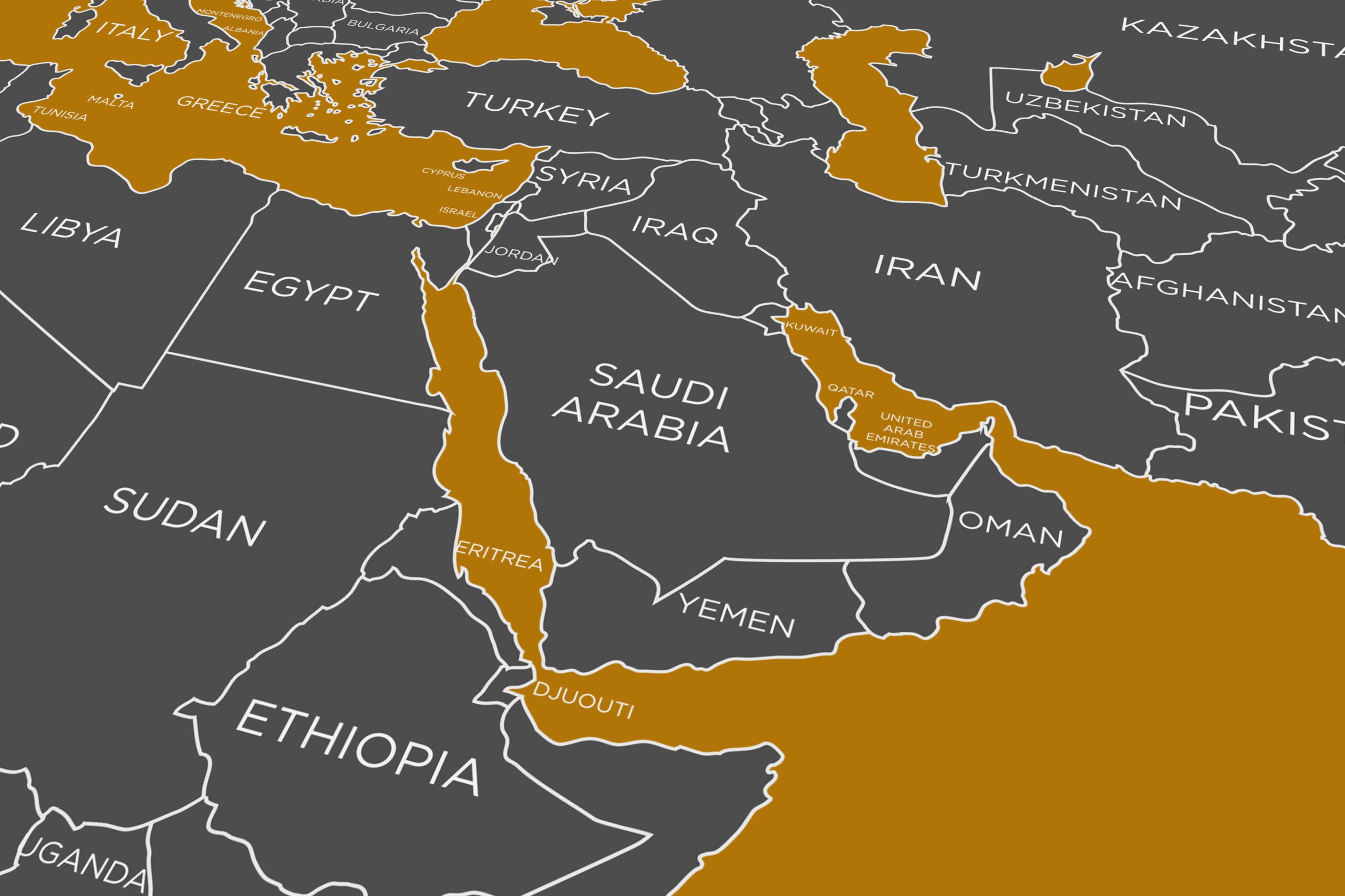 As companies and governments across the world set their course on the path to net zero, the question of what to do about those hard-to-abate industries – namely heavy industry – often threatens to become a stumbling block on that pathway. For some, these big polluters – producing 30% of the world's carbon emissions – sit uncomfortably within the narrative of transition to net zero. For others, their decarbonisation represents an opportunity.
According to Mitsubishi Heavy Industries (MHI) Group, carbon avoidance is a crucial step in the transition, replacing the use of fossil fuels with energy from renewable or other low-carbon sources. But reducing CO2 emissions alone is not enough to achieve carbon neutrality. There will remain some intractable emissions that can neither be reduced any further or absorbed naturally – and these will have to be dealt with by carbon capture, utilisation and storage (CCUS).
A test case is the MENA region, home not just to many of the world's biggest oil and gas producers, but also a number of its hard-to-abate materials manufacturers, the latter relying heavily on the former. This year, the region is host to the COP27 climate conference, in Sharm el-Sheikh, Egypt, but for many it still lags behind other regions in terms of policies that support the transition to green energy.
Key challenges
"The key challenge to decarbonising this hard-to-abate sector, particular to this region, is the lack of a consistent and well-thought-out, detailed plan for what will happen to the CO2," says Professor Dr Emmanouil Kakaras, executive vice president, NEXT Energy Business at Mitsubishi Heavy Industries EMEA.
"As I have said on many occasions, decarbonising the hard-to-abate sectors is not a technological problem: we have in our portfolio the key technology to achieve that. However, because of the magnitude of the amount of CO2 emissions we are dealing with – maybe if we count everything in the region we are talking at least 100 million tonnes per year to be managed and permanently stored and so on – we need to have a coherent strategy to deal with [that]. And that has prerequisites, both for regulation and the infrastructure creation."

Dr Alexander Fleischanderl, Head of Green Steel at Primetals Technologies, a joint venture of Mitsubishi Heavy Industries and partners, agrees on the need for more policy action. Talking specifically about the development of green steel markets in the region, he says: "What it requires in the MENA region to set the right playing field to be competitive, and especially to accelerate renewable energy production, [is] more political support from the governments. So if we compare it to Europe or the US, where there's been strong support from the government, like in Europe with the Emissions Trading System or the Carbon Border Adjustment Mechanism, or the US with the 45Q programme [of tax credits for carbon sequestration], or now the Inflation Reduction Act, I believe strongly that the MENA region, especially the Middle East, should set up a similar taxonomy to accelerate the transition."
But despite these supporting mechanisms, the energy crisis Europe is currently experiencing means it is unlikely to be able to offer green metallics at competitive prices on a global level, says Fleischanderl. "So going back again to MENA, the price of renewables will be on a very different level compared to Europe, at least over the next decade," he says.
"In the MENA region today, green hydrogen can already be produced at a price level of $3 to $4 per kilogram, compared with the European price level, which is for sure above $7 or $8. It's simply a great opportunity for the MENA region to invest and expand quickly into renewable energy, green hydrogen, and also in green metallics as soon as possible."
Investment in renewables to replace the fossil fuels used in materials production is a key step towards the decarbonisation of these sectors. But they are, says Kakaras, energy-intensive sectors which, by definition, are difficult to abate. The energy requirements are massive, and will demand the realisation of the region's huge untapped potential in renewables development.
Green hydrogen in the spotlight
"Green hydrogen – low-carbon hydrogen – is the most significant pathway to decarbonise the hard-to-abate industries," says Fleischanderl. "If we talk about the steel sector, there are not many opportunities to leave carbon and fossil fuels behind. One pathway is replacing the fossil fuels with green hydrogen.
"The second one is electrification of the processes to run on electric power, and the third one is carbon capture, storage and utilisation. Everyone now is really hunting for the first option, replacing the fossil fuels with green hydrogen. So, what is still missing to decarbonise the hard-to-abate sector is the massive amount of green hydrogen that is required for that journey."
This will require similarly large amounts of investment. Kakaras points to a couple of recent initiatives in Europe: the IPCEI Hy2Use project, only just approved by the European Commission, will provide up to €5.2bn in public funding to support the use of hydrogen in the industrial sector. This is expected to unlock an additional €7bn in private investment.
There is also the Carbon Border Adjustment Mechanism (CBAM), designed to avoid carbon leakage and to encourage partner countries to establish carbon pricing policies. This, says Kakaras, "in essence is a good idea, but it has to be implemented in a very transparent and objective way in order not to create any market distortion".
European policymakers, he explains, need to "balance the effort to maintain some industrial activity in Europe and to maintain the competitiveness of such production [with] on the other hand measurable carbon reductions where it makes sense." And striking this balance is not easy.
When it comes to nudging producers in the right direction, he prefers a carrot rather than a stick method. "I generally would like to see from the policymakers more of an active investment promotion in green technologies to increase the yield of green, carbon-free products, rather than penalising existing businesses, which will not bring the transformation needed to achieve carbon neutrality."
Visionary approaches
Bringing the focus back to MENA, Kakaras cites the partnership with Aluminium Bahrain (Alba) as evidence of MHI's decarbonisation work in the region. Earlier this year, MHI and Alba announced a feasibility study looking at applying carbon capture technology on Alba's operation – the world's largest aluminium smelter outside of China. The group's power solutions brand, Mitsubishi Power and other partners, were contracted to design, engineer, procure, construct and commission a 680.9 megawatt (MW) combined cycle gas turbine power block, which will be able to run on clean hydrogen in the future.
"This particular industry [aluminium] is electricity intensive and it features very high indirect and direct CO2 emissions," Kakaras says. There are efforts to reduce the indirect carbon footprint through the use of high-efficiency combined cycle plants for power production, and post-combustion CO2 capture installation.
"What is more important, however – and it is really what we call hard to abate – is the direct emissions from the smelting process," he continues, explaining that what makes it so difficult is that "the concentration of the CO2 in the flue gas from the smelter, what is at the end emitted into the atmosphere, is very low: something like 1%. And that's the most, I would say, challenging exercise that we are jointly undertaking with Alba, where we, for the first time worldwide, are trying to capture CO2 at such a low concentration."

He is confident that MHI and Alba can rise to the challenge, though, praising "the visionary approach" of Alba. "If we want to move to what we call green aluminium, we have to tackle the direct emissions. We are working together to develop customised technology based on scrubbing technology that could tackle this particular emission measure."
But the region's materials sector still has a long way to go in terms of applying CCUS technology, without which the transition to net zero won't be possible, says Fleischanderl. "It's forecasted for 2050 that one third of global steel production will be produced utilising coal. So the only way out for these assets is to apply CCS, or CCUS more particularly. And going back to the MENA region, there's only one carbon-capturing plant in the steel sector today, and that's with Emirates Steel, which has applied carbon capture on an industrial scale for one of its direct reduction plants [the Al Reyadah project in Abu Dhabi]."
The conversation has moved on from whether CCUS is necessary, or indeed possible, says Kakaras. "We cannot achieve decarbonisation without CCUS; that is now commonly accepted. Some 15 years ago, the issue of carbon capture was met with scepticism because, of course, it comes at an additional cost. Now, we have the technology and we can prove that with a foreseeable carbon pricing structure, we can deliver the technologies and practically capture CO2 at, I would say, a range that it is well below $100 per tonne."
He adds that the region's governments are launching initiatives for storing carbon not just offshore, as is the case in some parts of the world, but underground as well, "thus bringing the costs of CO2 capture and storage significantly down".
Of course, climate change is a global issue, not a regional one, and both Kakaras and Fleischanderl acknowledge that greening the hard-to-abate materials sectors will require a global solution. Which has implications for the way in which energy is traded across the world.
"The trade of green energy will become the major game changer to the transition of the hard-to-abate industry," says Fleischanderl. "It will likely be the transport of green ammonia that will support this transition in other regions of the world. So again, talking about Europe, Europe will strongly rely on the input of renewable energy, likely in the form of green ammonia or green hydrogen, for application to the hard-to-abate sector.
"The operational costs to produce green metallics are around 80% related to the energy cost, so it seems quite logical that there might be relocation of the upstream facilities in iron making to where the energy is cheap, and not transporting the iron ore into Europe any more but adding more value to this iron ore, producing direct reduced iron [DRI], HBI [hot briquetted iron], and shipping these metallics into Europe for further processing."
The much-hailed but expensive 'power-to-X' solutions – converting surplus renewable electricity into heat, hydrogen or synthetic fuels – are also ripe for development, says Kakaras. "Especially in the [MENA] region, the challenge is to have carbon-free electricity which will be in such an oversupply, because of the geographical and conditions of population and so on, that will permit the so-called power-to-X technologies to be implemented in this region. In simple words, if power-to-X will not happen in this region, then where will it happen?"
The road to 2050
Are there any other questions over the future direction of travel? As regards the steel industry, Fleischanderl notes the ambition of national targets. "I would say first of all, the scene is set, so the transition is going to happen. And 90% of the global steel production nations have committed to carbon net zero by 2050 or 2060, so it's going to happen.
"But what keeps me up at night, if we talk about the major roadblocks, is the fact that the amount of renewable energy and low-carbon hydrogen required for the steel sector is so massive that it's not about any roadblock of technologies or new pathways; it's simply that I'm wondering if the timeline to provide this massive amount of renewable energy and low-carbon hydrogen can meet the requirement of the net zero pledges by 2050."
As the spotlight turns to MENA for COP27, the world will be looking for reassurances that these targets are indeed achievable, and that the region and its most hard-to-abate sectors are making progress towards them.