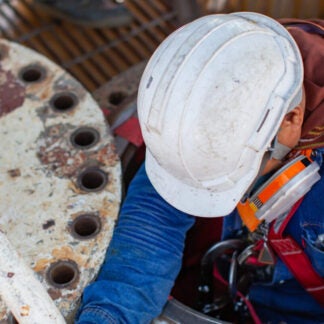 During the manufacturing and maintenance of equipment, it is not uncommon for workers in power plants to be required to enter confined spaces. According to the Occupational Safety and Health Administration, a confined space is defined as not being designed for continuous occupancy by the employee and having a limited or restricted means of entry or exit.
Examples of confined spaces in the energy industry include pressure vessels, pipelines, silos, boilers, and turbines.
Power plant safety: confined space policy
Whether dealing with windfarm turbines or offshore platforms, the hazards of confined spaces often overlap, however some confined spaces have recognized specific hazards. Safety policies and the equipment provided to workers must be adjusted to take these unique hazards into account, such as respiratory PPE for low oxygen environments or areas where there is a risk of hazardous gases.
Low-hazard confined spaces are known as non-permitted space. Whilst workers may not require special protective equipment, they will need to complete a written safety checklist before they begin work and may also be required to remain in contact with other personnel. Suitable signage for entry and exit, as well as warning signs for confined spaces, may also be applicable.
A permit-required space contains at least one atmospheric hazard. This may include material that has the potential to engulf an entrant, internal configuration such that a worker could become trapped or asphyxiated, sloping floors to a smaller cross-section, or any other hazards such as exposure to chemicals or hazardous gases.
Written permit space programs
Workers must be supplied with a permit space program that details the steps that need to be taken when entering a confined space at a power plant or wind farm.
Elements of these permit space programs include documentation of permit entry procedures, designation of employees that have active roles, training procedures, how to identify and mitigate hazards, processes for use and maintenance of equipment, and rescue procedures.
Safety equipment for confined spaces in power plants
Carroll Technologies provides a wide range of customizable safety signage from Nation Marker Company (NMC) in an array of materials, from rigid plastic to aluminium, and in a range of colours.
For permit-required spaces with low oxygen or hazardous gases, Carroll supplies a range of respiratory PPE. This includes the MSA Altair 4X and 5X multi-gas detectors for continuous monitoring of combustible or toxic gases, which also feature motion detection to alert others if the user has become immobile. Carroll also supplies the Ocenco's M-20, the world's smallest SCSR that uses compressed oxygen to provide respiratory protection for up to 32 minutes.
For remaining in contact while in confined spaces, Carroll Technologies provides an extensive range of two-way radio systems that provide complete communications coverage. Models include the 111 Page Boss, fitted with a bullhorn speaker, and Model 112 page phone, which features a sounder strobe for increased audible and visual alerts in noisy working areas.
This article was first published on Carroll Technologies