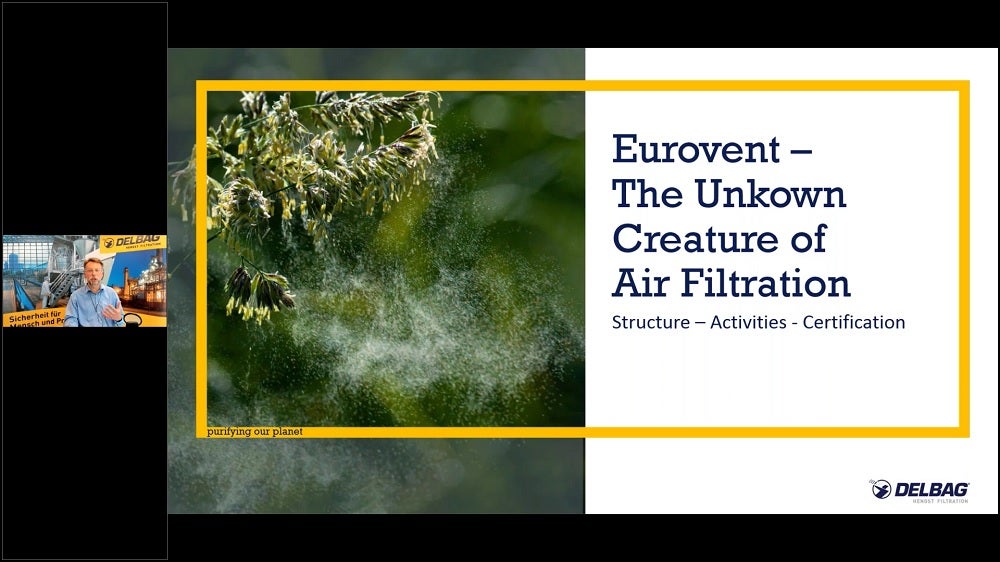 Choosing the right air filtration system can be a difficult decision, and even with manufacturer information to hand, it can be hard to assess long-term efficiency in tricky filtration applications. Of course, this also assumes that there are no discrepancies between the documentation and product you receive.
Eurovent is an umbrella association which sets out to ensure that indoor climate (HVAC), process cooling, food cold chain, and industrial ventilation industries provide complete transparency and security to customers, but what does being Eurovent certified mean?
According to Thorsten Stoffel, product manager at DELBAG: "There is a persistent rumour that Eurovent is essentially an industrial trust in which leading companies in the ventilation industry mutually agree to different rules so that the market dominance of these few companies is secured. According to this rumour, this alleged Trust operates via self-imposed audits, and even worse, by a multilateral distribution and price agreements."
Stoffel argues that such a criminal structure would be impossible on a national or European level. Instead, Eurovent is led by a commission that represents associations from across the continent.
"The members are delegates from 17 participating European industrial associations," Stoffel explains. "All 17 members have equal voting rights, regardless of their own number of members or the gross financial turnover of their national members. The commission defines the strategic direction of the umbrella association and establishes product groups."
Product groups focus on different subsectors, such as air conditioning units, ventilation systems, evaporating cooling systems, air curtains, and air filters. These groups consist of
associations, test labs and research centres, and their job is not to create certifications themselves, but to provide technical recommendations to legislative bodies.
Eurovent is comprised of two subunits. The first is Eurovent Certita Certification, which offers independent certification programmes for a range of products (such as air filters, fan coils, and cooling towers). The second is Eurovent Market Intelligence, which carries out ongoing market research into various product groups.
"Companies in the ventilation industry can have their products certified on a voluntary basis by Eurocent Certita Certification," Stoffel states. "Three important statutory principles govern all programmes. The first principle is called "certify all" which means that companies cannot single out individual portions of a particular product series.
"The second principle is that certified companies may only trade under the current version of ISO 16890. Frequently in the B2B sector, companies act under old or invalid industrial standards.
"The third requirement is the ISO 9001:2015 and ISO 14001:2015. This ensures that certified companies operate under an effective quality management system, and at the same time demonstrate a sustainable environmental awareness in their entrepreneurial activities."
When it comes to air filters, some of the specific rules for certification of this product group includes submitting ISO 16890 test reports to Eurovent, along with any independent or external calibration reports.
Transparency and security
"You as a customer can better check the pressure loss of an air filter and know whether a particular filter class has been achieved, whether this filter class is permanently maintained, or how long a filter can be operated," Stoffel explains. Through the information that Eurovent requires manufacturers to divulge, customers can also make a better assessment of energy consumption and the total cost of ownership.
"Very precise technical specifications must be provided, which makes it possible for you to make the right choice to accommodate your specific air filtration application, and also give you peace of mind that your choice will permanently fulfil air filter requirements"
These technical specifications include ePM10, ePM2.5, ePM1, as well as initial pressure drop.
Eurovent verifies that the information manufacturers provide is representative of their products by carrying out annual audits, where a representative will visit a site and make a random product selection. These products are then sealed on-site and sent to independent external testing centres, where valid certification is granted if no deviations are found. If there is an issue, a manufacturer can request a retest or agree with deviation, which means that they must update their documentation with accurate data. Manufacturers can get a maximum of fifteen failure points, or they will lose certification for one year.
Eurovent also checks that all information provided to the umbrella association corresponds with manufacturers' documentation provided to customers.
Innovating certification for air filters
To further make it easier for customers to judge which air filters suit their needs, Eurovent carries out ongoing research into assessment methods of the long-term effectiveness and sustainability of different products.
"It was long discussed by experts in air filtration that energy consumption cannot be judged by the initial pressure loss only," Stoffel explains. "With increasing dust loads, a filter element calls for more and more fan powder. With this fan power in mind, we have to look more closely at the pressure drop curve in an air filter over time."
"The challenge for the group was the develop an energy calculation that firstly corresponded with the physics of air filters and secondly applied to all designs and filter classes. Thirdly, it had to be derivable from the test results of ISO 16890 reports, and finally, it had to be simple and practical to apply."
Eurovent introduced this method in 2012 and it was then integrated into the certification scheme. To this day, this calculation assesses the energy consumption of air filters depending on how it is being used.
For more information, download the webinar below.