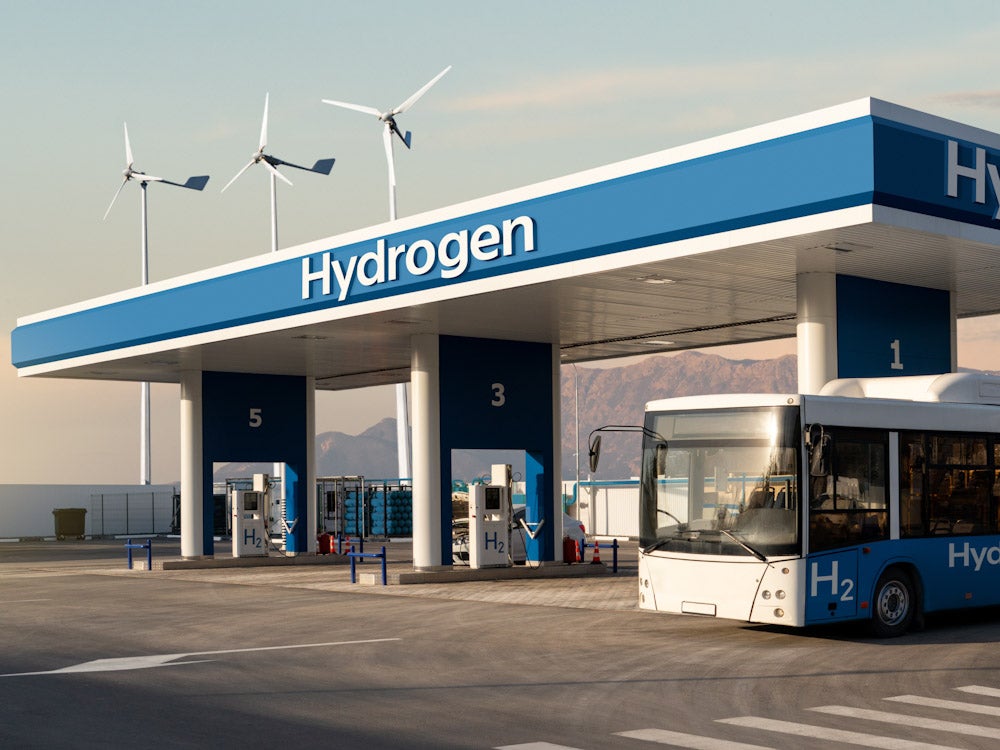 Decarbonising heavy-emitting modes of transportation remains a fundamental challenge in the clean energy transition, with hydrogen viewed as an essential fuel in achieving this with zero tailpipe emissions.
Amid spiralling fuel prices and a global energy crisis, the need for clean fuels that are better insulated against global events has never been greater – and with its potential for domestic production, hydrogen offers a further advantage here.

In Scotland, hydrogen is already powering zero-emission vehicles in Aberdeen from two refuelling stations, which began operations in 2015 and have served some 85 vehicles that include buses, cars, vans and heavy goods vehicles (HGVs). Meanwhile, on the Bo'ness and Kinneil Railway in the Central Lowlands, a retrofitted train has been running on hydrogen.
Within the next decade, Transport Scotland also predicts that HGVs powered by hydrogen could be widely seen on long-distance transit routes on Scottish roads. While battery-electric is considered the best option for smaller vehicles, the potential of fuel cell technology is being embraced for heavy-duty transport – and could be adopted on a similar scale to diesel.
"The Zero Emission Energy for Transport (ZEEFT) Report forecasts that transport's demand for hydrogen could increase to around six terawatt-hours a year by 2035 – equivalent to 80% of the diesel used by HGVs in 2019," says a Transport Scotland spokesperson.
The recent surge in global fuel prices has brought the costs between diesel and hydrogen closer together. In fact, hydrogen fuel cell vehicles can deliver a comparable operational range and load capacity to diesel engines. However, transitioning vehicles on the necessary scale from fossil fuels requires changes to existing systems and infrastructure.
"We are so used to petrol and diesel – and diesel is very efficient," explains Fiona Landy, delivery manager of the Hydrogen Accelerator project based at the University of St Andrews. "People just want to go like for like, but we have to understand that we can't do that. There has to be some changes or compromises in how we utilise zero-emission mobility solutions."
Transitioning to low-carbon transport
Through the Hydrogen Accelerator, Landy is heavily involved with a project that brings together five local authorities from across Scotland with the regional transport partner. Working alongside the Energy Savings Trust, data is analysed to build a clear picture for local authorities of exactly how many fuel cell electric vehicles (EVs) are required in their operations fleet, or the number of battery-electric models needed.
"We will do the total cost of ownership models for a local authority," says Landy. "We will take their fleet data and analyse it. For some of these vehicles using a hydrogen fuel cell EV, there is no need if you are doing really short bursts. Battery-electric will be probably fine," says Landy. "Where you have long distances and vehicles need to be workhorses, that is a completely different matter."
From this total cost of ownership, local authorities can compare the calculations against existing budgeted figures for operations fleets.
"Building up the model for funding these vehicles as well and the timelines all helps Transport Scotland understand what their budgetary requirements will be going forward," adds Landy.
A reservation expressed around developing new clean energy technologies can be the costs involved. A key part of the work of Landy's team involves overcoming perceptions that hydrogen is too expensive or has issues with reliability.
"We try and dispel the myths and make it as easy as possible for local authorities to make that transition," comments Landy. "It is really about bringing academia, public and private sector organisations together.
"Looking at future funding rounds where we could get consortiums, public and private sector organisations to work together to start to create that demand and offtake."
Building the refuelling infrastructure for hydrogen
For hydrogen to be adopted as a commercial transport fuel, refuelling stations must be widely available. The Hydrogen Accelerator is involved in trialling refuelling models for hydrogen-powered vehicles around Scotland and planning the infrastructure.
"When we get the model right, which we hope to do very shortly, we will then start to look at how we replicate that across Scottish regions – that is our plan – and then bringing in the private sector on the back of the public sector as well," adds Landy.

Aberdeen remains a leading location for hydrogen development. Expanding on the two refuelling stations already in use, the city council signed a joint venture agreement with BP earlier this year to develop a hydrogen hub, comprising a production facility and refuelling infrastructure. The target is to produce enough green hydrogen to power 25 buses a day from 2024. Future plans could see production scale up to produce green hydrogen for freight, marine and rail transportation, with the opportunity for exports.
While Whitelee onshore wind farm near Glasgow is one example of how Scotland is utilising its vast renewable resources to power the electrolysers required to produce green hydrogen. Electrolysers split water into its chemical elements of hydrogen and oxygen to produce a fuel that emits no carbon emissions in production or consumption.
The Whitelee facility will be a core facility for producing green hydrogen, with ScottishPower storing supplies there. Once fully operational, the facility is projected to have a daily production capacity of eight tonnes for green hydrogen, equivalent to meeting the energy needs of 550 buses on a return trip from Glasgow to Edinburgh. The plan is to transport hydrogen via tankers to smaller refuelling hubs across the region. In a sign of how progress is expediting, green hydrogen could be commercially available from Whitelee before the end of next year.
Within the next eight years, Scotland has the ambition to reach 5GW in installed capacity from hydrogen production through zero-emission or low-carbon methods. By 2045, this installed capacity target for hydrogen production rises further to 25GW. What bolsters Scotland's chances of reaching the target is that the country possesses a significant proportion of European offshore wind resources, as well as huge potential for tidal energy, and is continually developing projects to further harness these sources.
All these factors help build the business case for original equipment manufacturers to pursue developments in this emerging sector and invest in Scotland.
"There is an order book waiting to be had here in terms of the vehicles required," adds Landy.
Retrofitting transport to run on hydrogen
To transition to a low-carbon economy more quickly and minimise disruption, adapting existing infrastructure and systems is considered a better option than building everything from scratch. This also enables cost savings and presents the opportunity to bring in experts from other industries.
A prime example is a hydrogen fuel cell electric powertrain that the Hydrogen Accelerator team and partners converted from a four-decade-old Class 314 train consisting of three cars. The ex-ScotRail train has been successfully running on the Bo'ness-Kinneil heritage line, powered by green hydrogen.
According to Landy, normal budgets for such a project would be around £30m, yet the Hydrogen Accelerator team delivered the project for a fraction of the cost (£3m). Crucially, the project also brought in skills and expertise within Scottish industries such as oil and gas.
"That was a fantastic project that is just coming to the end of its phase now," says Landy. "We started to see oil and gas companies coming in and saying: 'What can we do in workshops? How can we get involved?' There are lots of opportunities for engineering skills that can be utilised in this sector."
Hydrogen-powered trains are expected to be particularly important in future, particularly in rural areas where the electrification of rail lines is not always cost-effective.
"We want to innovate. We want to work on challenging projects that need that a level of expertise that we can tap into to achieve the ambitions of the Scottish Government and agencies," adds Landy.
Using hydrogen to decarbonise existing fuels
Another promising use of clean hydrogen is to blend the gas with other substances to create low-carbon fuels for use in existing combustion engines. For example, blending clean hydrogen with captured carbon creates e-methanol, which is a synthetic replacement for fossil fuels. While there are carbon emissions with these hybrid fuel types, they are significantly lower than existing fossil fuels and require minimal adaptation for heavy-duty engines. There are also benefits for transportation.
"The beauty of these solutions is that they can be drop-in replacements for fuels currently used with no requirement for altering any infrastructure," says Jamie Robinson, hydrogen specialist for Scottish Enterprise's low-carbon transition team. "They are also much easier to transport than pure hydrogen."
In addition, hydrogen can be used to create ammonia for industrial processes and fuels – with a substantially lower carbon footprint than current levels. Ammonia is commonly produced using grey hydrogen – made by steam methane reforming of natural gas – combined with nitrogen, making existing processes highly polluting. Replacing grey hydrogen with green or blue hydrogen – made in a similar process to grey hydrogen but capturing the carbon – could decarbonise industrial processes. Heavy industries such as shipping can also use ammonia as fuel.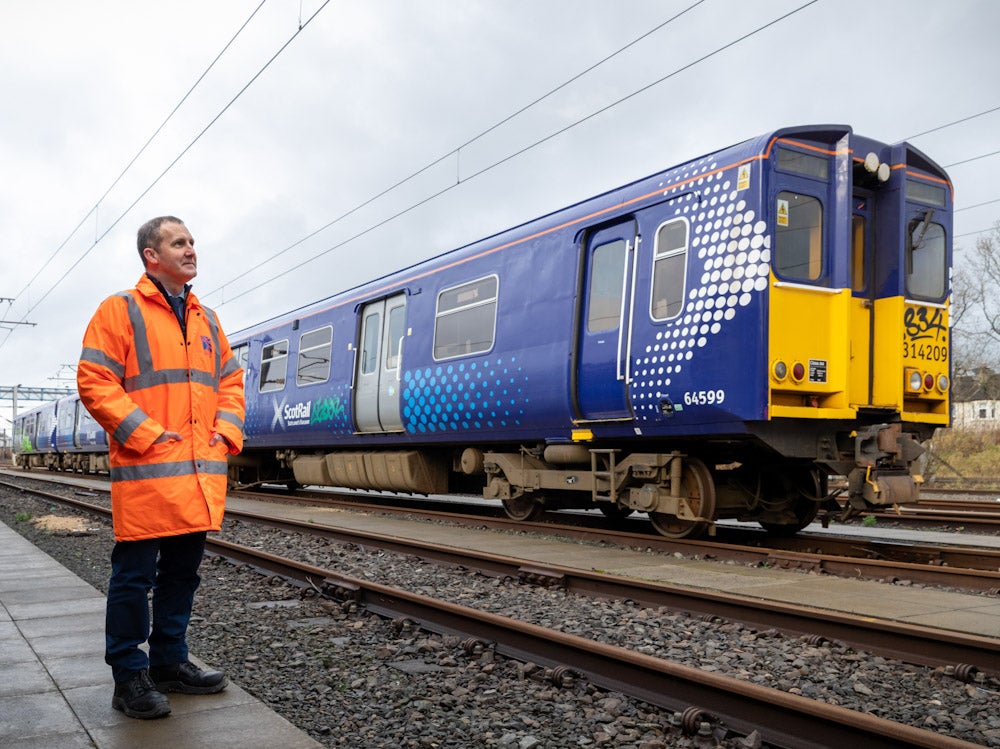 A long-term strategy for hydrogen in Scotland
Central to the hydrogen economy growth in Scotland is backing from the Scottish Government through a series of initiatives and long-term investment schemes.
"We have supported initiatives such as the establishment of the Hydrogen Accelerator at St Andrews University to build on what we have already learned and provide advice and support to hydrogen projects across all modes of transport," says a Transport Scotland spokesperson. "We have already seen a number of successful hydrogen demonstration projects in Scotland, including Aberdeen's Hydrogen Bus project, and the Zero Emission Train Project – a joint undertaking between the public and private sectors.
"In addition, our £28m Zero Emission Mobility Innovation Fund aims to accelerate the manufacturing and deployment of heavy-duty zero-emission vehicles, including hydrogen vehicles. It is delivered in partnership with Scottish Enterprise and links to other national funding programmes for manufacturing to support Scotland's Mission Zero for transport.
"The Scottish Government's Hydrogen Action Plan will set out how we will build on this success in order to create a thriving hydrogen economy in Scotland."
Partnerships between industry, businesses and academia are integral for driving forward growth of the hydrogen economy in Scotland and are already positioning the country as a world leader in this specialist field.
"When you have got the government, agencies and us all working together, you can achieve an awful lot because we are coordinated in our approach," adds Landy.