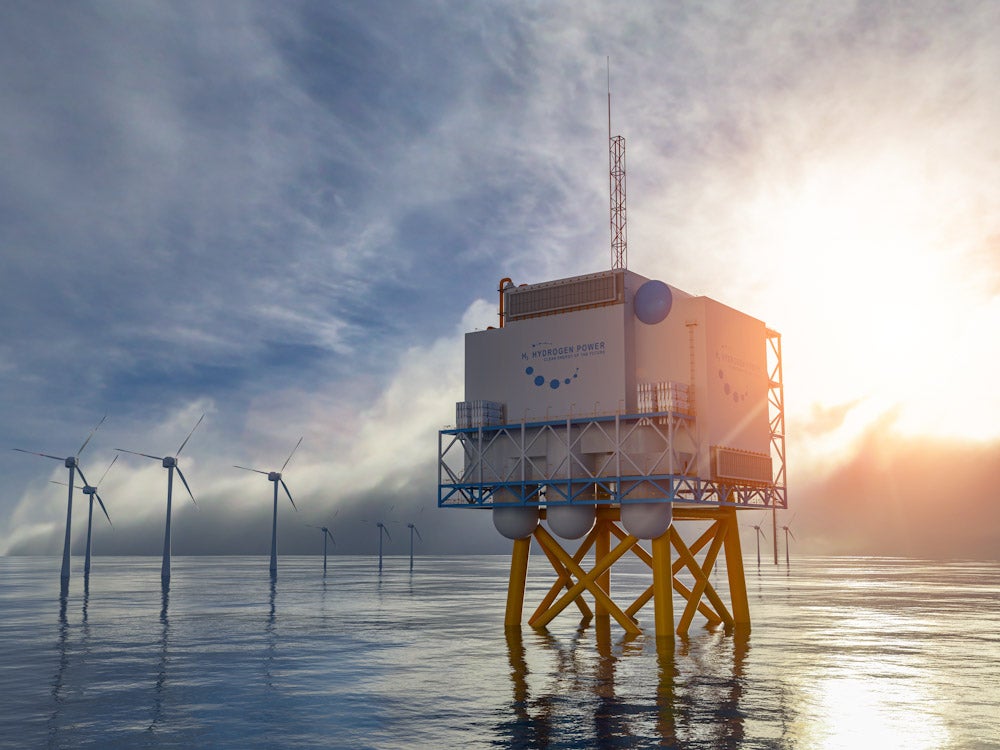 Developing and scaling up carbon capture, utilisation and storage (CCUS) capacity is critical for hitting net zero targets, with Scotland having key advantages in building this new industry.
The UK is punching well above its weight with the number of CCUS projects predicted to be operational by 2030. According to GlobalData figures, approximately 50 projects have been planned, with Scotland a major contributor to this total. This puts the UK in second place globally, behind the US with 100 operational CCUS projects expected by the start of the next decade.

Scottish history and experience in the North Sea oil & gas sector, and the chemicals industry, provides the necessary workforce skills and infrastructure to apply to CCUS. The geology surrounding depleted subsea fields are highly suitable sites for the underground storage of captured carbon deep below the seabed.
Scotland has set a legally binding target to reach net zero by 2045, five years ahead of most other countries, and CCUS is a vital element in delivering on this.
According to Stuart Haszeldine – director of Scottish Carbon Capture and Storage (SCCS), and professor of carbon capture and storage at the University of Edinburgh – the chance of reaching net zero without carbon capture is "less than zero".
"In any of the evaluations done recently, whether it's the Intergovernmental Panel on Climate Change, the International Energy Agency or even the UK committee on climate change, all of those say we've delayed it for so long in taking action on CO2 in the world that to make net zero happen in the mid-century, CO2 capture and storage is essential," says Haszeldine.
"Additionally, not just CO2 capture and storage by decreasing emissions but removing emissions that have already been emitted, commonly known as greenhouse gas recovery, through direct-air capture or bioenergy with CCUS."
Infrastructure and geology for carbon capture and storage
Injecting captured carbon dioxide into depleted oil & gas fields is considered one of the most effective methods of storage. What is crucial for this is using former oil & gas fields with the right pressure and geological conditions for carbon storage. If CO2 is injected into low-pressure fields, the gas can expand in a similar way to an aerosol and cool down. The CO2 can then freeze the water in the field and severely restrict the ability to inject any further gas. Operators then have to wait for the frozen water to melt before they can continue operations, delaying the start of potential CO2 storage projects that are needed urgently.
No such issues are expected at the Acorn Project, which is an integral part of Scotland's CCUS Cluster. Notably, Acorn CCS is a transportation and storage system, which uses legacy oil and gas infrastructure to transport captured CO2 emissions. Acorn CCS is being taken forward by a partnership between lead developer Storegga, technical developer Shell UK, Harbour Energy, and North Sea Midstream Partners. Acorn CCS will transport and store CO2 permanently in geological sites located 2.5km below the seabed, approximately 100km offshore from St Fergus.
Located near the St Fergus Gas Terminal on the Scottish coast, north-east of Aberdeen, where as much as a third of UK gas imports enter the country, Acorn has the potential to store up to ten million tonnes of CO2 per year by 2030.
What provides the Acorn Project with a considerable edge is that it already has access to current oil & gas infrastructure, and the partnership behind its development has an extensive understanding of the geology of the subsea storage sites.
"The advantages of the Acorn CCS are that it can reuse existing equipment, and reuse existing pipelines going offshore to a well-understood geological storage site for the carbon dioxide, which is relatively easy to develop and relatively well known," Haszeldine explains.
"We're dealing with known types of equipment, known pipelines, known geology, and offshore contractors who are well established and well able to build that type of equipment by transferring expertise from the oil & gas experience of the UK."
The economic benefits of carbon capture
The Acorn Project's proximity to ports and related oil & gas infrastructure offers multiple opportunities for cost savings, requiring very little adaption for CCUS.
"Reusing pipelines can save you hundreds of millions of dollars. Reusing the geological evaluations that have been done for oil and gas, exploration and production can save you ten years," says Haszeldine.
High demand across Europe for carbon storage sites could be a considerable source of revenue for the Scottish economy within the next decade. CO2 is already imported, albeit on a smaller scale for use in goods such as fizzy drinks, meat preservation and food production. Immense demand from European countries could see captured CO2 imported by shipping tankers from other European countries.
"We know from the work that has been done by Acorn – and the work by the Norwegian Northern Lights project in looking for customers – that there's a huge demand for takeaway of CO2 from all industries in all coastal European community members – ranging from Norway, Sweden, Finland, Denmark, Netherlands, Belgium and France to even Germany because of access to the sea down the River Rhine," adds Haszeldine. "There's a demand of about 20 times more than the available storage services at the moment."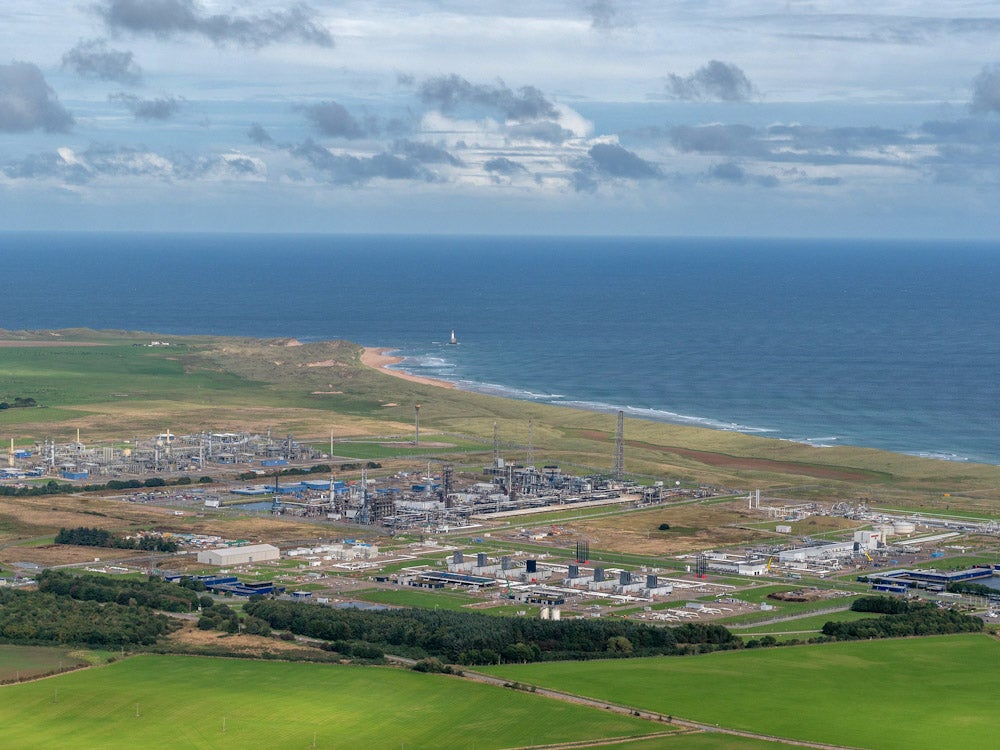 The importance of carbon capture in building hydrogen capacity
CCUS is crucial in building the hydrogen economy, which faces similar challenges of scaling up rapidly within the next decade.
Hydrogen has recently been attracting particular attention as an energy vector as it has zero emissions at point of use and can be used flexibly as a fuel in many applications amid the global energy crisis.
Yet it is a misconception to think of hydrogen as a direct replacement for fossil fuels across all industries. The main future industrial uses of hydrogen are expected to include fertilisers, chemical feedstocks, heavy transport and applications requiring high temperatures such as steel production, with other uses in shipping or long-haul aviation in the form of e-fuels.
"In the end, the market will decide the best industrial applications for hydrogen and the need for batteries in the heavy haulage sector," says George Tilley, hydrogen opportunity manager at Scottish company Storegga, which is driving advances in the development of carbon capture, storage and hydrogen solutions – including Acorn CCS.
"The hotter the temperature, the more direct the heat, the better in terms of the thermodynamic offering hydrogen has. We need to get to net zero. We need carbon capture to scale up hydrogen to reduce dependency on fossil fuels."
But current production methods of hydrogen are carbon intensive. The vast majority of current global hydrogen supplies are produced through steam reforming of methane (grey hydrogen) or gasification of coal (brown hydrogen). Various estimates calculate that these processes – without the application of carbon capture during the process – emit a combined 800 million tonnes of CO2 a year, which is equivalent to the annual carbon emissions of Germany.
In the long term, electrolysers powered by renewable energy are needed to make green hydrogen by splitting water into its chemical elements – and Storegga is heavily involved in projects that plan to use this technology. However, the technology is a long way from where it needs to be in terms of scale and supply chain.
Therefore, to establish the hydrogen economy and build up supplies, blue or low-carbon hydrogen is a viable stop-gap solution. Blue hydrogen production uses the same proven reformer technology as grey hydrogen; only resulting CO2 emissions are captured. Any carbon that is captured can either be used in other products or stored underground.
Scotland's carbon capture and hydrogen ambitions
Along with CCUS, hydrogen is a key component of Scotland's net zero ambitions, with a target of reaching 5GW of installed hydrogen production capacity by 2030, rising to 25GW by 2045.
To achieve these ambitions, rapid scale-up of CCUS and hydrogen production are critical. Scotland offers a sizeable advantage due to a large amount of crossover between its oil & gas industry, and CCUS and hydrogen, along with the necessary financial backing from the Scottish Government.
For example, the group behind Acorn CCS is developing a specialist hydrogen production facility that will take natural gas from the North Sea and turn it into low-carbon hydrogen, with captured CO2 sequestered via Acorn CCS.
"A lot of the things that are going to happen in the CO2 space and also in the hydrogen space are directly analogous to oil & gas operations – plant control, equipment supply, offshore operations, drilling," adds Tilley.
Tilley himself crossed from the oil & gas industry to hydrogen. He has spent more than 30 years working in the energy sector all around the world, but now plays a leading role in the hydrogen side of the business for Storegga. The depth of knowledge and understanding within Storegga are considered industry-leading, with the company positioned to play a key role in the significant global energy systems change now under way.
The founders of Pale Blue Dot, Storegga's predecessor, have been at the forefront of decarbonisation of the energy industry since 2007, helping to advance projects that make big contributions to meeting UK and Scottish net zero ambitions. The company was also involved in hydrogen projects years before the energy source attracted mainstream headlines.
In addition, Tilley highlights how the role of Scotland's North Sea oil & gas industry in the energy transition should not be understated.
"There are many, many people and companies in Scotland who have been operating for some of the last 50-60 years, since gas was first discovered and commercialised in the North Sea," he says.
"The Scottish heritage and the Scottish workforce are a key source of competitive advantage for the UK compared to other countries, which don't have an offshore energy industry. Their skills are transferable."
A range of leading specialists in hydrogen and CCUS from Scotland recently attended the Carbon Capture Expo in Houston, Texas, on 28-29 June. There were representatives from Axis, Belltree Group, Expro International Group Limited, Goal7, Hydro-C Ltd, Net Zero Technology Centre, Online Electronics, OPTIO, Pier Solutions, sHYp BV, the University of Strathclyde, and Whittaker Group among the Scottish delegation.
To learn more about how Scotland is building its hydrogen industry through regional hubs, download the specially commissioned white paper.