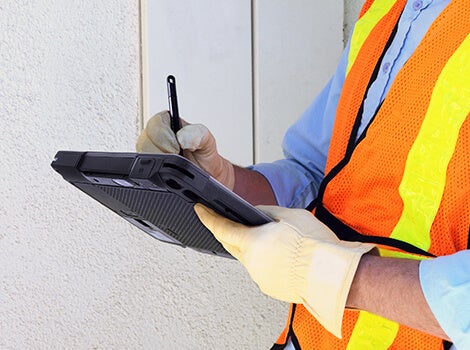 Already one of the most advanced sectors in terms of digitization, the utilities industry has long been a user of rugged devices. This has advantages in that users and ops teams are aware of the value that rugged computing brings. But many are less aware of the extra value Getac can bring with its new, up-to-date rugged mobile computing technology and the solution offerings that are offered around the device.
Getac and artificial intelligence
Artificial intelligence is already playing a major part in how the utilities sector is advancing in terms of its digitization. When combined with a range of powerful Internet of Things sensors and devices, AI is able to anticipate and predict customer usage, foresee possible demand spikes and help utilities companies plan better. It can also help with disaster prevention and recovery. An array of new software and applications is now available, enabling utility providers to change their operations significantly, automating processes and increasing efficiency while offering better services for customers. But these advances are of little use without a reliable platform on which to use them.
As Sophie Maxwell, Business Development Manager at Getac explains, "Any artificial intelligence is only as good as the data that goes into it and the devices it is used on. Getac laptops and tablets provide a robust platform with a stable 4G connection and a powerful processing speed, acting as a digital toolbox and offering the hardware required for customers to use these sophisticated applications in their day-to-day work, allowing the value from AI investments to be realised."
Mixed Reality
Mixed reality is another rapidly expanding part of technology deployment in the sector. Using a combination of headsets, new applications, 3D mapping and some elements of virtual reality allows for efficiencies, particularly in engineering areas. One key example of this is in the training and support of engineers at the start of their careers. There is a recognised gap across the utilities sector between the skills and knowledge of more experienced engineers and recently recruited counterparts. "There can easily be 20-years between established workers and the those who are starting their engineering career," says Maxwell. "Augmented reality can help in upskilling engineers and sharing expertise between workers in different locations."
To do this effectively you need reliable hardware, guaranteed to work on the frontline. If you're relying on video calls, you need strong connectivity. "It means you can send one person to a job, and they have a team of people behind them, helping them to solve the issue on site, rather than going back and forth. Getting that first-time fix is crucial in terms of targets, reputations, fines, travel time, fuel costs and more," says Maxwell.
It is also crucial for the utility customer themselves, some having to take time off work to allow the work to be undertaken, expecting the issue to be resolved on the day. Getac's reliable rugged technology reduces inconvenience for the utility business, as well as for its customers.
Built to be rugged from the ground up
Having manufactured rugged devices for over 30 years, Getac has a rich understanding of market demands. What really makes Getac stand out is how its only focus is rugged computing and manufacturing these tough solutions is not a side line or a deviation from "softer" consumer technology. By having this as it's only focus, the organisation is able to carry out its research and development thoroughly and as such manufacture high quality, industry-leading products. The years of industry expertise and knowledge has recently led to the launch of Getac Select® which is a combination of rugged computing devices, software, accessories and services which are selected to provide the customer with a full tailored solution.
Where this "rugged first and always" approach makes a real difference is the way Getac designs and builds devices. All are built to be rugged from the ground up. While some competitors will start with a consumer device, put it in a tougher case and call it rugged, Getac ensures its devices are internally, as well as externally, rugged. As Maxwell puts it, "This is an important distinction, we're not an egg in a tin box".
Its product range is extensive, with devices ranging from a 7-inch Android handheld tablet through to a 15-inch server laptop and all fully rugged products (with the exception of the S410) include accidental damage (Bumper to Bumper) cover free of charge in the device price, including a pack and collect service, to reduce customer effort.
An excellent return on investment
Rugged kit may initially appear more expensive than standard devices, however, by investing in a high-quality rugged device you will benefit from reduced downtime and increased operational efficiency, therefore you have a more improved total cost of ownership. Despite the higher sales price, many often turn out cheaper when measured by whole-life cost. "Downtime and failure rates, even if they are merely a couple a month, can quickly add up in terms of operational costs," says Sophie. Getac works closely with customers to explain in detail the potential financial benefits linked to IT Intervention and the cost of managing failures that a business could suffer when not deploying rugged devices.
This collaborative approach with customers, has been particularly effective in the utility sector and it helps Getac offer support beyond the initial purchase. With all repairs done at the companies UK head office in Telford, it's a welcome note of comfort as supply chain complexities loom with Brexit and Covid-19. It is clear that to its very core Getac is a company built on providing reassurance and confidence to customers in any sector it serves.