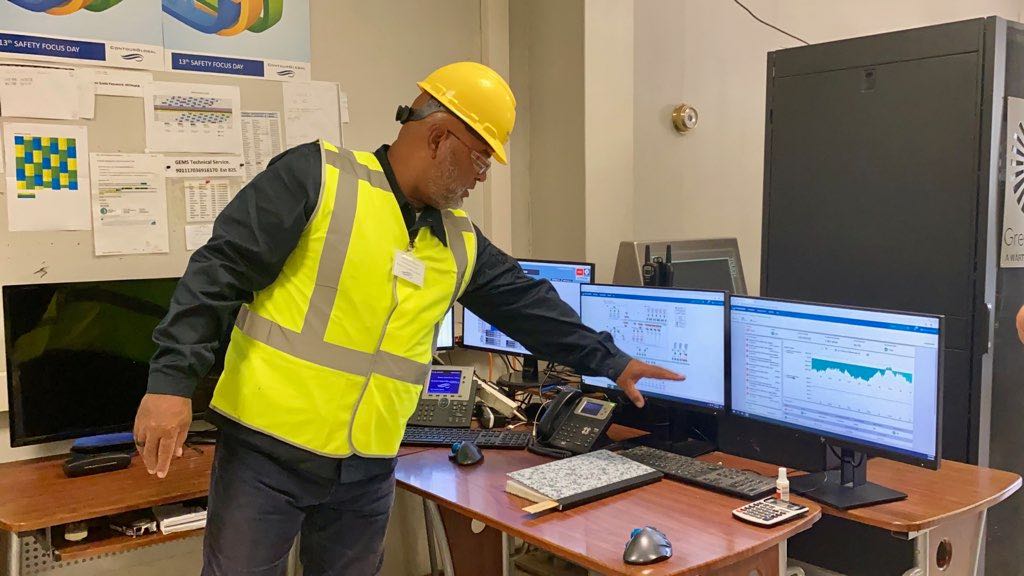 Electricity generation has a long, complicated history, but all players in the sector agree: figuring out the best, most cost-effective way to optimise the efficiency, output, and lifecycle of the assets that make up our electricity networks is still anyone's game.
Enter Finnish firm Wärtsilä – a company that specialises in helping protect and elevate energy assets – and in particular, the company's energy management platform, GEMS, a smart software suite that monitors, controls, and optimises energy assets. One of the key benefits to grid operators and asset owners is that GEMS provides complete visibility with a holistic view into system operations for every asset, specifically designed to adapt to changes in market conditions and physical realities. But can it really optimise energy, future-proof your assets, and maximise revenue streams?
Power Technology spoke with Luke Witmer, who manages research and development in data science for Wärtsilä's energy storage and optimisation business unit, about what GEMS is doing for the energy sector.
"Initially, the focus was on battery systems and the software control required for power plant control," Witmer explains. "Most control platforms today can only control batteries from a very high level, whereas GEMS comprehends the whole integrated battery system, processing and taking action on tens of thousands of data points per second."
As well as the all-inclusive monitoring and comprehension Witmer refers to, another benefit of GEMS compared to its competitors is its advanced human-machine interface that gives operators a holistic view of how operations are running and why the Artificial Intelligence (AI) is making the decisions it's making.
According to Witmer: "In these contexts where GEMS is controlling more than just a battery (e.g. renewables, reciprocating engines, or whatever power plants are in your portfolio), it's incredible at providing visibility across that fleet so that you, as the plant or grid operator, understand why the batteries are charging or discharging. The software uses advanced automated control logic with forecasts and various levels of AI, and GEMS allows you to see why it is making these decisions by showing different views of the scheduled activity and what the system is doing in response."
Future-proofing your assets
"When an asset owner buys a battery system, it comes with an expected lifespan. Let's say it is designed to last ten years if you operate it a certain way. But, based on market conditions after the plant gets built, it may be really valuable to run it harder than it was originally designed for, so you do. The result is that your system will degrade a little bit faster, no longer able to hold as much energy as it once held. In this case, you're going to have to do what's called an augmentation. You're going to have to add more battery capacity to the system, and maybe if you degrade it fully you will want to just do a full battery replacement at the end of its life," says Witmer.
One of the key features of GEMS that clients love, according to Witmer, is the technology's provision of a seamless integration of hardware and software once it's installed on site.
"Let's say that when you pull the trigger on your augmentation, the new batteries are a slightly newer technology that is not exactly the same as the batteries that you bought four or five years ago," he explains. "With its plug-and-play driver-based architecture and abstraction models, GEMS lets you view the new and old batteries together as a single cohesive power plant and not have to juggle the fact that you've got some hardware differences."
The interface also stays the same, so analysts and operators maintain the visibility they need and dispatch connections to electricity markets remain intact, as GEMS has already provided for that.
Witmer continues: "Even if you're not replacing any hardware, things around you are changing. The grid quality in terms of frequency and voltage in your area may be getting worse, or maybe the grid regulator creates a whole new market that's designed for batteries and is very lucrative but did not exist when the battery was designed and built. In the context of a Guaranteed Asset Performance agreement, Wärtsilä can build the connector to that new market, or as those grid conditions evolve, the software for your power plant operations will adapt accordingly, be easily reconfigured, or receive updates to be able to handle those situations better without having to negotiate a new contract or install a massive upgrade at your power plant; it's just a remote push software update."
Cybersecurity
On the issue of security, Witmer is confident, saying: "GEMS provides all of this data visibility in the most modern, cyber-secure way. We have the industry-leading IEC 62443 cybersecurity certification for our GEMS power plant control product and our development process. It's bank-level authentication and security, so only the right people have access to data or operator-level permissions.
"The last thing anyone wants is for any power plant to get hacked or taken over or shut down at some critical time. You have diverse people on different teams and you want them to be able to do their job as effectively as possible, you don't want your data analysts to have to spend days trying to get access to data through some clunky interface," he continues.
"GEMS provides the remote connectivity that you need. A lot of these systems are out in the middle of nowhere and you need connectivity so that your operations team can diagnose things remotely and analysts can log in with limited access to download data."
With such mission-critical issues taken care of and much of the second-guessing around troubleshooting problems as well as reconfiguration being seamless and automated, the system does indeed seem primed and ready to tackle the kind of 21st-century problems that our electricity grids are encountering.