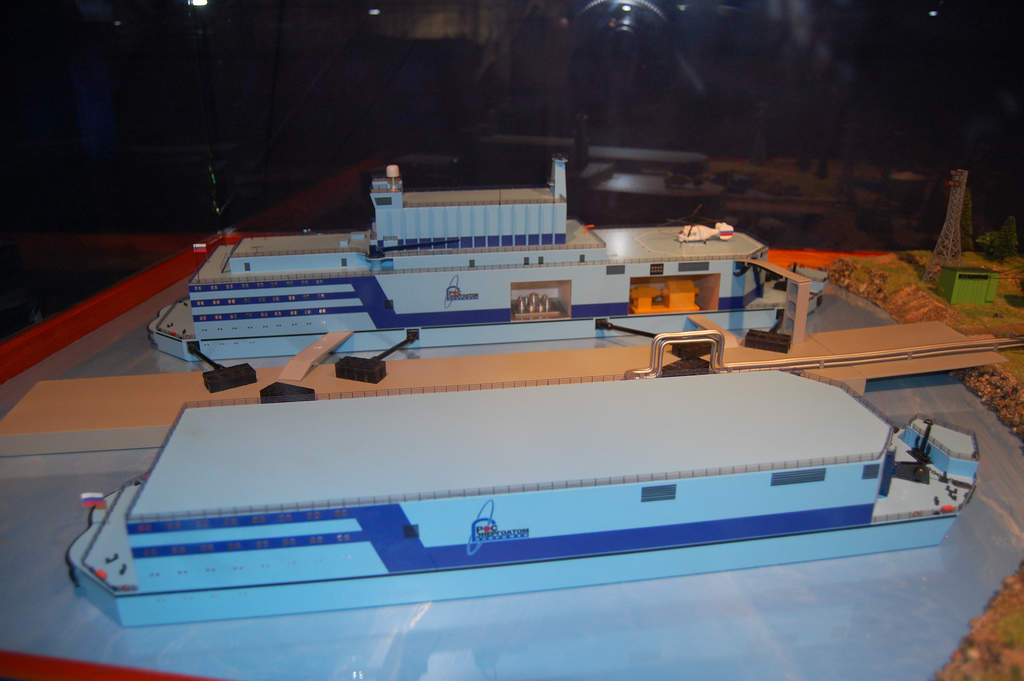 The concept of a floating nuclear power plant capable of providing energy to far flung and difficult locations was first considered 40 years ago. Westinghouse has been pursuing the idea of a floating plant as far back as the 1970s, as Massachusetts Institute of Technology's TEPCO professor and associate department head, nuclear science and engineering Jacopo Buongiorno explains.
"It was a simple design featuring a large barge with a large pressurised water reactor, quite similar to a land-based plant," says Buongiorno. "The idea was to build the plant in a dedicated facility in Florida and then it would be towed up the east coast of the United States, and moored within an artificial lagoon created with a breakwater a few miles off New Jersey."
The second global energy crisis dried up funding for the pursuit, but the concept was not forgotten. In the late 2000s, Russia began constructing a nuclear reactor and hopes to launch its first floating plant, the Akademik Lomonosov, in the next couple of years. It primarily consists of two 35MW reactors housed within a barge.
"The project in Russia was slowed down not by technical difficulties but by the economic turn down," explains Buongiorno. "Russia's economy depends strongly on the oil prices and oil prices went down, so I think the Russian Government didn't have a lot of money to spend on these sorts of pet projects like the floating plant."
Buongiorno and his team at MIT are currently researching and designing an offshore reactor that resembles an oil platform. For the past four years the team has been designing the thermo-nuclear plant, which is capable of generating at least 300MW. The platforms are being designed to sit between eight and 12miles from shore, within territorial waters, at depths of 100m. Research will continue over the next few years and Buongiorno is hopeful that it will be picked up by a company able to bring it to commercialisation.
In October 2017, engineers in China announced that the country was expecting its floating nuclear reactors to be deployed in the South China Sea by 2020. Two companies are developing the reactors, which will provide electricity to China's offshore oil and gas operations in the area, as part of the country's ambition to become what it calls a 'strong maritime power'.
China's floating power plants
Details of China's floating nuclear power plants aren't fully known due to secrecy around the designs. Both, however, are small pressurised water reactors based on previous onshore designs and will be incorporated into ships or barges. The first has been developed by the Nuclear Power Institute of China (NPIC), a subsidiary of the China National Nuclear Corporation (CNNC).
The NPIC "signed an agreement with UK-based Lloyd's Register to support the development of a floating nuclear power plant using CNNC's ACP100S reactor, a marine version of the multi-purpose ACP100", explains the World Nuclear Associations senior communication manager Jonathan Cobb. "Its 310MWt produces about 100MWe, and it has 57 fuel assemblies 2.15m tall and integral steam generators (287°C), so that the whole steam supply system is produced and shipped as a single reactor module."
The second floating power plant is being developed by China General Nuclear Power Group (CGN), which started the development of its ACPR50S for a floating plant in 2016. "The ACPR50S is 200MWt, 60MWe with 37 fuel assemblies and two loops feeding four external steam generators. Reactor pressure vessel is 7.4m-high and 2.5m inside diameter, operating at 310°C," says Cobb.
Like the NPIC, CGN has been using collaboration to further its development of a floating reactor.
"CGN signed an agreement with China National Offshore Oil Corporation (CNOOC), apparently, to provide power for offshore oil and gas exploration and production and to 'push forward the organic integration of the offshore oil industry and the nuclear power industry', according to CNOOC," says Cobb.
Economic, flexible and safe nuclear
Nuclear power is a clean and reliable form of generation that has been widely and mostly successfully deployed around the world for more than seventy years. There are several specific benefits of floating nuclear power plants, including economic advantages.
"A large percentage of the cost of a nuclear power plant is the construction of the plant itself, the installation, because for land-based reactors the majority of construction takes place at the site," says Buongiorno. "The machine and the surrounding civil works and buildings required are all built at the site, requiring a lot of labour and time. It's a high capital-intensive project. You can actually build a whole offshore floating plant in a shipyard; a shipyard is more streamlined and efficient than construction sites because there is more automation, a better trained workforce, a more controlled environment and no exposure to the elements."
Floating nuclear power plants (FNPP) offer a great degree of flexibility, as they are easily transportable and "can also be transferred to new sites during their operating lives, in response to electricity demand", says Cobb. "For example, an FNPP could supply power to an offshore oil or gas facility that operated for ten to 20 years and then be relocated when that facility closed down.
"Another important benefit is safety. One can use the ocean as the 'heat sink' for cooling the reactor under all circumstances via heat exchangers that allow removal of the reactor energy using seawater. You're not going to run out of seawater."
Moving into dangerous territory
Although the concept of floating nuclear reactors is quite old, their deployment beyond the testing stage is new and as such, the development of licensing and regulations presents a hurdle for this technology. Unlike their onshore cousins, FNPPs will have the ability to cross territorial boundaries and travel through international waters repeatedly, which must be taken into account.
"I think the biggest hurdle that China faces is licensing," says Buongiorno. "Obviously we have regulations for land-based reactors and we have regulations for offshore platforms for oil and gas and other activities, so it's a matter of 'marrying' the two worlds in regulatory space."
Secondly, there remains safety concerns, predominantly surround the reactors ability to withstand the harsh environment of the ocean. "There are ways to design the platform to minimise motion caused by waves and storms but, in principle, the fact that the platform moves means the reactor inside moves, so there are some technical questions related to support of components or even performance of components undergoing oscillatory motion," says Buongiorno. "Will the safety systems or will the reactor respond properly and so on."
The proposed location of the FNPP, and not the technology itself, presents possibly the biggest concern. The South China Sea has been disputed territory for centuries, and tensions have been growing over the past few years. China, Vietnam, the Philippines, Taiwan, Malaysia and Brunei all claim parts of the area, including the Paracels and the Spratlys, the two chains of islands which lie within it. But China has been ardently pursuing the largest area of the sea covering hundreds of miles, defined by the 'nine-dash line'.
As such, China bolstering its presence in the South China Sea by launching floating nuclear power plants to support its operations has caused concern. China is likely to increase security around the nuclear plants when deployed, which could result in the typical controversy of new nuclear power technologies being overshadowed by the potential for militarisation and territorial escalation within the disputed waters.