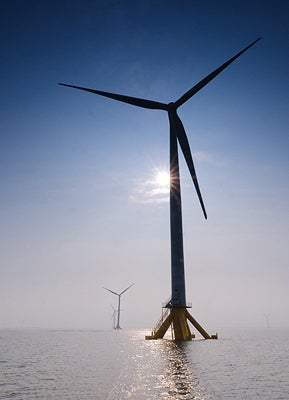 China Longyuan Power Group, a subsidiary of the state-owned China Guodian, has said that its 150MW offshore demonstration wind farm has begun commercial operation.
The official announcement marks the 50MW Phase II xompletion of the Longyuan Jiangsu Rudong offshore wind farm in the East China Sea.
As China's first offshore wind power project, the Longyuan Jiangsu Rudong project was approved by the National Development and Reform Commission in December 2010.
Located on the offshore area of Rudong County, the 150MW wind farm is capable of feeding about 375m kWh power to the grid annually, with over 2,500 hours of wind power available time.
During the 100MW Phase I of the project, 21 Siemens wind turbines with 2.38MW each and 17 Sinovel wind turbines with 3MW each were installed.
Construction for the Phase I began on 21 June 2011 and it became operational by the end of the same year.
The project's 50MW second phase, which started commercial operation on 23 November after four months of construction, saw 20 Goldwind wind turbines with 2.5MW each being installed at the site.
Wind turbine foundations for the Longyuan Jiangsu Rudong offshore project were constructed with two technologies: single-pile and multiple-pile brackets.
Annually, the project could save about 110,000t standard coal compared to a conventional coal-fired power plant, reducing 247,000t carbon dioxide emissions.
In Rudong County, the company with its 32MW intertidal zone pilot wind farm, which had gone live in September 2010, has built up the largest offshore wind farm in China having 182MW gross installation capacity.
---
Image: Siemens has installed 21 SWT-2.3-101 wind turbines off the coast of the Rudong district in the East China Sea. Photo: courtesy of Siemens.