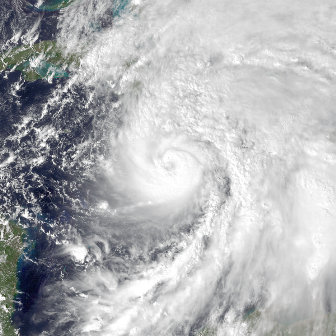 Power outages have been reported in the Caribbean as hurricane Sandy strengthens into a category 2 storm with wind gusts of up to 114mph.
The hurricane reached southeastern Cuba today, tearing down trees and powerlines, and is expected to pass through Guantanamo Bay, the Bahamas and Florida this evening.
Sandy made landfall just west of Santiago de Cuba after lashing Jamaica and Haiti on Wednesday, leaving two people dead.
Jamaican Public Service (JPS) said its technical teams are now responding to reports of power outages caused by the storm.
JPS Customer Operations and Support Services senior vice president Gary Barrow said the company will make every effort to restore the power supply as long as it is safe to do so.
"Where conditions pose a safety threat to our team members, we will delay restoration until after the hurricane has passed," Barrow said.
American utility company Nstar, which provides electricity and natural gas to customers in Eastern, Central and Southeastern Massachusetts, has announced its readiness for the Hurricane.
Nstar Electric president Werner Schweiger said: "We're now better positioned to more quickly address emergencies, coordinate the restoration process with our communities and communicate with our customers."
Schweiger added that no utility can guarantee a damage-free, outage-free storm.
He said: "NSTAR has taken steps over the past year to enhance its storm response by making the electric system more resilient and offering customers and their communities better access to information."
---
Image: Hurricane Sandy slammed south eastern Cuba after crossing the Caribbean Sea. Photo: courtesy of NOAA/ NRL Monterey Marine Meteorology Division.