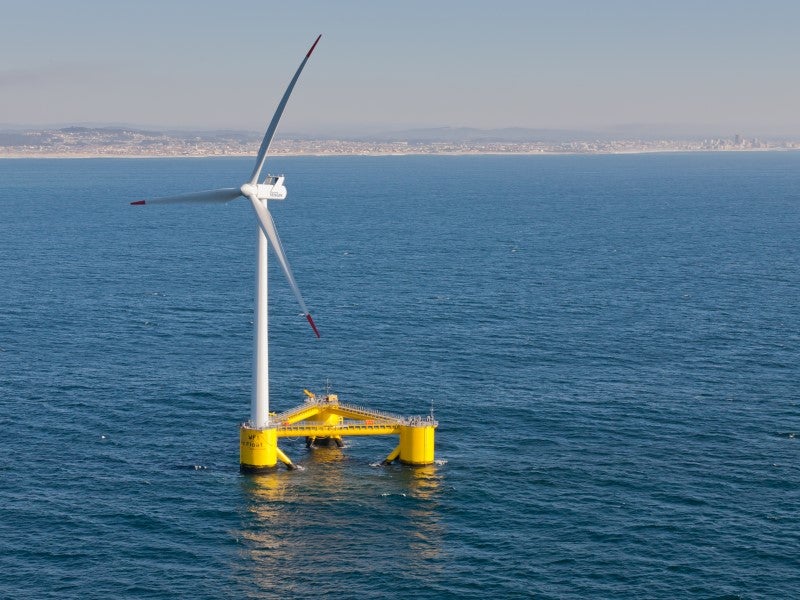 Floating offshore wind is a fast evolving technology with the potential for less foundation material, shortened installation cycle and decommissioning, and additional wind power generation at water depths exceeding 50 metres to 60 metres. This technology involves an offshore wind turbine mounted on a floating structure, that allows the turbine to generate electricity in water depths where bottom-mounted structures are not feasible.
Floating offshore wind 2019
According to industry estimates, the technical potential for floating wind power is around 7,000 GW for Europe, the US and Japan combined. Among the high potential markets, Japan has set a target of 4 GW to be installed by 2030, followed by around 2 GW in France, US and UK, and 1 GW in Taiwan.
Globally, there are 13 announced floating offshore wind projects (nine in Europe – UK, Portugal and France, three in Asia – Japan and Korea and one in the US). However, currently, the only operational floating wind farm of scale is Hywind Scotland, developed by Equinor and commissioned in October 2017. The farm has five floating turbines with a total capacity of 30 MW.
Floatgen wind turbine demonstrator, which is installed 22 kilometres off Le Croisic (Loire-Atlantique) in France also became operational in September 2018.
Floating foundations offer the offshore wind industry two key opportunities:
• They allow access to deep-water sites with higher wind resources.
• The floating offshore wind projects can be developed faster with lower foundation requirement and higher energy yield. Upon achieving commercial development and economies of scale, floating wind projects can achieve cost parity with traditional offshore wind projects.
• Floating foundations offer economic and environmental benefits compared with fixed-bottom designs due to less-invasive activity on the seabed during installation.
It is expected that floating wind technology will be a game changer in successful exploitation of the enormous wind potential available in deeper waters. Despite the promise, floating wind technology is still in a nascent stage and has yet to be inducted as a commercially dependable and viable technique of wind power generation
Wind of change: floating offshore wind
So far, the offshore wind farms have been developed in near-shore or shallow waters majorly with fixed bottom structures. However, researchers believe that the best wind resources exist in deeper waters beyond the reach of bottom fixed structures. Floating wind technology provides a solution to build and harness the winds flowing over the deeper offshore water.
Over 30 floating wind concepts are under development, each having their own respective strengths, which can differ by project site depending on the weather conditions, water depth, seabed conditions, local infrastructure, and available supply chain capabilities.
Floating offshore wind is up on the ladder to become commercially competitive with other forms of electricity generation sources and a dependable source of power. The challenge for the industry is to reduce costs to move from expensive demonstrators to a commercially viable commercial model. Further, economies of scale will be necessary to drive the costs down. Floating foundations have already been proven in harsh operating environments; a number of models have been built and used to project the cost parity that floating wind can achieve with fixed-bottom. The results from the floating wind demonstration projects are encouraging and have drawn the attention of governments and industry towards the development of floating offshore wind prospects through investment and operating aid.
Some of the key developments related to floating wind projects are:
• The European Commission has agreed to provide aid to four French floating wind demonstration projects with a total installed capacity of 24 MW, each consisting of three or four turbines. The Groix Belle Ile project will be located in the Atlantic Ocean, while the other three projects (Golf du Lion, Eolmed and Provence Grand Large) will be located in the Mediterranean Sea.
• The US Department of Energy has announced up to $28 million in funding for upcoming new floating offshore wind turbines via the Advanced Research Projects Agency-Energy (ARPA-E) programme, Aerodynamic Turbines, Lighter and Afloat, with Nautical Technologies and Integrated Servo-control (ATLANTIS).
• The world's first floating wind farm has delivered promising results – the five-turbine, 30-MW Hywind Scotland Pilot Park has been operated at 65% of its maximum theoretical capacity.
• The commercialisation of floating offshore wind has begun in Europe. Two European projects aiming to advance floating offshore wind technologies marked milestones, floating offshore wind farms received a significant boost from a European Union innovation fund. On 19 October 2018, the European Investment Bank (EIB) granted a EUR 60 million loan ($68 million) to WindPlus, a joint venture of EDP Renewables, Repsol and Principle Power, for the construction of a 25 MW floating wind farm off the northern coast of Portugal.
The technical advancements and positives from the demonstration floating wind projects need to be carried forward with a robust strategy and policy to overcome the barriers, improve the outlook of the technology, and garner more investment for the industry. These steps will aid its commercial deployment and cost competitiveness against fixed foundations.
Policy-makers need to facilitate technological advancements, accelerate the development of frameworks, and invite private investments to keep pace with technology development. Research and development efforts should be directed towards cost and risk reduction along with optimisation of supply chain overcoming the current roadblocks. A combined effort from policymakers, investors, researchers and industry is imperative to the realisation of a successful floating offshore wind.
Related reports:
Wind Turbines, Update 2018 – Global Market Size, Competitive Landscape, and Key Country Analysis to 2022
Wind Power Market, Update 2018 – Global Market Size, Average Price, Turbine Market Share, and Key Country Analysis to 2025