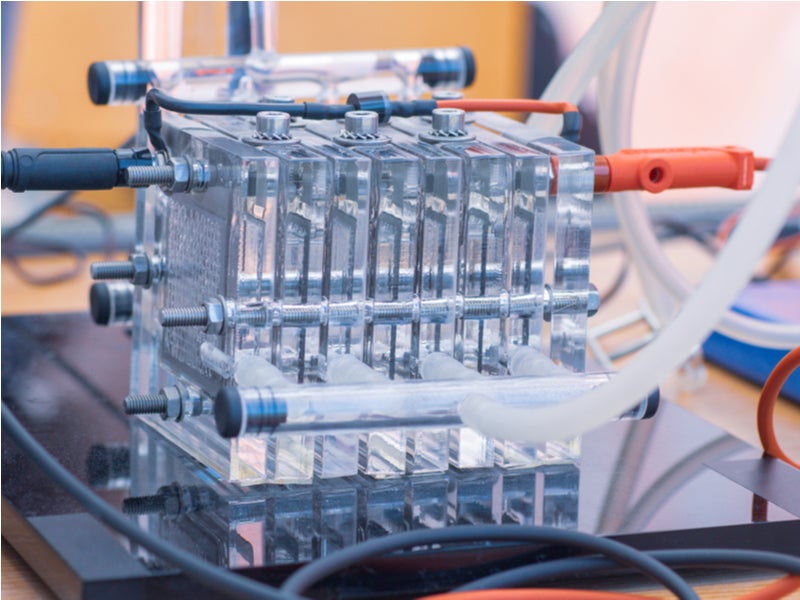 Today, hydrogen is largely used of as a feedstock for industrial processing, in the production of ammonia for fertilisers (around 50%), in refining (35%), and in food, electronics, glass and metal industries. Now, with global leaders in the energy industry in search of solutions that help achieve decarbonisation or enhance energy security, the use of hydrogen as an energy vector is gathering momentum.
Listed below are the major milestones in the story of hydrogen, as identified by GlobalData.
1800 – The electrolysis process is discovered. English scientists William Nicholson and Sir Anthony Carlisle found out that applying electric current to water generated hydrogen and oxygen gases.
1838 – First hydrogen fuel cell Developed to Generate Electricity.
1960 – General Electric (GE) comes up with hydrogen fuel cells for generating electricity in the Apollo and Gemini space missions.
1990 – The US Congress Passes S.639 – Spark M. Matsunaga Hydrogen Research, Development, and Demonstration Act of 1990 to boost hydrogen power development.
1996 – Hydrogen Future Act of 1996 is passed to enable further expansion of hydrogen power development.
2002 – The first hydrail locomotive was demonstrated at Val-d'Or in Quebec.
2003 – President Bush introduces the Hydrogen Fuel Initiative (HFI) to boost hydrogen fuel cell development.
2004 – DeepC – a hydrogen-fuelled autonomous underwater vehicle (UAV) was launched.
2008 – Honda starts leasing the FCX Clarity hydrogen fuel cell electric vehicle.
2013 – The first commercial 2 MW power to gas (P2G) installation in Falkenhagen, Germany, is now active for 360 cubic meters (m3) of hydrogen per hour (/hr) hydrogen storage into the natural gas grid.
2016 – Toyota launches its first hydrogen fuel cell car, the Toyota Mirai.
2016 – The H21 project was introduced in 2016 to ascertain if the existing gas grid of a city in the UK can be converted to 100% hydrogen.
2017 – Hydrogen Council has been set up to accelerate the development and commercialisation of hydrogen and fuel cell technologies.
2017 – Ene.field demonstration project (2012-2017), had deployments exceeding 1,000 Ene.field units (fuel cell micro-combined heat and power units) for residential and commercial buildings across 11 European countries.
2018 – Germany rolled out the world's first hydrogen-powered train Coradia iLint in Lower Saxony.
2018 – The global fuel cell electric vehicles (FCEV) stock was more than 12,952.
2018 – HES Energy Systems initiated its plans for Element One, a hydrogen-electric passenger aircraft.
2018 – The HyDeploy hydrogen trial project has been launched with focus on injecting zero-carbon hydrogen into the UK's natural gas network.
2019 – Ene-farm programme has attained a milestone of 305,000 (as of May 2019) Ene-farm deployments.
2019 – Alstom made an announcement that it would supply 27 Coradia iLint trains for German public transport network Rhein-Main- Verkehrsverbund's (RMV's) subsidiary fahma.
2019 – In May 2019, Alaka'i Technologies showcased Skai, the world's first-powered air mobility solution.
2019 – In September 2019, a grant amounting to €5m ($6.2 m) from the UK Government was awarded to the Hyflyer project, led by ZeroAvia, to enable support for the expansion of zero emission aviation in commercial aircraft.
2019 – Belgium's shipping company Compagnie Maritime Belge (CMB)    was involved in a partnership with the Port of Antwerp to unveil world's first hydrogen-powered tugboat named Hydrotug.
2020 – Construction work of the Netherlands first hydrogen-powered housing project to start towards 2020-end.
2020 – NTPC initiates Hydrogen Fuel bus and car project in Leh and New Delhi in India.
2020 – Australia's Arrowsmith hydrogen project obtains an initial $300 m investment for its first round of construction.
2020 – Fukushima Hydrogen Energy Research Field (FH2R) demonstration project was inaugurated.
2020 – Siemens and Uniper join hands to develop hydrogen technology in Germany.
This is an edited extract from the Hydrogen – Thematic Research report produced by GlobalData Thematic Research.