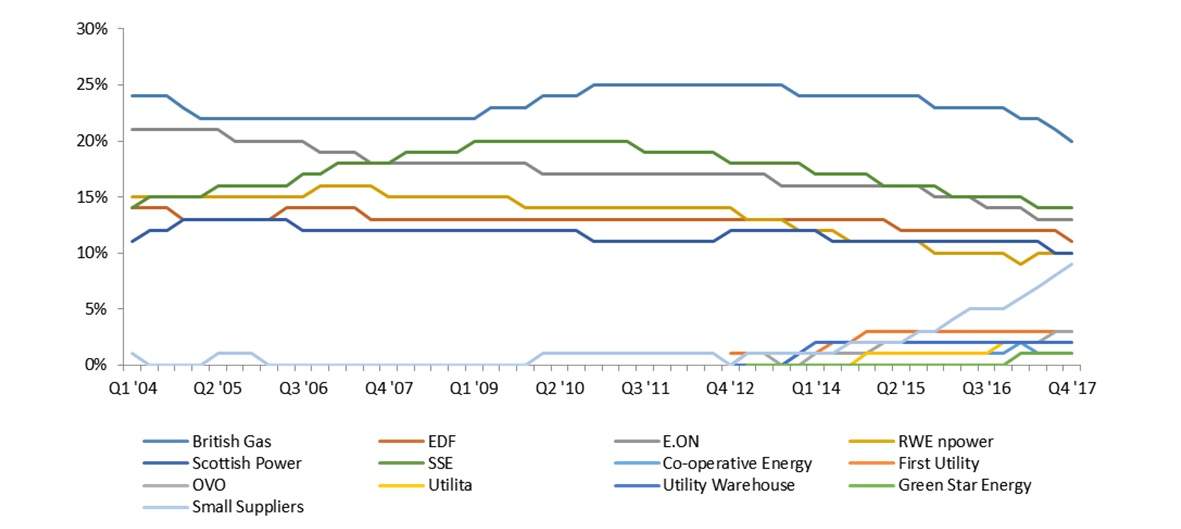 The UK's Big Six energy firm's market share of domestic customers is dwindling and fell to a record low in 2017, as smaller rivals lured customers away with cheaper deals. The six largest electricity suppliers' market share dropped to 78% at the end of 2017 from 85% a year earlier.
The UK's energy firms are under pressure to reduce bills. Prime Minister Theresa May in February 2018 introduced new legislation to force the regulator, Ofgem, to cap what she called "rip-off" prices until 2020, after which Ofgem would decide whether it should be extended on an annual basis until its expiry in 2023.
Six energy suppliers have monopolised the UK energy market since the gas and electricity networks were privatised, but over 60 smaller rivals have recently emerged as effective competition. The UK electricity network was privatised in 1990, allowing households to choose suppliers.
Shifting away from the Big Six
According Ofgem, last year, 5.1 million electricity consumers switched supplier, the highest number for almost a decade. More than a third of these customers switched from the Big Six to a challenger firm. In December last year, small- and medium-sized suppliers were supplying 21% of consumers with electricity as compared to 4.7% in 2013.
Figure 1: Number of domestic customers switching supplier
Source: Ofgem, GlobalData
The shift away from the big suppliers has been a quick one. The trend started with residential consumers parting from the traditional model, and the latest to step on the boat are commercial consumers. According to a recent announcement by Marks & Spencer, the company has cut its ties with Big Six and partnered with a smaller electricity supplier, Octopus Energy. The company previously had a long-term agreement with SSE, but in search of fairer price and competition it has partnered with Octopus Energy. This trend is likely to continue and exert further pressure on the bigger players to take immediate measures in saving the long loyal consumer segment.
The Big Six held 99% of the domestic supply market in the final quarter of 2012, but that fell to 79% over the past five years, as over 60 rival suppliers have emerged. The small suppliers collectively have poached a large chunk of market share from their larger rivals, but only a few have managed to carve out a sizeable portion of the market for themselves. Analysts believe at this rate the UK's Big Six energy companies will control less than 50% of the residential market share by 2020.
Figure 2: Electricity supply market shares by company
Source: Ofgem, GlobalData
The small players becoming big competition
First Utility, which had already been leading the race among smaller suppliers, acquired even more firepower after Royal Dutch Shell snapped up the company late last year, which should alarm its larger rivals. Royal Dutch Shell now plans to improve its grab in the market by buying gas-fired power plants and building wind and solar farms across the UK. First Utility, which had only 1% of market share in 2017, has garnered more than 3% of the market share in 2017.
Amid the strong competition introduced by the smaller players in terms of pricing, they have been able to gain consumers by tapping into the lack of satisfaction that consumers have become accustomed to receiving from the Big Six, such as poor customer service. Many have created unique selling points by providing a niche service to the market, such as solely providing prepaid energy or only supplying 100% renewable energy to cater for greener consumer trends.
All of the Big Six have lost market share in the domestic supply market, as shown in the table below.
Table 1: Electricity supply market share of the Big Six
Source: Ofgem
This fierce competition will surely dent the big utilities, but could also lead to the disappearance of small players who in order to increase their consumer base are offering rack rates, which are subject to cause negative impact if generation costs witness a sudden rise.
A changing market in the UK
The UK electricity market is now witnessing fundamental changes, moving from a traditional model to a perfect competition market. The price cap following government intervention has created the biggest wave since privatisation, and the ongoing regulatory pressure is likely to remain high for the conceivable future.
Amid this regulatory pressure, the industry is dealing with other changing trends, such as the transition toward renewable energy which is placing greater emphasis on the distribution networks as smaller scale power plants become more common and continue to bypass the transmission network.
Although the Big Six gained advantages from their scale and balanced portfolios, it is now imperative for them to curb customer losses and tackle the growing threat from the smaller suppliers, who in turn have to carve out unique positions in the market with new offerings to attract customers.
There are still large numbers of consumers who are paying too much for their energy, which is why the government is introducing price protection through this transition, to make competition work for all consumers.
Commercial and residential customers are of the opinion that the new energy model should aim at providing a fair price, as for too long the energy market has punished customers for being loyal. The Big Six will continue to lose customers to smaller suppliers, at least in the short term, if they do not act swiftly. There will be mushroom growth of the small suppliers that can create fierce competition in the market.