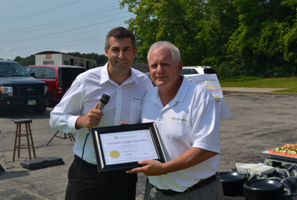 World-leading supplier of selective plating technology and solutions, SIFCO ASC has recognized the contribution of 41 employees in its US business with combined service of more than 500 years.
Lee Shelton, Group Managing Director of SIFCO ASC, travelled to each of SIFCO's four US sites in Ohio, Connecticut, Texas and Virginia alongside HR Manager Sherri Beedles to personally congratulate employees.
The celebrations coincided with the retirement of two long-standing SIFCO ASC employees, Ron Saleker from the Ohio site and his colleague, Bob Williams from the Ohio site. Territory Sales Manager, Ron held the company record, serving 38 years at SIFCO ASC and EHS Manager, Bob also served a credible 13. The pair retired within just a couple of months of each other.
Lee Shelton commented: "We have recently recognized the retirements of two dedicated, loyal and well-respected colleagues. Each of them was unique in his own way and SIFCO ASC benefited greatly from their knowledge and experience in their respective fields. Both Ron and Bob will be missed for who they are and what they brought to our company over and above their mere experience and knowledge. We wish them each a long, healthy and happy retirement."
Sherri Beedles added: "Employees have an innate need to understand the value they bring to the organization, and to know that they are making a valuable contribution. We have been so fortunate to have a group of people that have been steadfastly committed to the mission and vision of SIFCO ASC so it was in the natural order of things to recognize and thank our employees for giving of themselves.
"What I also found most rewarding were the work reflections from many that had been with us five years to more than 35 years!"
Mining companies today face complex challenges as never before. Under increasing pressures to create a...