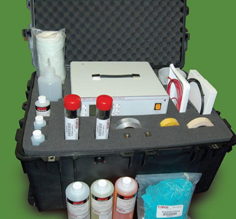 SIFCO Applied Surface Concepts (ASC), the world leading supplier of selective plating technology and solutions will be showing technicians attending HELI-EXPO how they can save critical repair time with its portable Cadmium travel kit.
The exhibition will take place from March 3-5 at the Orange County Convention Center in Orlando, Florida and will bring together more than 20,000 industry professionals from across 90 countries.
Selective plating plays a vital part in the aerospace industry due to the necessity for high performance and safe equipment. SIFCO ASC works closely with their customers to offer practical, cost-effective options for repairing and enhancing the surfaces of components, such as landing gear that has been damaged by wear or corrosion.
The cadmium travel kits are designed for touch-up applications, specifically for the aerospace industry, and are ideal for aircraft on ground (AOG) operations where time is of the essence.
HELI-EXPO is organized by the Helicopter Association International (HAI), an aviation trade association dedicated to the advancement of the international helicopter community, of which SIFCO ASC is a member, and has 3,600 members.
Lee Shelton, Group Managing Director of SIFCO ASC said: "We are really looking forward to returning to HELI-EXPO this year and showcasing a product that has been designed specifically for that target market."
You can visit SIFCO ASC at: Booth #5632
Mining companies today face complex challenges as never before. Under increasing pressures to create a...