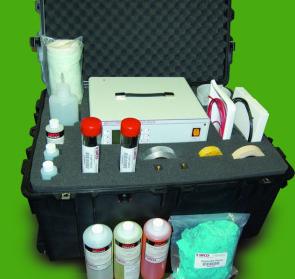 Leading supplier of selective plating technology and solutions, SIFCO ASC, will be showing engineering and maintenance professionals in the power generation and distribution industry how they can minimise costly downtime and power outages with its silver repair travel kit at this year's POWER-GEN international conference.
Creators of the SIFCO Process®, a portable method of electroplating localised areas without the use of immersion tanks, will be on Stand 4970 at the Orange County Convention Centre in Orlando, Florida, from 9-11 December 2014.
The portable SIFCO Process® is ideal for on-site repairs during outages and operations when repair times are critical. Delegates will learn how it can be used to apply adherent, high quality, deposits onto localised areas with minimal disassembly, minimal masking and with the ability to precisely control deposit thickness, which all serve to minimise the total downtime and provide a much faster repair than other plating methods.
In addition, it is important that the process of applying deposits poses minimal risk to both the operator and the environment. SIFCO's Silver Non-Cyanide solution provides a superior quality deposit that can be applied in the shop or anywhere in the field without the hazards associated with traditional cyanide silvers.
SIFCO ASC, part of Norman Hay Plc, works with leading players in the power generation industry, including Alstom, Siemens and Rolls Royce. Typical industry applications for SIFCO ASC include the silver plating of palm assemblies, damper windings, copper wedges and strips, and the coating of shafts and engine components.
POWER-GEN International features five conferences and three exhibitions under one roof. The combined events will feature top international power industry companies from across the conventional and renewable sectors, demonstrating state of the art services and technologies covering every aspect of electrical power generation.
This year there will be four co-located events: Nuclear Power International, Renewable Energy World North America, The POWER-GEN International Financial Forum, and the GenForum.
Lee Shelton, group managing director of SIFCO ASC, comments: "POWER-GEN International is a prestigious event within the industry and we are looking forward to showcasing our unique surface enhancement technologies and services for both OEM components and parts requiring repair and refurbishment. We're especially excited to showcase our new portable silver repair kits that contain everything a trained technician needs to quickly make repairs on copper bus connections and get power restored.
"With more than 50 years of experience, we can offer our customers world class capabilities and application development support, no matter where they are located, backed by the global expertise of the Norman Hay Group."
To register for POWER-GEN International, please visit www.power-gen.com.
Mining companies today face complex challenges as never before. Under increasing pressures to create a...