Enerbit provides specialised software and engineering services to the power generation industry.
Performance and condition monitoring of power equipment
Enerbit provides online performance monitoring of key unit equipment, condition monitoring of boiler and turbine pressured elements, combustion optimisation, and plant wide economical optimisation.
All modules can be a part of a larger software ecosystem for efficient production management and maintenance.
The company provides enterprise scale IT systems for power plants, including enterprise historians and seamless integration with existing distributed control system (DCS), laboratory information management system (LIMS), manufacturing execution systems (MES) and enterprise resource planning (ERP) packages to protect and leverage customer investment.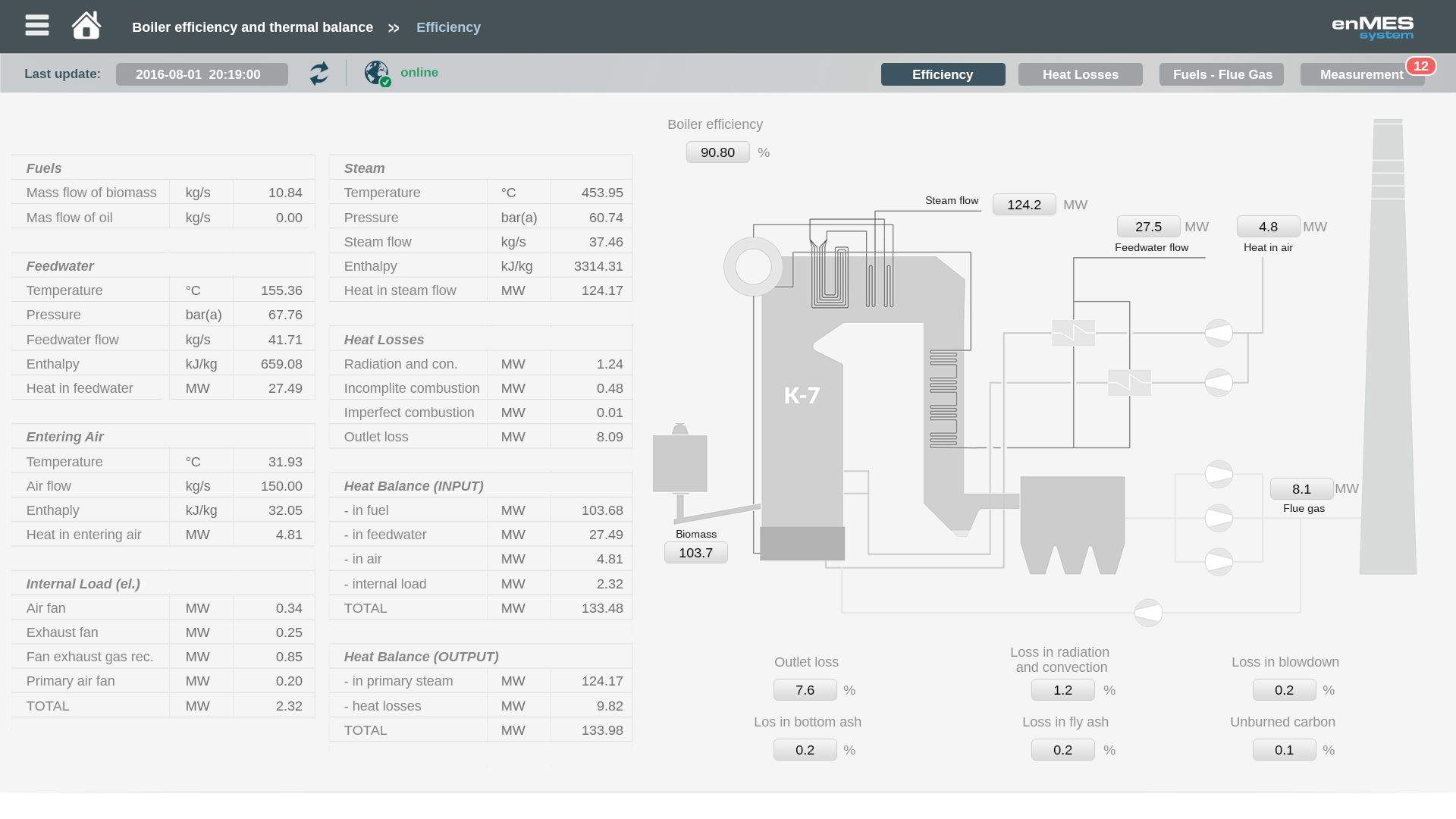 Boiler efficiency and thermal balance can be recorded by Everbit's solutions.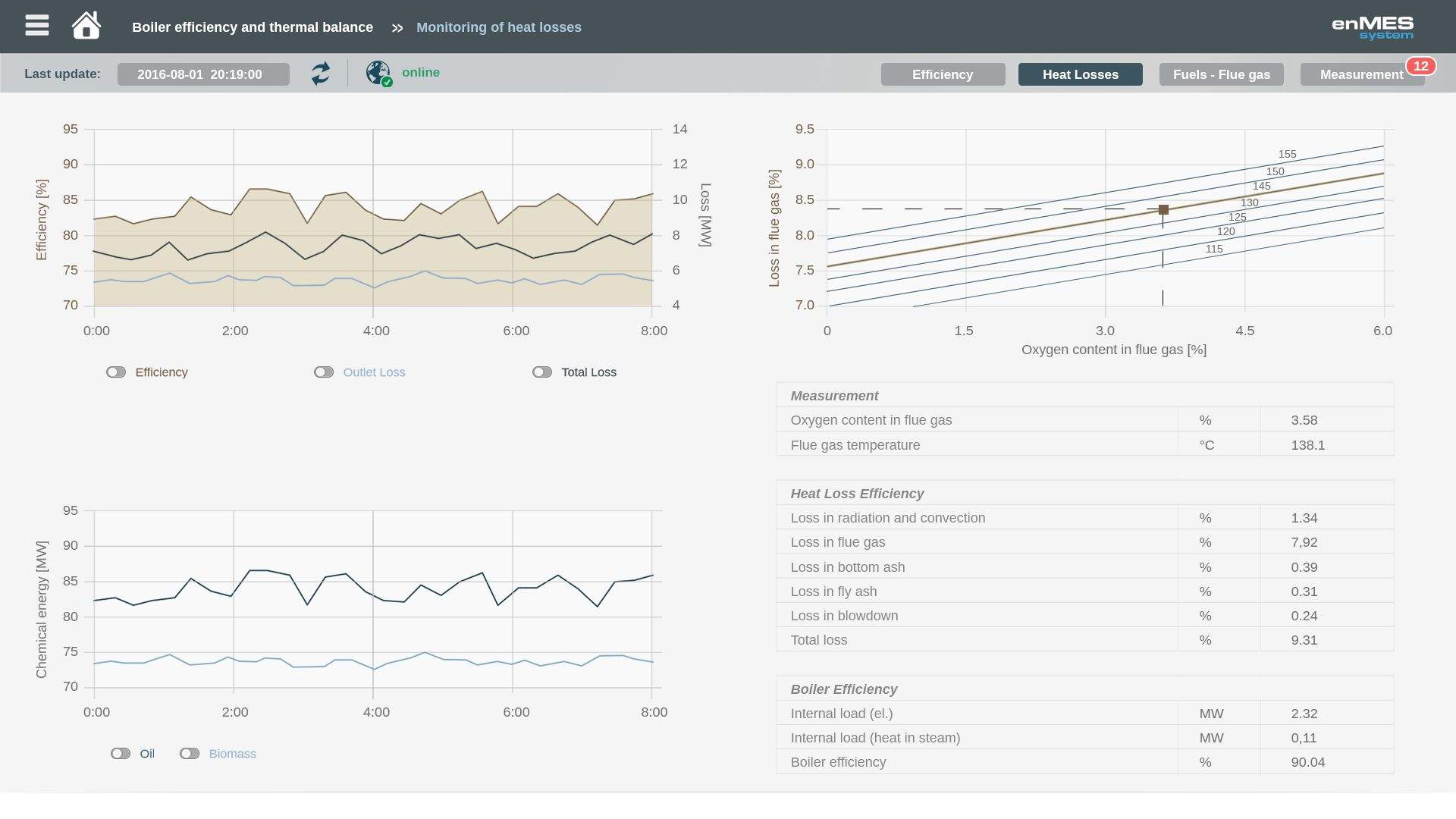 The company monitors boiler efficiency and thermal balance, outlet loss and performance trends.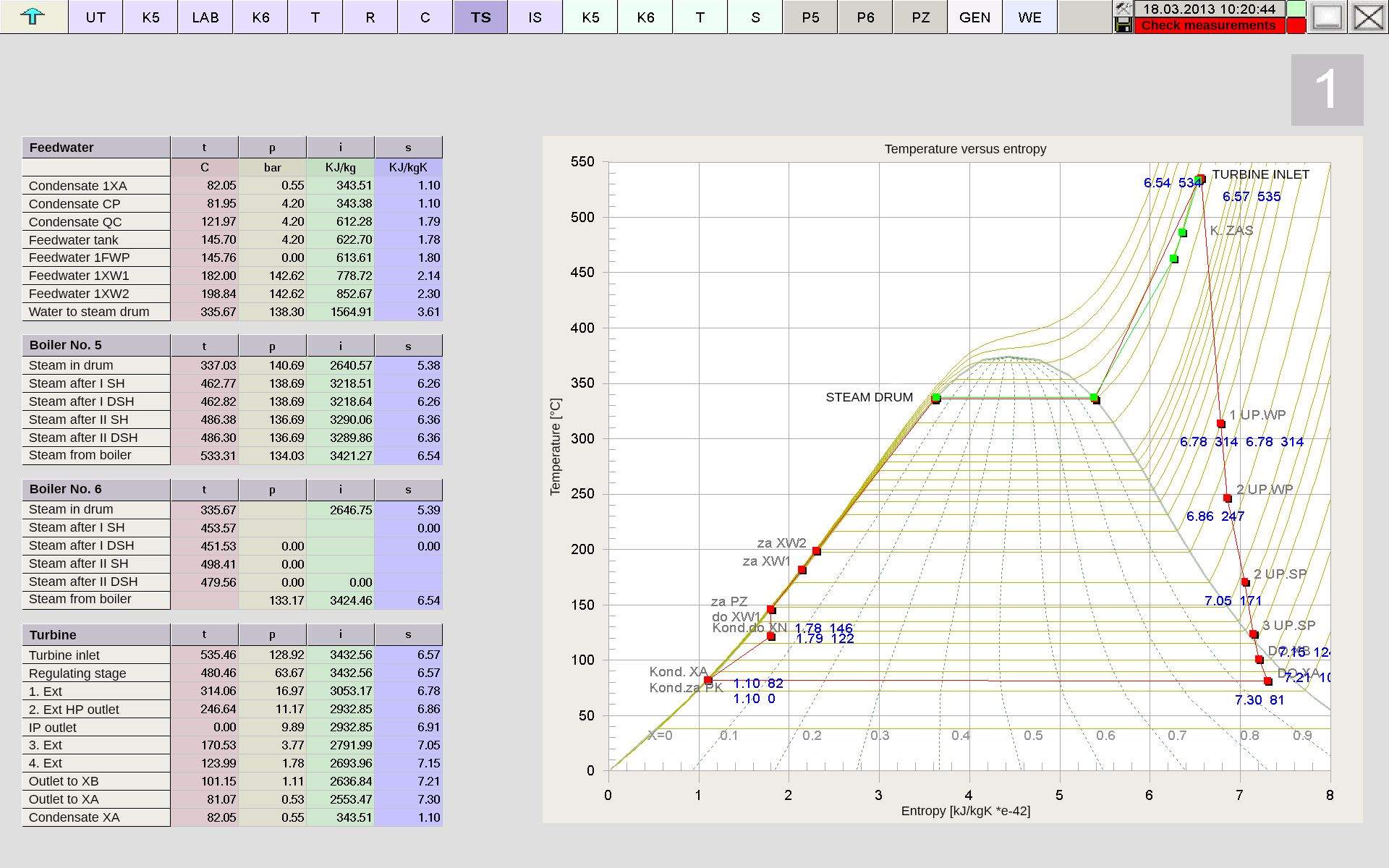 The imagine shows an example display of the turbine efficiency module.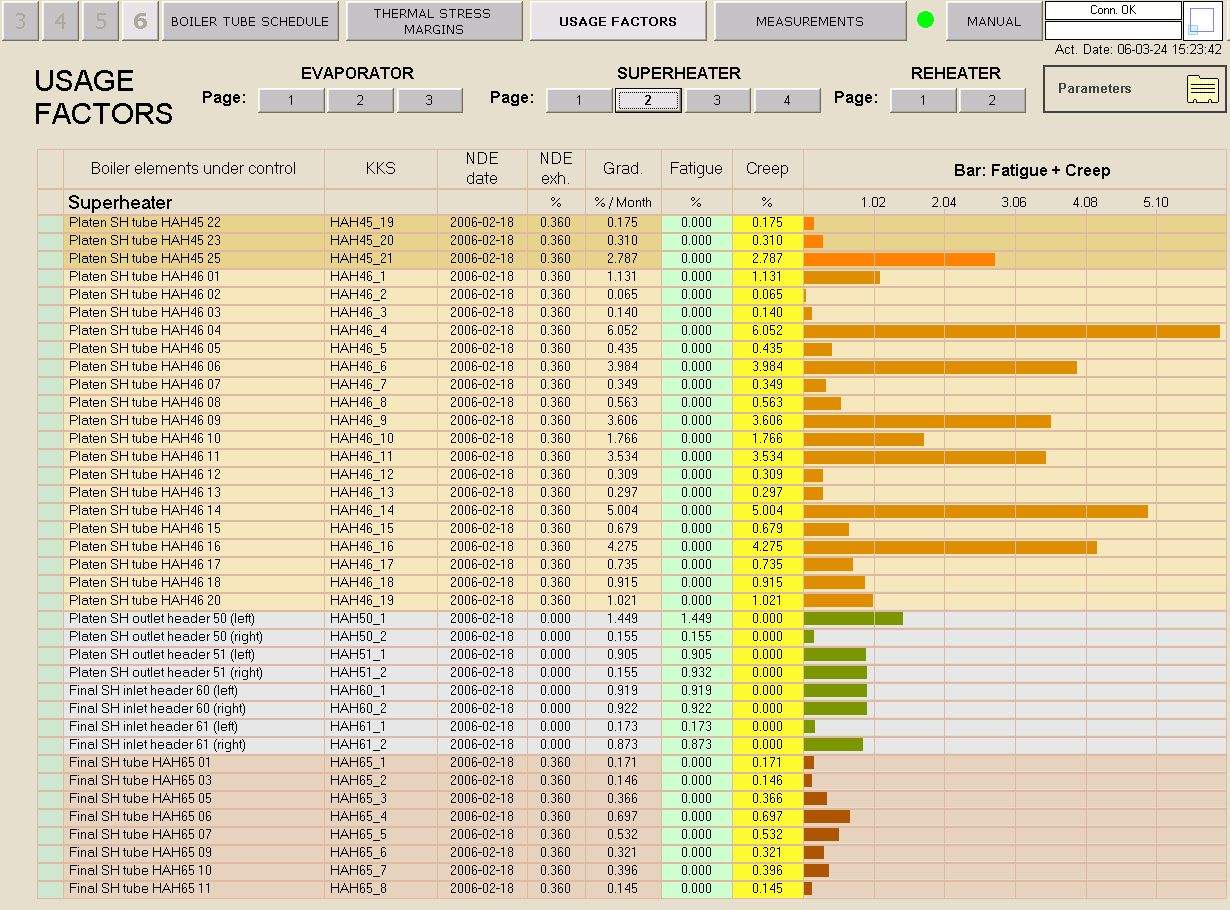 Thermal stress and material degradation monitoring, visible usage factors for boiler components.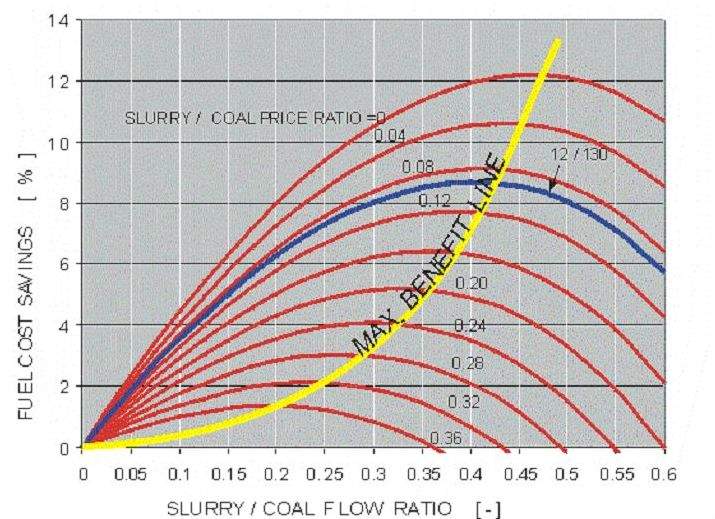 Fuel handling – fuel mix optimisation can be forecast.
An experienced and multi-discipline team enables us to provide quality solutions tailored for customers needs.
Boiler and turbine efficiency and thermal balance online monitoring
Enerbit's boiler efficiency software module can be applied to boiler-fired pulverised coal, gas, biomass, oil, fluidized bed boilers, heat recovery steam generators (HRSG) and boiler-fired several fuels simultaneoulsy.
The module calculates thermal balance, heat loss and efficiency using measured values. The calculation cycle takes no longer than ten seconds, and recorded calculated values are shown to the operators and stored for further analysis.
The applied calculation methodology is based on American Society of Mechanical Engineers (ASME) standard. Other modules calculates turbine efficiency and thermal balance including regeneration system, condenser with cooling water system, heat exchangers and heat export system, depending of turbine type.
The module performs calculations for: steam turbines, back pressure extraction turbines, condensing turbines, gas turbines, combined steam and gas systems.
Thermal stress and material degradation monitoring
Enerbit's software module determines the thermal stress margin in the pressure components and heated surfaces. The results are presented online to the operator who can see relationship between his actions and stress margin and subsequently perform unit start-up safely and efficiently.
The operational history of components is recorded in the material structure resulting in a successive loss of its mechanical properties, up to material damage.
Enerbit software module monitors online mechanical and thermal stress in selected criterion components. Based on that information, material degradation is calculated and usage factor for each component is presented. The reference level for current usage factor value is always a last result of non-destructive examination (NDE). Usage factor evolution over the time provides a foundation to estimate how much time is left to component failure.
Plant personnel can use that information to change unit operational conditions to achieve more balanced component degradation and to reduce unexpected outages and maintenance cost.
Unit dynamic and plant wide economical optimisation
The optimiser module enables the highest possible combined heat and power (CHP) revenue from power and heat sales. The difference between income from energy sales and variable operational costs (but without fixed costs) is the only criterion for optimisation.
The programme takes into account the following inputs including fuel cost; current fuel parameters; air emissions costs (CO2, NOx, SO2); power and heat consumption for auxiliaries, city and other consumers; heat consumption forecasting; energy price forecasting; and heat accumulator load level.
Complete mathematical model of CHP works with a number of predictive models (energy prices, heat consumptions). Economical load allocation is also a consistent part of the module duties.
To ensure fast and accurate dynamic units responses to set points, we offer combustion optimiser and some auxiliaries optimisation when necessary. This produces an end-to-end power plant optimisation solution.
Historian systems and other software modules
The Enterprise historian system is a convenient foundation for all our software modules and systems. We integrate our packages with almost all current historian systems.
The company also offers planning, implementation, commissioning and service of plant wide enterprise historian systems. It also provides its own enHistorian solution, for small and medium-sized systems.
Enerbit integrates offered software with existing LIMS, MES and ERP packages to achieve higher level of usability and protect customer investment.
Other modules are also available from Enerbit including startup loss monitoring, fuel mix optimisation, soft sensors, KPIs visualisation, production accounting, reporting, predictive maintenance and what-if simulators.