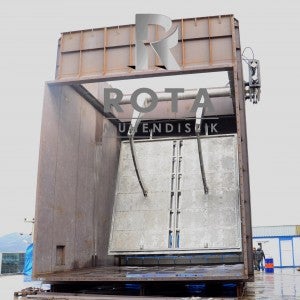 We are pleased to anounce our new diverter damper model RDD-TH7000. This model is designed for a GE 9FA gas turbine to be located in a 1574 MW power plant project at middle Asia.
We completed four units of diverter dampers and by-pass stacks within this project. The dampers have a 7m x 7m gas flow section and they are driven by a hydraulic system.
The design and manufacturing process has been completed in seven months and recently the workshop cold tests have been succesfully completed for the units at our Eregli workshop.
Rota has successfully participated in Power-Gen Europe Amsterdam 2015 as an exhibitor.Over 10,000 participants were...