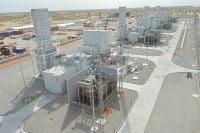 The provisional acceptance has been completed for Derweze Power Plant, which has 504.4MWe total capacity using 4xGE 9e gas turbine each 125.1MWe.
Rota provides complete engineering solutions for power and process industries. The company specialises in stacks, chimneys, and ducting for power plants, as well as diverters, dampers, expansion joints, cogeneration with gas engines, and heat exchangers.
We are pleased to anounce our new diverter damper model RDD-TH7000. This model is designed...