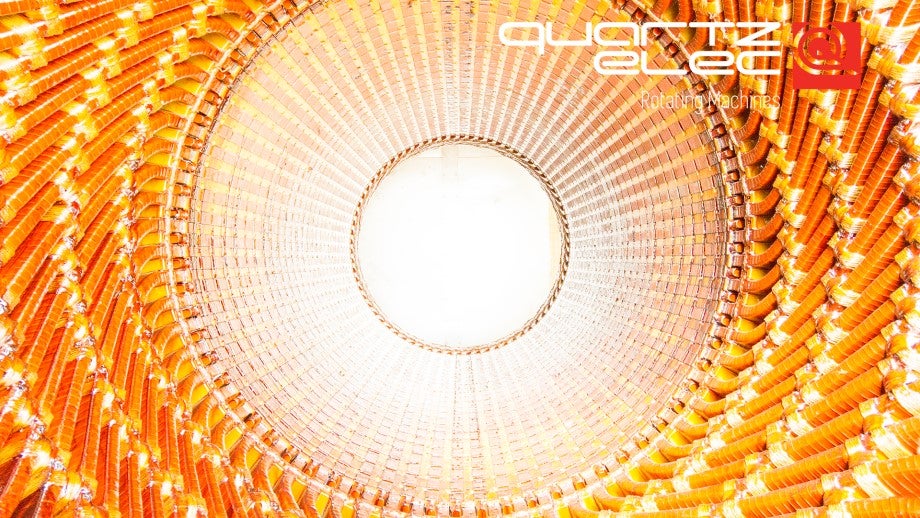 A growing global focus on environmentally friendly and efficient energy solutions is driving the need to look for opportunities in improving the operating performance of rotating machine assets and reducing the associated energy consumption.
Over recent years, Quartzelec has expanded its already experienced design capabilities; with a focus on achieving both efficiency and cost savings for its growing customer base – helping them become more competitive as well as improving operational security.
Having provided expert repairs and services on AC and DC machines over many decades, Quartzelec is today uniquely placed to drive forward industry advances in design and materials use. Its enviable original equipment manufacturer (OEM) heritage has enabled significant advancements to be made and today it can support, service and enhance machines from more than 30 of the top global manufacturers.
The Electrical Design System (EDS) software, developed when operating within the GEC / GEC-Alsthom Group, has now been combined with advanced inspection, computer-aided design (CAD) modelling, finite element analysis and reverse engineering techniques. Together these are used to ensure the best response to any arising problem during a machine's normal operation or during an outage, as well as to futureproof machine design, build and operation.
What's more – repairs, rewinds, rating upgrades, 50/60 Hz conversions and other related support enhancements on all OEM machines, can be done safely, professionally and using modern manufacturing techniques and materials.
The modelling tool can predict generator performance and point to design parameters that can constrain the thermal, electrical or mechanical capability of the machine.
Competent engineering, detailed specifications and safe procedures are at the heart of today's offerings and Quartzelec has established and retains a robust engineering team that encompasses all the required disciplines, which can draw on an extensive and historic experience working with many OEM machine designs.
The engineering team includes both PhD's and MSc's, all highly experienced in machine design and problem-solving,  including AC/DC motors and generators, wind and hydro-generators. 'Exceptional duty' machines, for use in metal processing, mining, nuclear, naval applications are well within the experience and specialist subject knowledge of the team.
In addition to supporting the rotating plant, the Quartzelec team also provides expert service and support for the associated excitation and control, protection and synchronising equipment.
Examples of the techniques and capabilities available include:
Engineering Design System (EDS)
HandyProbe co-ordinate measuring machine
Metallurgical analysis
FEA (finite element analysis)
Use of CAD facilities to model components for fit, stress and compatibility as well as create electronic files for computer numerical control (CNC) machine processing
Motion amplification vibration analysis tool
Using modern design tools to improve low-reliability components
Redesigning generator rectifier arrangements to fit brushless rotor earth fault monitors
Re-design and upgrade of automatic voltage regulators (AVR)
Complete specification and design of motors or generators to customer requirements
For more information and to investigate how to achieve improved efficiencies from your existing rotating machines, or how the use of improved designs and modern materials could reduce operational costs and increase safety, simply contact the Quartzelec team for a no-cost, no-obligation conversation about what could be achieved. Together we can ensure your business is ready to meet the demands of the next decade and beyond.
Click 'Make an Enquiry' towards the top of the page for more information.