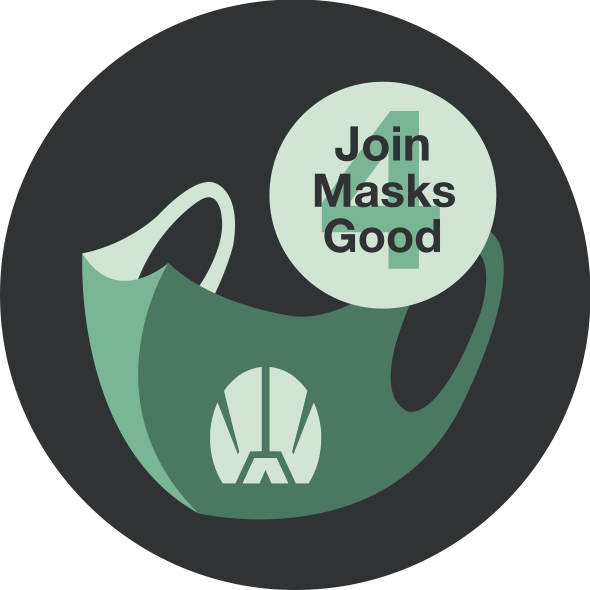 Living and doing business with Covid-19 is becoming a reality across many countries these days as some economies cautiously reopen and make their first attempts to resume economic activity. New regulations for work practices under Covid-19 need to be applied to ensure we can all go about our work safely. One such regulation is the need to use nose and mouth covers to adhere to social distancing guidelines and enable those who have to work in confined workspaces to do so safely.
At plastocor-international SA, we are launching our new initiative Masks4Good – Solidarity in Motion to allow people to do their jobs while staying protected and safe.
Responding to an urgent need for our employees to wear masks onsite and be protected in confined spaces, plastocor® joined forces with STEINROHNER who designs the masks, and together we are launching the new initiative.
Masks4Good offers a simple and effective tool that allows people to do their job while respecting Covid-19 guidelines and staying protected.
With the initiative, we aim to show our solidarity with healthcare workers and other frontline staff by donating masks with every purchase. With every mask bought to use onsite, plastocor® has committed to donating a mask to an institution supporting our essential workers near a site where we are working.
Our initiative is open to everyone and we kindly invite you to visit the dedicated website to get onboard and make a real impact in real lives. For every mask you buy, we will donate one to essential workers in our communities, including healthcare and frontline workers. Buying one mask for your own use and donating one for other essential workers shows solidarity and helps us all to stay protected. The non-medical masks are reusable and washable.
While our businesses may have suffered in previous months, here at plastocor-international SA, we fully appreciate the human side of the crisis. We support the initiative as, without a fully functioning society that cares for its communities, no economy can sustainably survive long term. Sourcing masks is also a heavy financial burden for many institutions on the frontlines. Through Masks4Good we aim to lighten this burden and extend our solution for working in confined spaces to others.
plastocor® is committed to providing stability, reliability and continuity of business during the current Covid-19 crisis. If you want to contact us to share your experience of doing business during this global pandemic, please fill in the enquiry form on this page. plastocor® is maintaining active customer care and remains very much open for business during these times.