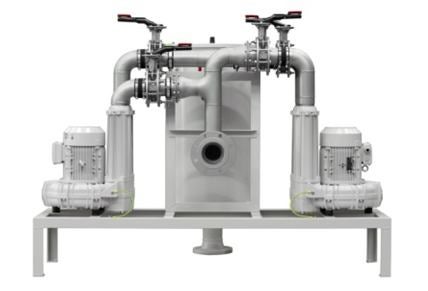 It is not the elements themselves but the side-channel blower that determines the highest permissible operating temperature for the filter unit. The longer the filter elements are in operation, the more they become saturated with particles of solid matter.
The pores become blocked and, as a result, the pressure resistance of the filters increases the longer they are in operation. For this reason the blowers of all COMS have been designed so that the required suction power can be maintained under a high degree of pressure resistance. This guarantees the filter elements a long and useful life.
The complete contec filtration system complies with directive 94/9/EC (ATEX) – equipment and protective systems intended for use in potentially explosive atmospheres – within the classification and operation conditions under markings II 2G c IIB T3 (ATEX Zone 1 for gas-vapour-mist) or II 3G c IIB T3 (ATEX Zone 2).
All COMS can be supplied with a recirculator for applications in ATEX Zone 1, an integrated emergency bypass and non-return valve, redundant motor/blower units on special frame constructions, hinged covers or an additional micro filter head piece to reduce the oil aerosols in the exhaust air to less than 0.1 mg/m³.
Contec's filters are 99.98% effective at a droplet size of 0.1μ, residual oil content below 0.1 mg/m³ and no particles between 0.2 µm and 0.9 µm in clean gas. This means that the air is far cleaner than that required by German TA clean air standards. The COMS were awarded the Environmental Technology Award already in 1990. Thanks to their extremely compact design, the COMS can easily be applied in difficult or tight installation conditions.