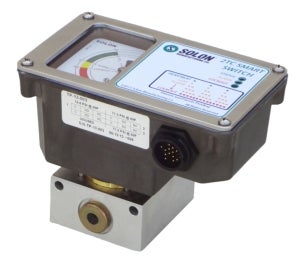 Solon Manufacturing Company's Pressure Switch Division is pleased to announce the release of the new 2TC Smart Switch Monitoring System. This advanced system integrates electronic gas monitoring and network manageability while incorporating the design, reliable gas interface, and proven protection of its mechanical SF6 Gas Density Switch predecessor.
The 2TC Smart Switch interfaces with the breaker tank and SF6 gas using the same leak-proof design proven over years of experience with the 2TC standard switch. Customer-specified, temperature-compensated settings include: fill, alarm, and lockout points that operate using proven mechanisms identical to the standard switch.
The 2TC Smart Switch incorporates a sophisticated, non-contacting metrology system and digital signal processing. Without influencing the standard switch operation, the 2TC Smart Switch adds a high-resolution gas monitoring layer. The plug-and-play design allows customers to receive an advanced network manageable gas sensor with a proven gas density switch.
Long-term data logging combined with advanced digital signal processing and gas process modeling delivers accurate, outlier-free data streams to facilitate SF6 gas accounting and breaker management.
The Smart Switch Hub interfaces with the customer's management network and up to three 2TC Smart Switches. This simple, panel-mounted unit resides within the control cabinet and runs directly from international line power without using an external power converter. User configurable digital signal processing, long term trending, and network protocol support combine to deliver high-resolution SF6 monitoring.
The 2TC system includes a built-in web server that enables a familiar graphical user interface without the need to load any product-specific software on the user's computer. Any platform (PC, Mac, etc.) using any operating system and web browser may be used to access each 2TC Smart Switch via its IP address. Information including configuration settings, real-time measurements, and logged historical data is simply managed via the intuitive graphical environment the product-specific web pages provide.
The rich set of configuration information can also be managed using the DNP3/IEC61850 management interface via the system-wide network management system. Parameters include operate, alarm, lockout, and overpressure set points and breaker parameters, including tank volumes or SF6 gas content.
Patent is pending.
Solon welcomes the opportunity to discuss your specific 2TC Smart Switch requirements. For more information or product literature please contact Solon.