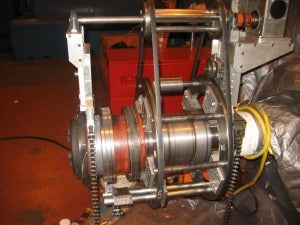 Field System Machining has provided turbine and generator journal machining to the power generation industry since 1978. We can hone and polish turbine journals to a finish of 8 RMS, but for applications which do not require such a smooth finish we go to16 RMS since it offers the best smoothness-to-oil-adhesion ratio.
Field System Machining manufactures its own stationary journal machines. On collector ring (excitation slip ring) machining, it is often necessary to manufacture a stub shaft to support the stationary journal riding rings on the outboard side of the turbine generator. Whether your turbine journal, generator journal or collector ring machining project requires custom fixturing or not, Field System Machining can arrive and complete the job on time.
In addition to machining the OD of collector rings, Field System Machining is capable of cutting collector ring grooves as well. The tooling necessary for cutting slip ring grooves has been custom designed and manufactured in the Field System Machining shop.