Kissling AG has been one of the leading providers of innovative gear unit solutions for many years. It is medium-sized family business with a streamlined company structure and high flexibility, which makes it possible to produce customised drive solutions.
To remain a market leader, any business must invest in the future. Kissling places great importance on developing its employees and technology.
The company was founded in 1925. Since then, it has been developing and producing gear units, which are characterised by safety, quality and durability. They are an integral component of complex systems such as cable cars, roller coasters, cement and sugar mills, paper machines, extrusion systems, agitators, as well as test stands and power plants.
Turbo gear units for the power industry
The company's focus lies on the turbo gear units that complement the proven industries served up to now. Due to a clearly defined focus on products and industry, lean manufacturing, and the latest engineering tools, as well as the consideration of energy efficiency demands in our increasingly energy conscientious world, Kissling is developing gear units for the future.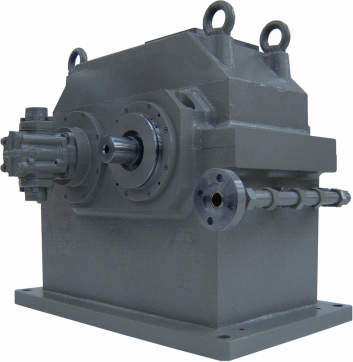 ER-Series - industrial standard single stage gear.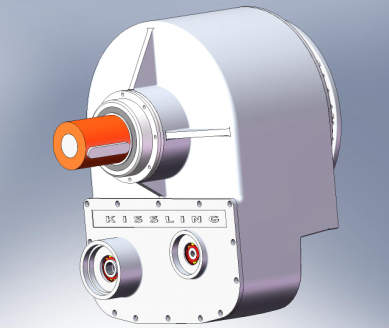 Epyclic ASTRO-Gear - highly compact and very robust.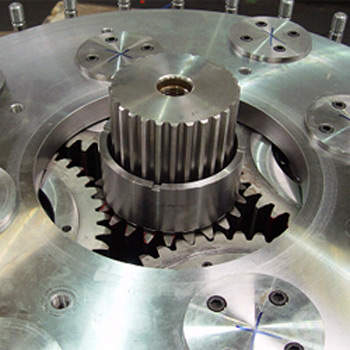 Kissling is a pioneer in gear-engineering and one of the leading suppliers in the ropeway drive segment.
Compact and concentric solutions: stepped planet type
Epicyclic gearing is a system consisting of one or more planet gears revolving around a sun gear. Typically, the planet gears are mounted on a rotating carrier, which itself rotates relative to the sun gear. Epicyclic gearing systems also incorporate the use of an outer-ring gear, which meshes with the planet gears.
Epicyclic gears are typically classified into two categories: simple and compound planetary gears. Simple planetary gears have one sun, one ring, one carrier, and one planet set.
Compared with simple planetary gears, compound units have the advantages of larger reduction ratio, higher torque-to-weight ratio and more flexible configuration possibilities.
Limiting factors for these types of gears are rotational speeds and consequently rising centrifugal forces, which act on the carrier, pins and tangential loads on rotating ring gears. In some cases, the sun gear can be connected directly to the driven equipment. Consequently, the high-speed bearing on the sun gear is not required and this results in higher efficiency of the drivetrain.
ORION compound gearboxes
The ORION series belongs to the category of compound gearboxes. This version is the only one under the concentric versions, which allows an inversion of the direction of rotation between drive and driven equipment. When used as speed increaser, the drive is provided over the gear ring. The planets are standing still, while sun and ring gear are rotating. Range of ratio approximately 1:1 up to 1:40.
SIRIUS gear unit
A further variant for mid-range gear reductions is the SIRUS gear unit, which is also known as star gearbox and belongs to the category of compound gearboxes. SIRIUS is actually a dual-stage helical gear unit, in which the torque is divided across the planets. The advantage over normal helical gear units is that the power split allows reducing the size of the planets and their bearings. Range of ratio approximately 1:1 up to 1:20.
WEGA: single stage epicycle gearboxes
Single-stage epicyclical gearboxes are built according to the design of Stoeckicht with double helical gears. As with all other planetary gearboxes, the division of the torque on the planets allows a compact design, although the application of double helical gears minimises the negative influence of dynamic loads. Range of ratio approximately 1:4.3 up to 1:9.
ASTRO gears
ASTRO gear is very compact with high reduction ratios due to its unique technology of flex pins. With the combination of flex pins, and by synchronising the speed of the planet carrier, the load can be divided uniformly on up to seven planets; depending on the transmission ratio, it can be split on both transmission stages. The load splitting can be up to 70% to 30% for each stage. Range of Ratio approximately 1:12….40.
Special projects with drive components and customised gearboxes
Kissling has operated for many decades, offering vast experience of solutions tailored to suit market needs and matching optimally the specific demands of the respective industry sectors. Customers in various industries regard Kissling as the most professional supplier of drive components, amongst others custom-made gearboxes.
We are supplying custom-made gearboxes to numerous renowned manufacturers and are offering a comprehensive full range of services.
Technical expertise
Customers needing special gearings demand a large amount of technical competence at all levels. At Kissling, qualified engineers with many years of experience and sound expertise are not only responsible for sales consulting but also for drawing up offers and handling projects.
From the very first contact through to delivery and assembly, the job is supported by a single project engineer who is dedicated to advancing the project at all times, as well as being in a position to provide customers with up-to-the-minute information.
Kissling Turbo gears are designed according to international standards, such as DIN 3990 / ISO 6636 / AGMA / API 613; they can also be engineered for use in hazardous areas as ATEX.