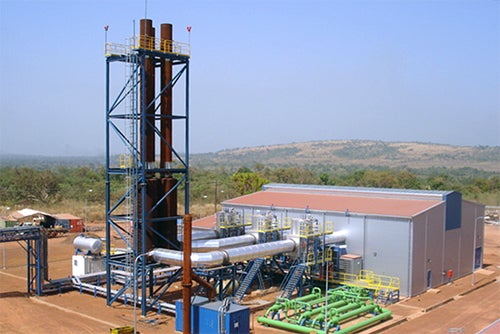 Wärtsilä has announced its plans to supply a power plant extension to AngloGold Ashanti's gold mine in Siguiri, Guinea.
This turnkey project consists of three 20-cylinder Wärtsilä 32TS engines running on heavy fuel oil. They will be connected to the existing power plant, which was also supplied by Wärtsilä.
The extension is expected to be operational during the second half of next year and the total power output on the site will be 30.4MW. The order is booked for the second quarter of this year.
Siguiri, a multiple open-pit oxide gold mine and the largest gold mine in Guinea, is AngloGold Ashanti's sole operation in the country.
AngloGold Ashanti holds an 85% interest in Siguiri with the balance of 15% being held by the Government of Guinea. After two difficult years, the Guinean economy is recovering, with an average projected growth of 5% over the period of 2017-2020 due to mining investments, and increased food production and electricity services.
Wärtsilä Energy Solutions West Africa regional director Arnaud Gouet said: "This is a significant proof of confidence for Wärtsilä in West Africa. Wärtsilä is a trusted partner to AngloGold Ashanti at Siguiri gold mine where we operate the power generation, enabling them to focus on their mining operation."
AngloGold Ashanti CAR Projects project manager Dale Bates stated: "We selected Wärtsilä for the new power plant at our Geita Mine in Tanzania in 2016 and have again selected Wärtsilä for our Siguiri project.
"We have full trust in Wärtsilä's technology and in their understanding of the criticality of power generation in the operation of such a gold mine."
With this project, Wärtsilä will have over 6800MW of installed capacity on the African continent. Globally, the company's installed base is over 63GW in 176 countries.
For more information, please contact Wärtsilä via the enquiry form.