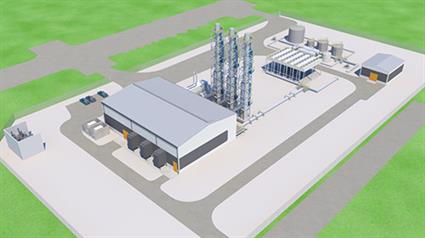 Wärtsilä is to supply a 23MW smart power generation power plant to PT. Berkah Kawasan Manyar Sejahtera (BKMS), the developer of an integrated industrial and port estate project in Java, Indonesia. The turn-key order includes three Wärtsilä 34DF multi-fuel engines running primarily on natural gas, with heavy fuel oil as the backup fuel. The plant is expected to be operational in summer 2017.
The power station will feed baseload energy to both industrial and residential consumers in one of the largest industrial parks in Gresik, located in East Java, Indonesia. The Java Integrated Industrial and Port Estate (JIIPE), currently under construction, is expected to become attractive to foreign investors due to its enticing strategic location, deep sea port, infrastructure, and reliable energy supply. BKMS is a joint venture project between PT AKR Corporindo TBK., Indonesia's leading logistics and supply chain provider for basic chemicals and energy, and Pelindo III, state owned port operator.
A recent governmental decision allows companies such as BKMS to construct power plants to supply energy independently to their consumers. As these plants are not connected to the national grid, reliability of supply is extremely important. "The requisite for our customer is to guarantee an uninterrupted 24/7 supply of electricity to the estate tenants, which is the key to attracting new investors to the country," says Wiwin Suhendri, Business Development Manager at Wärtsilä.
The plant will contribute to Indonesia's growing energy demand allowing many domestic companies to become globally competitive. The availability of reliable, flexible and cost-efficient source of energy, will help their production and logistic costs to be reduced.
Wärtsilä has a strong footprint in Indonesia with over 3700MW of installed base. Globally, Wärtsilä's installed base is 60 GW in 176 countries.