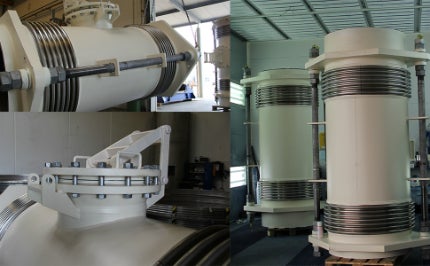 By providing a fast track service Belman has helped to minimise downtime in a Swedish nuclear power plant.
Our around the clock service was highly appreciated by the client. The entire production cycle including design, manufacturing, non-destructive testing (NDT), and documentation had been completed during 5 weeks.
Working around the clock
Normally these units take 12 weeks to manufacture, but due to the extreme urgency of the customers problem Belman managed to shrink the production time to just 5 weeks.
In order to meet the demanding schedule Belman worked right around the clock, delivering the job on time and as promised to the client.
Our flexibility and ability to get the job done in this extremely short time delivered great benefits for the client saving them from an extended and expensive shutdown.
Inspection Hatch
It is possible to make an inspection hatch on an expansion joint, in doing so the inside of the pipeline can be conveniently inspected during shutdown times.
In order to prevent turbulence generated by the passing media, the inspection hatch required a special design, ensuring a smooth passage of the media through the expansion joint.
To equalise pressure in the chamber between the top of the inspection hatch and the inner sleeve a small hole is made, where the media can access the chamber between the top and the inner sleeve.
Documentation
Full and complete documentation has always been an essential requirement within the nuclear power industry.
Extensive documentation and testing was demanded for this project. Belman satisfied all the specified requirements and delivered the expansion joints and the documentation in time. The project had in total approximately 1,000 pages of specifications in the RFQ with 380 pages of documentation.
Belman has extensive experience in nuclear projects, and have for some projects supplied up to 3000 pages of documentation.
Project management
Detail orientated project management by both the Project and QA-Manger ensured all issues were solved quickly and smoothly as they arose, enabling Belman to keep pace with the tight schedule.
The close dialogue with the customer guaranteed the project high quality, correct finish and assured the compliance with their specified standards and requirements.
This project required Belman to work right around the clock in all functions to meet the client's demands.
Data on the expansion joints
Dimension: DN 1000 – installation length: 2,500 mm – medium: steam (radioactive) – design temperature: 180°C – design pressure: -1/10 barG – LA: +/-40 mm – bellow: 1.4541 – welding ends: 1.0425