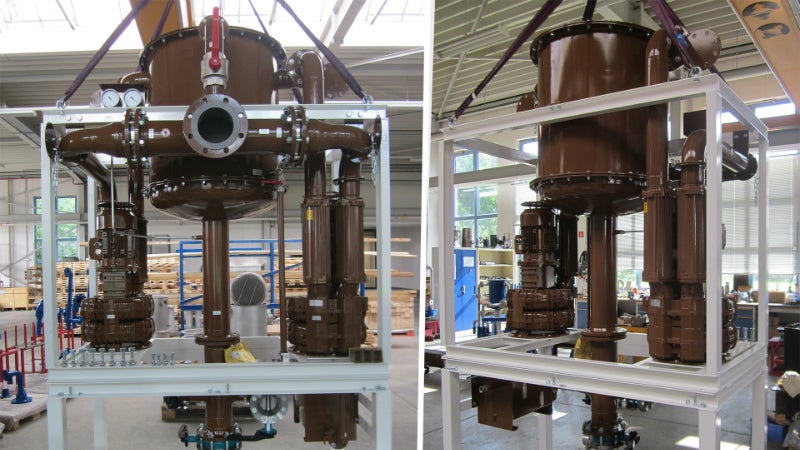 Oil Mist Separators from Franke-Filter have proven to be compliant with the high requirements of the pump-storage power plant Vianden in Luxemburg.
The pumped-storage power plant of the Société électrique de l´Our (SEO) on the river Our with a turbine power output of 1300 MW was commissioned in 1964. Several oil mist separation systems have been tested; however, none fulfilled the high requirements presented. The goal was to filter the oil mist escaping through the turbine bearings and exhaust the filtered clean air directly into the machine room.
This would prevent the need for long, costly piping and eliminate uncontrolled leakages. This task required a very high filtration efficiency (>99%) of the Oil Mist Separator. Further tasks included the possibility of exact adjustment of vacuum in the lube oil tank, as well as at the separate bearings.
In 2003 the company Franke-Filter supplied the first Oil Mist Separator for a 1-year test period. After successful results and inspection by "TÜV Süd", Société électrique de l´Our (SEO) ordered Franke-Filter Oil Mist Separators for all 9 horizontal turbine sets.
Oil Mist Separators are designed individually to suit the systems and conditions on site.
Two Oil Mist Separators were installed per each machine set. One Oil Mist Separator provides the necessary vacuum in the lube oil tank, whereas the other is connected via a 4-fold Manifold to the 4 bearings (generator, turbine, coupling and end bearing). At each of these bearings vacuum can be adjusted individually.
Furthermore, in order to regulate and monitor the filtration process, for each machine set there was delivered a switchboard which light signals permanently indicate the status of the corresponding subsystem delivered. Integration to the monitoring system informs personnel on site about possible failures.
Also two further vertical pump-turbines, commissioned in 1976 and 2015 , were subsequently equipped with Franke-filter separators. Needed here was only one separator for the filtration of the exhaust air and simultaneous generation of vacuum.
Advantages of the Franke-Filter Oil Mist Separator at a glance:
Air can be directly exhausted into the machine room (Filtration >99%)
1 Filter for 4 bearings
Individually adjustable vacuum for each bearing
Maintenance-free operation up to 3 years
Easily accessible for prompt maintenance works
Connection to the control centre