FRANKE-Filter has more than 30 years of experience in the design, development and manufacturing of high-quality oil mist separators that are individually tailored for each application.
Along with oil mist separators for steam and gas turbines, FRANKE-Filter supplies customised solutions for hydro turbines. The company portfolio also includes filtration solutions for gas and diesel motors, turbo-compressors, generators, engines, and gearboxes, as well as demisters for welding fumes.
Oil mist separators for the power industry
The formation of oil mist when turbines, motors or compressors are operating is inevitable.
Friction during turbine operation causes severe heat that turns the lubricating oil, used to ensure trouble-free operation, into very fine oil mist droplets. An oil mist separator prevents these droplets from escaping into the atmosphere, which can cause oil films and dirty halls, environmental damage, breakdown of machinery, and negative impacts on employee health. Oil mist separators can also be called oil mist eliminators or demisters.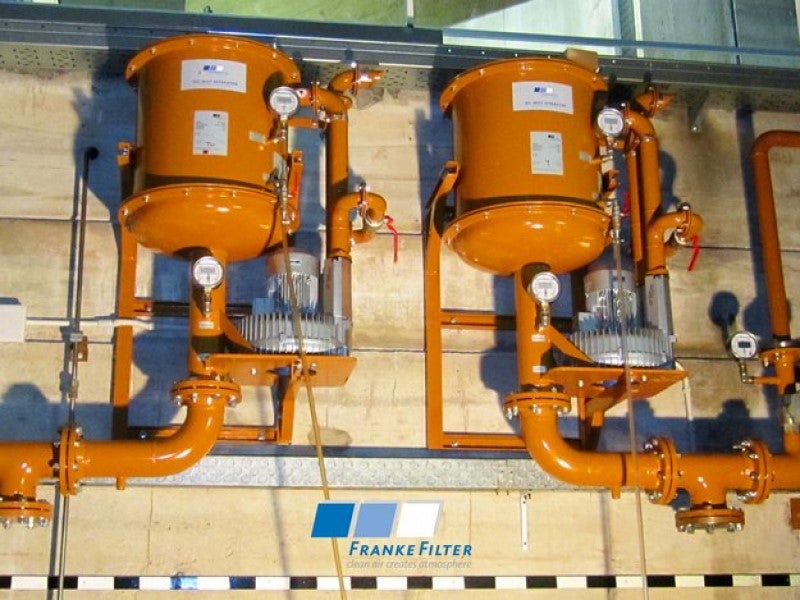 A centrally installed oil mist separator offers the option of adjusting the vacuum for all bearings individually.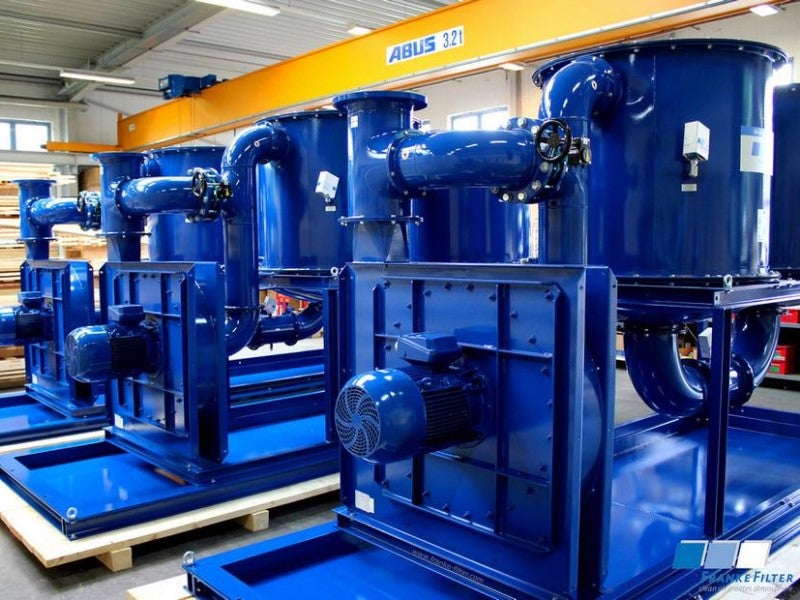 FRANKE-Filter customises filtration solutions for each application.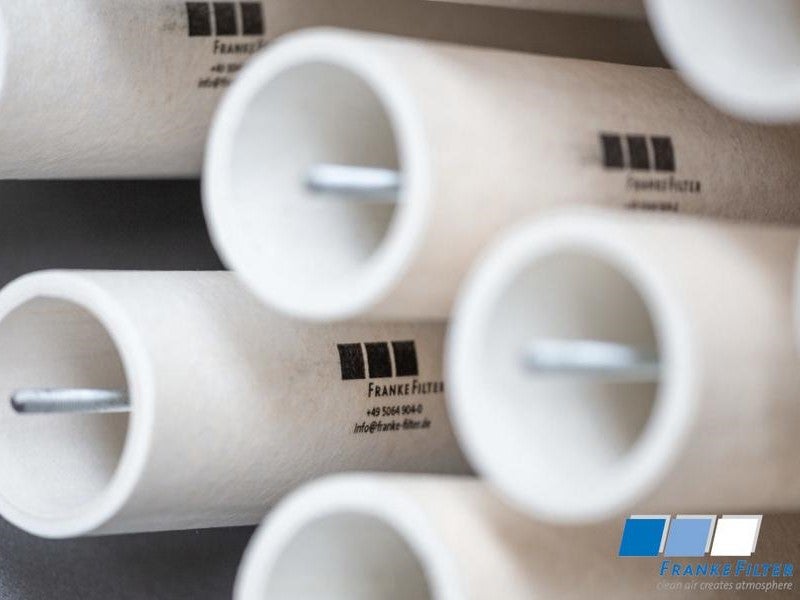 Our specialised microfiber filter cartridges provide a high separation efficiency of 99.99% at a particle size of 0.1μm.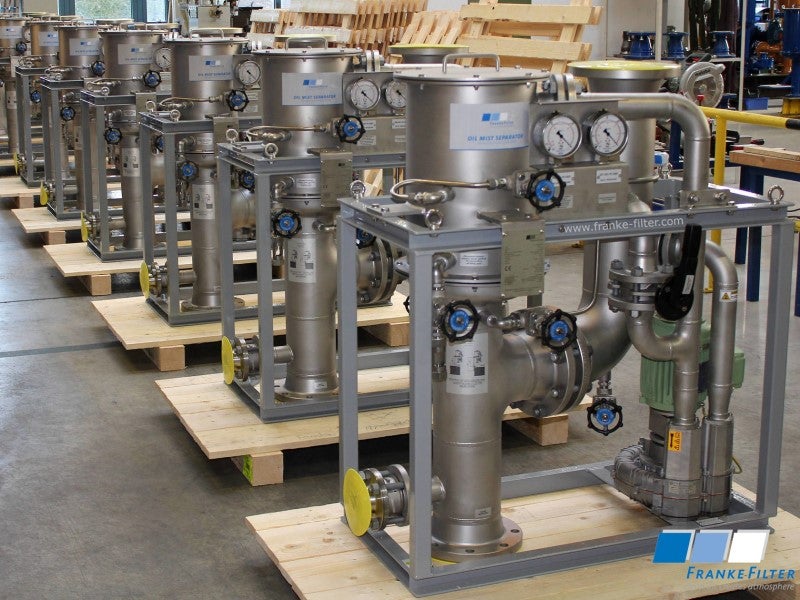 Renowned turbine manufacturers around the world include FRANKE-Filter oil mist separators in their packages.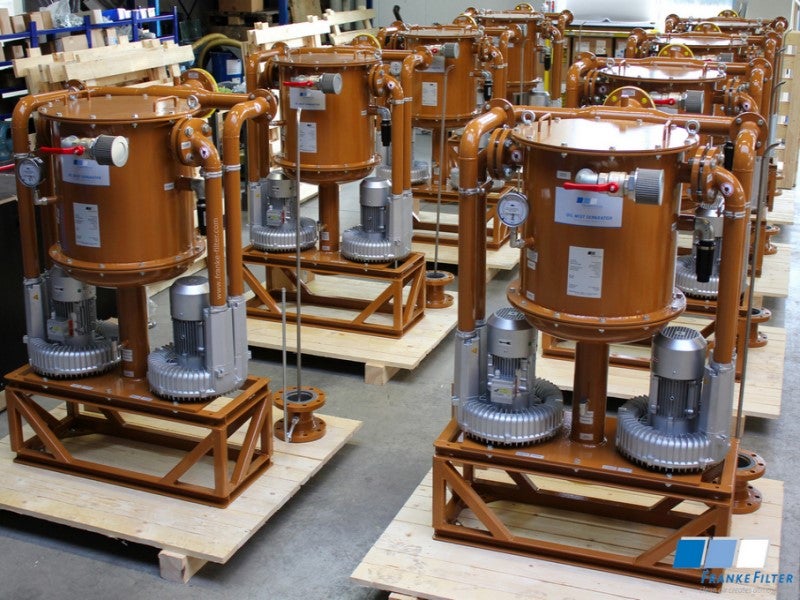 Efficiently capturing emissions ensures product quality, regulatory compliance, and equipment longevity.
Power stations, hydropower plants, refineries, sugar mills and other locations where power is generated use FRANKE-Filter systems. Renowned turbine manufacturers around the world include our oil mist separators in their packages for newly erected power plants. The retrofit business has also increased demand for separators.
Customised oil mist separators
FRANKE-Filter customises solutions for each application, supplying oil mist separators of variable sizes depending on the turbine or motor.
Exact settings ensure a constantly controlled vacuum within the lubricating oil system, and customisation provides up to 30,000 possible hours of maintenance-free operation.
With a special design, microfiber filter cartridges from FRANKE-Filter provide an especially smooth filtration process, with a separation efficiency of 99.99% at a particle size of 0.1μm.
Oil mist elimination for hydropower plants
Individually adjusting the vacuums at each bearing allows oil mist to be locally extracted from hydro turbines. FRANKE-Filter's oil mist separators supply filtration at up to four bearings, including turbine, guide bearing and generator.
The system developed by FRANKE-Filter for multiple simultaneous extractions suits the limited available space of many hydropower plants and minimises investment costs.
FRANKE-Filter supplies oil mist separators tailored to local conditions for hydro turbines from almost all the lead manufacturers.
Filtration systems for motors and compressors
The FRANKE-Filter oil mist eliminator for gas and diesel engines maintains a constant vacuum in the crankshaft housing, preventing fluctuations with a frequency converter. The side channel vacuum pump receives readings from the pressure transducer and constantly adjusts the rotation speed to maintain vacuum and suction volume.
Reliable oil mist filtration is necessary for high-pressure compressors to prevent the escape of lube oil from several spots. The highly efficient oil mist eliminator offers individual adjustment of the vacuum in the compressor or vacuum pump's lube oil system. Precise adjustments prevent lube oil droplets from escaping as well as eliminate further possible leakages.
Emulsion mist eliminators, smoke filters and soldering filters
FRANKE-Filter supplies oil and emulsion mist eliminators for machine tools, smoke filters for welding and soldering filters for the elimination of very fine noxious substances.
Benefits of FRANKE-Filter separators
Efficiently capturing the emissions generated during manufacturing processes ensures product quality, regulatory compliance, equipment longevity, and a safe and healthy working environment.
FRANKE-Filter oil mist separators use an operation mode based on the coalesce effect. A vacuum is produced within the lube oil system, and the air containing oil mist is passed through a micro-fibre filter cartridge. The oil droplets are separated out and returned to the lube oil tank through an oil return pipe. Clean and dry exhaust air, containing a residual oil content of less than 1mg/m, is released.
About FRANKE-Filter
Established in 1989 by Manfred Franke, FRANKE-Filter is a leading German industrial company.
The introduction of stringent pollution standards, as well as growing concerns for environmental protection, inspired our commitment to enhancing air quality in industrial processes. By developing a filtration system that efficiently eliminates oil mist from the exhaust air of rotating machine lube oil systems, FRANKE-Filter contributes to efficient production, environmental protection, and safer workplaces.
Located in Bad Salzdetfurth, Lower Saxony, the company has numerous partners and supplies customers around the world.