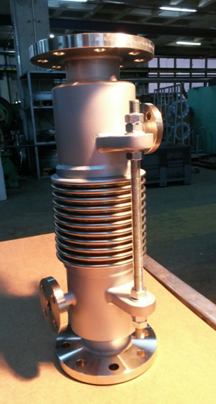 Politeknik manufactures several jacketed expansion joints for a chemical factory.
Jacketed expansion joints consist of two bellows one inside another. In this design, inner bellows is pressurized internally and externally while the outer one is pressurized internally only. Other types of designs also exist.
Fluid is circulated between two bellows via inlet / outlet connections (flanges) attached on the outer pipe (jacket). Inlet and outlet connections are attached on opposite sides of the bellows and at 180 degrees apart. This set up facilitates heat exchange while allowing thermal growth of pipe.
Bellows is manufactured from 316ss material while the balance of the parts is carbon steel.
Our expansion joints also have limit rods as an added safety feature.