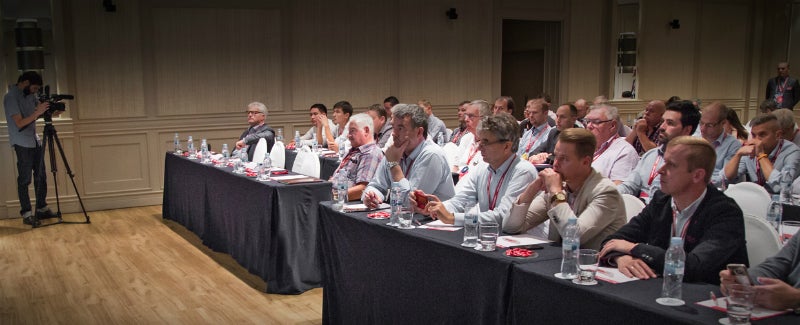 Coinciding with the 20th anniversary of HIMOINSA's first exports to other European countries and with a view to analysing the trends for the coming years, the company has invited its entire continental network of distributors to its headquarters in Spain. The purpose of this Convention was to discuss the products that are currently being developed for the European market, to study the current situation in Europe and to address the company's growth over the years to come.
The delegates visited the factory to find out about the latest technological advances that the company has added to the processes it employs when manufacturing generator sets, lighting towers, control devices and ATS panels, so that it may adapt to the ever more demanding European market.
Over the last 20 years, HIMOINSA has reinforced its position in Europe through engineering solutions that adapt to the needs of each project it undertakes. Francisco Inglés, HIMOINSA's Regional Sales Manager, stated that "When we began developing our European distribution network, our clients were concentrated in standard groups. Now everything is much more specialised. There are numerous projects such as hospitals and data centres that require specialised technical assistance. Each day that goes by shows how important it is to have a skilled in-house department capable of undertaking engineering projects with a high degree of specialisation."
The stand-by market, the generation of energy through gas generator sets, hybridisation projects and applications for data centres, hospitals or the Capacity Market projects in the United Kingdom, are just some of the trends that will move the market in Europe in the next number of years.
In 2015, this market accounted for 38% of HIMOINSA's turnover. The company currently has five European subsidiaries in the UK, France, Portugal, Germany and Poland. Together with its headquarters in Spain, they provide support to an extensive and consolidated network of distributors in 37 different European countries, all specialising in different areas of energy generation.
Guillermo Elum, the company's Sales & Marketing Director, ensures that "Our distributors are vital to the day to day operation of our business." "They are the link between the factory and the market. What is most important about this event is that we have created a tremendous amount of networking among them.They have been able to share ideas and opinions and to seek out new solutions that can be applied in their different markets."
Some HIMOINSA distributor statements:
SVEIN AKSELSEN
AKSELSEN, Managing Director (NORWAY)
"The flexibility is improving and that's very important for the Norwegian market, because there are a lot of needs different from other countries."
SERGUEI PAKHLOV
ENERGO, Managing Director (RUSSIA)
"We've been working with HIMOINSA for 15 years. In the last years the improvements in the factory, in the manufacturing culture, are noticeable. HIMOINSA has become a European manufacturer and I'm really satisfied with that."
CATALIN STANCIULESCU
ALL GENERATING, Commercial Director (ROMANIA)
"Romanian market is growing and is focusing on quality. Customers look HIMOINSA as a very good brand, a very strong generator."