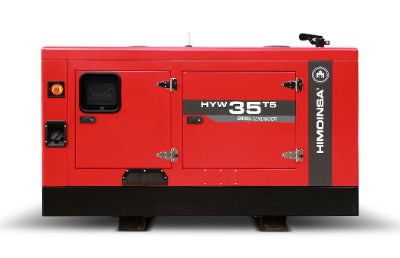 HIMOINSA offers generator sets with more autonomy, reduced refueling frequency and longer maintenance intervals. These gensets guarantee reduced operation costs, especially for those that will be installed on remote sites.
The generator sets with Yanmar engines can now include a special kit that allows for longer maintenance intervals up to 1000 hours. This feature is available in both the Industrial range- HYW from 8 to 45 kVA- and the Rental range -HRYW from 16 to 40 kVA-.
Among other improvements, the kit includes a larger tank, which supplies extra oil to the engine. While fuel and oil consumption remain the same, the cost of filters is significantly reduced, and so is the downtime, when the equipment is out of operation for maintenance. For this reason, the kit guarantees less waste oil and, therefore, a reduced environmental impact.
Attendees at Middle East Electricity (Booth S3E20) will have the opportunity to learn all about the HYW 35 T5 model with a 1000-hour service interval.
The generator sets from the Industrial Range with Yanmar engines (8-45kVA) can incorporate a fuel tank of 1,000L, 10 times bigger than what it is offered as standard, which translates into less trips to the site for refueling operations. Considering that the genset works 8 hours a day, this new feature guarantees up to 70 days of running time.
HIMOINSA recommends to include the 1,000 hour maintenance kit to reduce operation cost. Also, the option of adding a 1,000L fuel tank allows a considerable reduction of site visits for refueling. These are without any doubt, highly appreciated improvements for the telecom sector, where the gensets are often located in remote areas with difficult access.
Fleet Manager – It reduces frequency of site visits and optimises maintenance
Check the status of your fleet of generator sets at all times via mobile phone or internet. Equipment operation, fuel levels, the need for refueling and the general condition of the equipment can be checked without having to travel to remote sites.
Covering an area of almost 40km², the Port of Constanta, in Romania, is the largest...