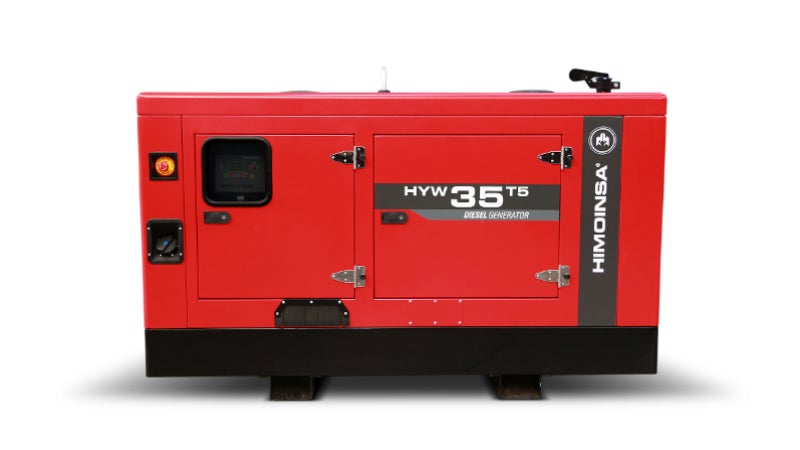 HIMOINSA will showcase at Middle East Electricity 2017 in Dubai, February 14th to 16th, gensets and lighting towers designed to work in desert extreme conditions.
The power generation market in the Middle East calls for better levels of performance optimization without limiting the performance of the machine. HIMOINSA generator sets have become an interesting option for companies looking for profitable equipment. In addition to their design to withstand extreme conditions, HIMOINSA has developed more versatile and autonomous gensets that can operate in different markets; generator sets with increased maintenance intervals therefore less service trips; and new ranges with reduced noise emissions. HIMOINSA, recently selected by Frost&Sullivan for the 'Growth Excellence Leadership Award' in the European Market, is working in its development in the Middle East market where the Company operates through its subsidiary based in Dubai.
Generator sets displayed at Middle East Electricity | Stand S3E10 (indoor) Stand OC10 (outdoor)
Silent Plus Range for the rental market
The HRFW-250 T5 is the first model of a new range of quieter generator sets for the rental sector. This genset, powered with FPT engine, guarantees a noise level of 61dB ±2 at a distance of 7 metres thanks to the improved and more complex design of the air intakes and outputs. The generators incorporate two exhaust silencers as standard and top quality insulating materials, such as high-density, 100 mm thick rock wool, not to mention silent blocks were specifically resized for the engine-alternator assembly and its dynamic characteristics.
1000 hours maintenance kit to reduce OPEX
The HIMOINSA generator sets with Yanmar engine can include a special kit that allows for longer maintenance intervals up to 1000 hours. It is a very interesting advantage for rental and telecom applications because it guarantees more autonomy and reduced operation costs, especially for those that will be installed on remote sites. The kit includes a larger tank, which supplies extra oil to the engine, which implies a significant reduction on filter costs and downtime. This feature is available in both the Industrial range- HYW from 8 to 45 kVA- and the Rental range -HRYW from 16 to 40 kVA-.
In addition, the generator sets from the Industrial Range can incorporate a fuel tank of 1000L, 10 times bigger than what it is offered as standard, which translates into less trips to the site for refueling operations. Considering that the genset works 8 hours a day, this new feature guarantees up to 70 days of running time.
HSW-650 T6/5 Dual Frequency
This genset, powered with Scania engine, supplies 806kVA of stand-by power at 60Hz and 738kVA at 50Hz. Its dual frequency capability meets the versatility required by companies who operate both in Saudi Arabia, a 60Hz market, as well as in other countries with a 50Hz frequency within the GCC region.
Same power, less space
HIMOINSA will be exhibiting at Middle East Electricity its HTW-1030 T5 model, which supplies up to 1.110 kVA of power in less space. The company's Engineering team has been able to reduce the size of this model by 8.5 cubic metres to fit it inside an L canopy (5,960 x 2,250 x 2,555 mm), adding one more soundproofed constructive version to the already existing 20-foot container (6,058 x 2,438 x 2,896 mm).
LIGHTING TOWERS | More running time and less consumption
The APOLO START series are very robust lighting towers designed to operate continuously and withstand temperatures from -20 to 45ºC. The AS4006V model that will be exhibited at Middle East Electricity offers more autonomy, less consumption and easier transportability. Its vertical telescopic mast, activated manually, optimizes transport space. Moreover, this lighting tower is able to provide a total of 384.000 lumens continuously for up to 70 hours, just with one tank of fuel.
HIMOINSA will showcase the APOLO BOX and the MINI KIT lighting towers.
Covering an area of almost 40km², the Port of Constanta, in Romania, is the largest...