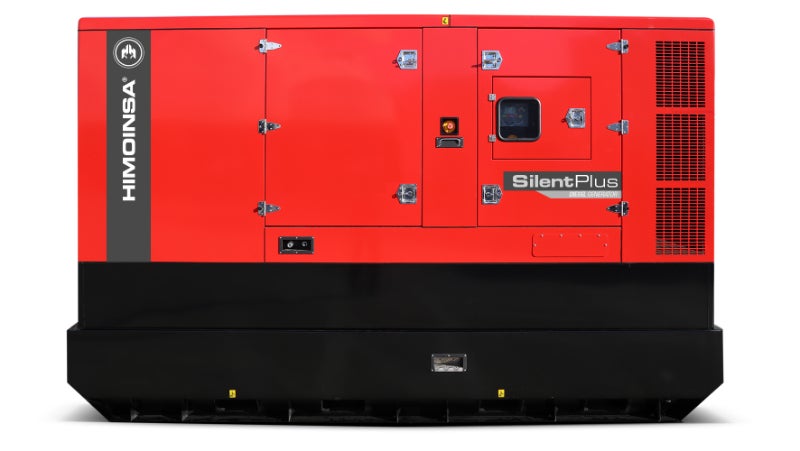 HIMOINSA has just released the 'Silent Plus' range, which reduces noise emissions without limiting the performance of the machine.
The range includes generator sets that use Stage IIIA engines from Yanmar, FPT and Scania. They cover a power range between 20kVA and 550kVA, and guarantee noise levels of around 60dB at 7m.
HIMOINSA has envisaged important enhancements for applications within the rental sector, which is why it has designed a generator set that is ideal for events and work in urban areas where there are greater acoustic restrictions.
Low levels of noise emissions have been achieved due to an improved and more optimised design of air intakes and outputs.
A dual-core exhaust system has also been included, with top-quality insulating materials such as high-density, 100mm-thick rock wool and silent blocks that have been specifically sized for the engine-alternator assembly and its dynamic characteristics.
The new design also contemplates the complete insulation of the control panel. This remains shielded from the rest of the compartment to avoid noise emissions when the door is open.
The models in this range come with a waterproof and mechanically highly resistant canopy, as well as wide doors with more resistant stainless steel locks. This helps to ensure greater security against the threat of vandalism or robbery.
As they are likely to be subjected to all temperatures and harsh weather conditions, HIMOINSA Silent Plus generator sets have a special seal on all the canopy's attachment points to prevent water from getting in.
To ensure the greatest possible running time, high-capacity tanks are available in certain cases. All the engines have electronic injection control and are guaranteed to run at least 24-35 hours, allowing more than four working days without the need to refuel.
The Silent Plus range features drainage valves to make it easier to clean the radiator.
HIMOINSA's largest models, the FPT and the Scania series, also have steps and hand-grips that facilitate access for maintenance purposes. These generator sets also include low-level coolant sensors for even more accurate control.
For quick, simple and safe connectivity, optional features include Powerlock outlets with 100% of the generator set's rated kilowatt capacity. In addition, each phase has a different shape and colour.
The new series offers the same optional elements as the rental range, including cyclonic air filters, leakage detectors, and a three-way valve with quick connectors or fuel filter water separators.
Covering an area of almost 40km², the Port of Constanta, in Romania, is the largest...